A fatass Mansory Porsche Cayenne Turbo,  super car, Spotted in China at a super car dealer in the Beijing Tuning Street. The super SUV was painted in white with a black carbon fiber bonnet. The Mansory package furthermore includes a huge body kit with a completely new nose, more wings and winglets, tinted windows, half-black mirrors, and oddly, a roof rack. Waddaya' gonna carry on the roof of a Mansory Porsche..?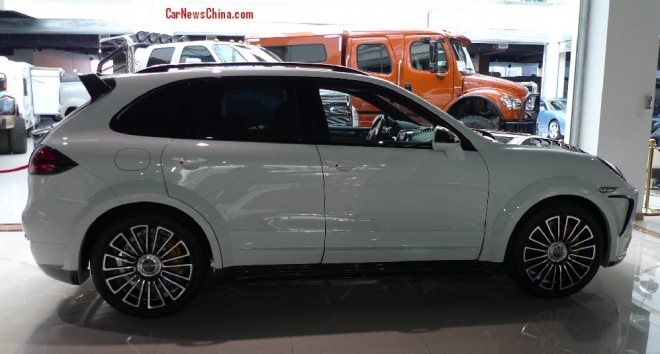 Roof rack will negatively influence the air flow to the rear wing. It will make the air flow unstable and thereby render the rear wing completely useless. Giant 22 inch wheels are very coolio. Note yellow brake pads, these things are a trend these days. Mansory also worked on the engine, just a bit. The 4.8 V8 Turbo is tuned up to a maddening 690hp and 800nm. Top speed is 300km/h top speed and 0-100 is gone in 4.4 seconds. Speedy roof rack!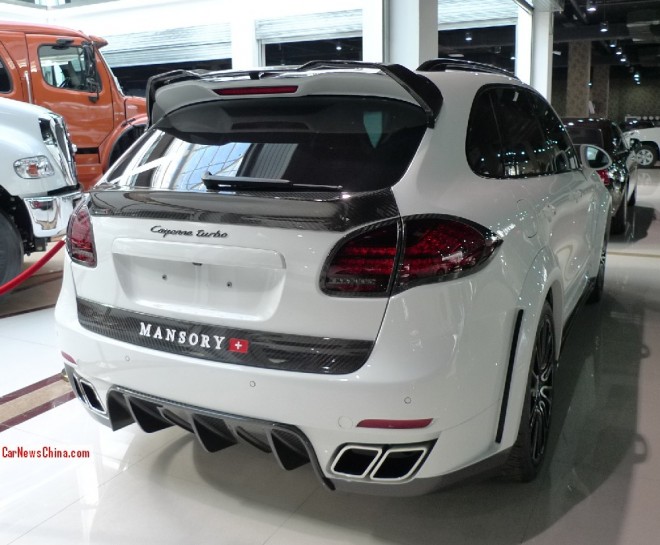 Four square exhaust pipes and a big diffuser. Swiss flag in Mansory logo very freakin' edgy. The good vehicle was for sale, priced at a neat 3.68 million yuan or 605.000 USD. Fast fatass SUV super cars with roof racks don't come cheap in China.
---