A very flashy Porsche Cayenne, seen in the great city of Chengdu in Sichuan Province. The good Porsche is painted in shiny green and black, and prettied up considerably by a fatass body kit, race ready tires, and multi-spoke black alloys. Best of all is the unique license plate with number S0000, but sadly blue matches poorly with green.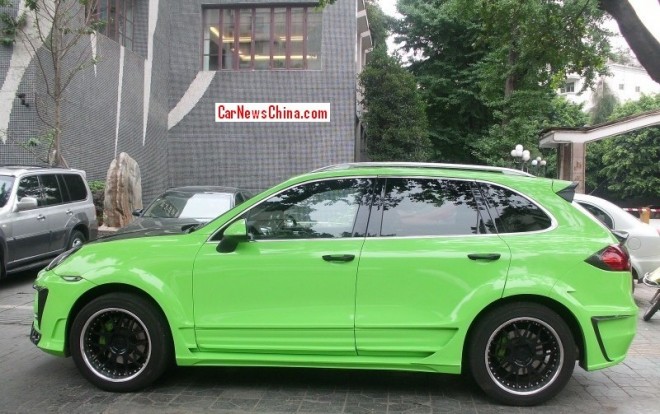 Adding roof rails to such a racy car is questionable, I don't think this car will be used to move trees around very often. The body kit looks very local-Chinese made in kind and execution, but all taken together not that a bad effort. Black door handles very cool.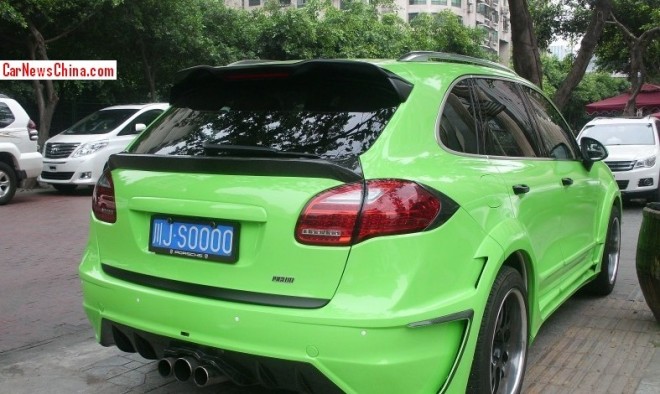 Triple exhaust pipe with the one in the center extra large. Very good idea. Spoiler up on the rood and another down on the roof. This thing will have down force. Also see diffuser.
The Porsche Cayenne is the most popular Porsche in China, coming before the Panamera, the 911, the Cayman and the Boxster. Price in China starts at a steep 922.000 yuan for the V6 model.
Time now, for our Famous China-Porsche Cayenne Collection™: gold, shiny blue, Mansory 958, canary yellow, Luma CLR 558 GT, TechArt Magnum, baby blue, Hamann Guardian, a fish, pink, body kit, police car, matte black, broken with semi-naked girls, very pretty, Hamann Guardian,  stretched, pink, in gold, another stretched, in orange, with dog-pee, and French.