A very shiny Porsche Cayenne, seen in the Lido area in Beijing, not far from the place where we earlier met a speedy Suub. The cool Cayenne was wrapped in a high quality shiny gold wrap that is perfectly applied over the rear mirrors and bumpers. The wrapping work on the small winglets near the fog lights is especially impressive. Good Bling!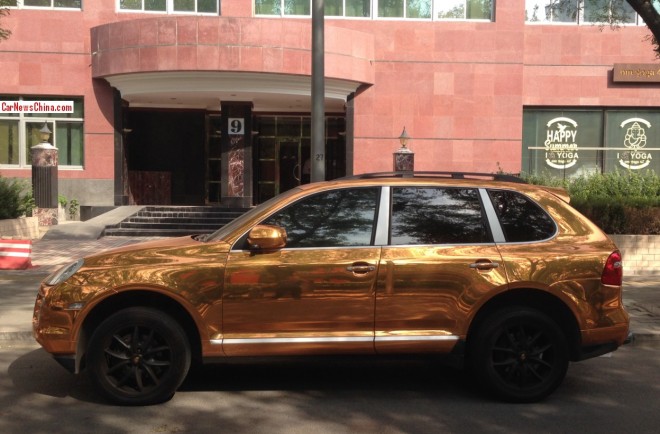 The Cayenne is further sexed up by black windows, chromed B & C pillars, a chrome strip just below the doors, and speedy double-five spoke matte black alloys. Only dissonant is the roof rack which seems to be bog standard. Would be good in gold, chrome, but not in this cheapo factory-plastic-black!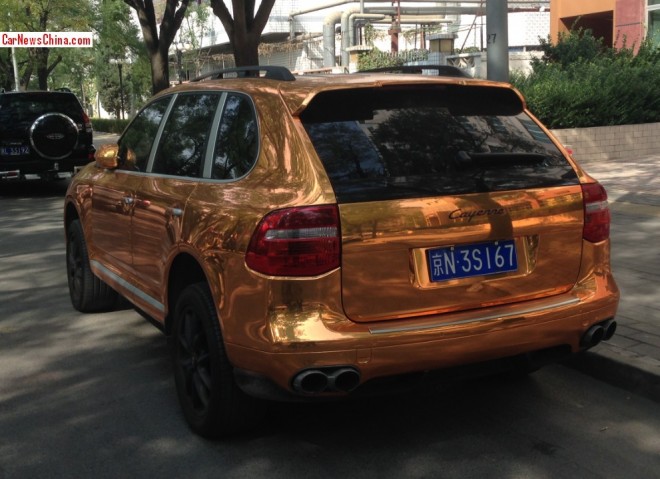 Wrap mirrored the world, as all good wraps should do, as they are a mirror of society. The Porsche Cayenne is the most popular Porsche in China, coming in ahead of the Panamera, the 911, the Cayman and the Boxster. The upcoming Macan SUV will likely take second place very soon. Price of the Cayenne starts at 922.000 yuan in China, or 150.000 USD.
Time now for our Famous China-Porsche Cayenne Collection™: shiny blue, Mansory 958, canary yellow, Luma CLR 558 GT, TechArt Magnum, baby blue, Hamann Guardian, a fish, pink, body kit, police car, matte black, broken with semi-naked girls, very pretty, Hamann Guardian,  stretched, pink, in gold, another stretched, in orange, with dog-pee, and French.