A very flashy BMW 335i Coupe, Spotted in China in the great city of Shanghai by reader Anonymous, thank you for the pictures! The good Bimmer is wrapped in an eye hitting-hard turquoise wrap, and further beamed up by a black grille, extra shiny chrome around the grille, darkened windows, extra shiny chrome around the windows, white flaps in the lower bumper, and shiny black five-spoke alloys.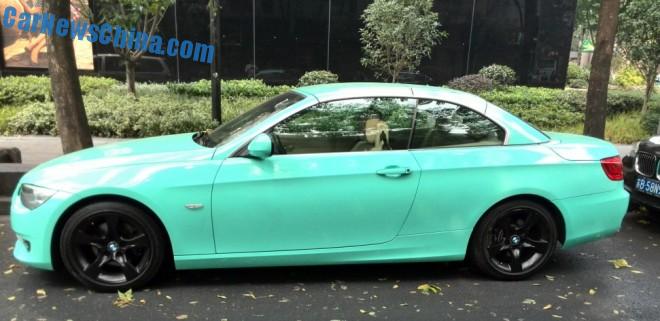 The wrap appears to lighten up to white depending on directing and position of the eye. The wrap is a top quality piece of work and perfectly applied over the bumpers, doorhandles, and mirrors, like we like to see so best.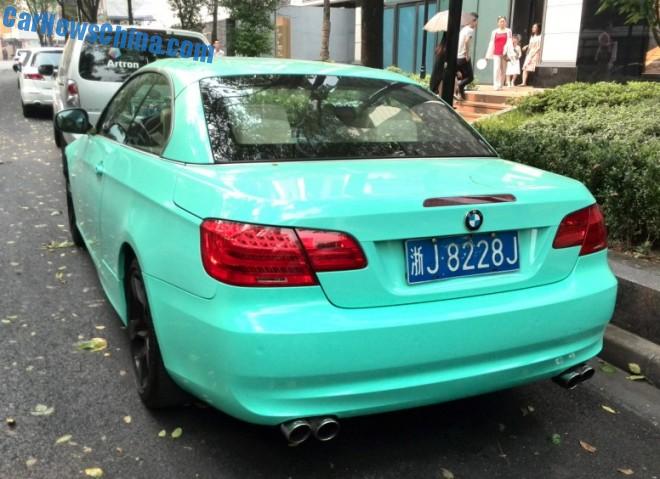 Check that wrap moving white and back again! License plate seems oddly old. Borrowed from another car..?
The 335 is the fastest E92 BMW 3-Series Coupe bar the mighty M3. Power comes from a 3.0 twin-turbo six-in-line with an output of 335hp and 450nm. Speedy blue Bimmer! We have a small collection of other beamered BMW Coupes: shiny blue, shiny baby blue, purple & baby blue, shiny blue, shiny blue purple,  licensed cabrio, baby blue, and matte orange.