The Renault Megane RS has been launched on the Chinese car market, marking the very first time Renault sells a performance-orientated RS model in China. Price starts at 339.000 yuan and ends at 359.900 yuan (55.000 – 58.700 USD). The Megane RS is so expensive because it is imported and thus subject to China's heavy import taxes.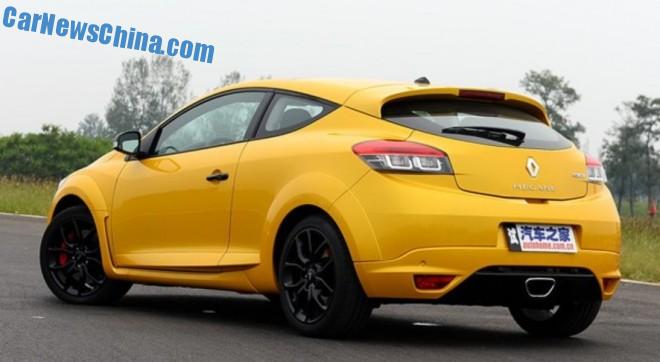 Interestingly, the Megane RS is the only Megane Renault is selling in China. The rest of the range is not available. For a short while Renault sold the Megane CC but sales were so slow it was quietly withdrawn from the market. Renault is currently not building any cars in China but that will change in 2016 when the Dongfeng-Renault joint venture comes up to steam.
The Renault Megane RS is powered by a spicy 2.0 liter turbocharged four-cylinder petrol engine with an output of 265hp and 360nm, sending power to the front wheels via a six-speed manual gearbox.
The combination of a manual and a high price will make sure sales of the Megane RS absolutely minimal, but it might work a bit as a halo car for the rest of the line-up. A bit, that is, because the Megane RS name is basically unknown in China. One indeed might wonder why Renault bothers.