A massive Hongqi CA770 state limousine, Spotted in China on a classic car festival in Taoranting Park. This is the very rare 'CA770JH' variant, which is an ambulance. The stretcher goes trough the trunk and the patient lies in the rear comportment. This great example is black and has a flagpole, indicating it served as a motorcade car.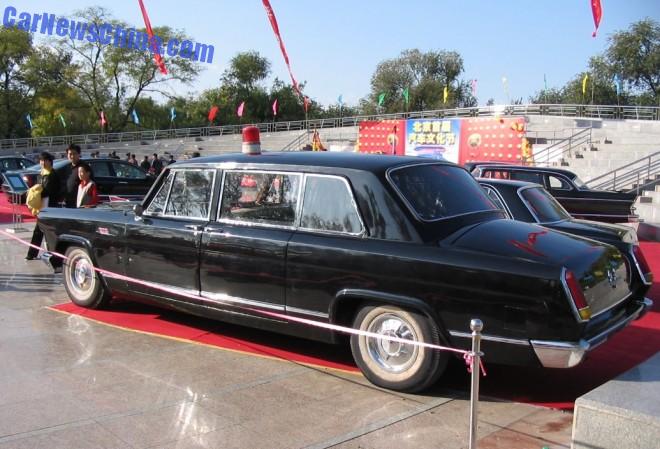 The trunk is much higher than on a standard CA770, pushing the rear window up. The changes allow easier access for a stretcher. The CA770JH was designed as an emergency vehicle in case one of the country's leaders got ill. How many examples were manufactured is unknown, but it won't be more than a dozen or so. The ambulances were operated by a special unit of the People's Armed Police (PAP), a large paramilitary unit tasked with, among other duties, the protection of the central government.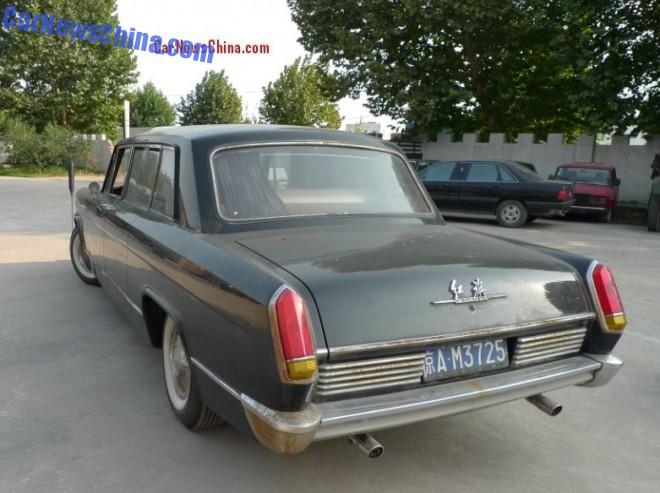 A standard CA770 for comparison.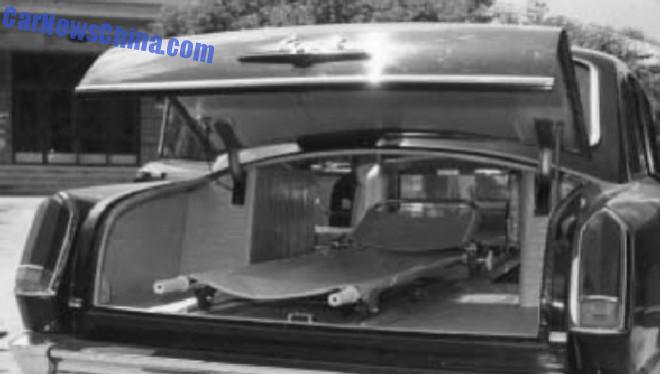 Period photo of the CA770JH with the stretcher in the back (via).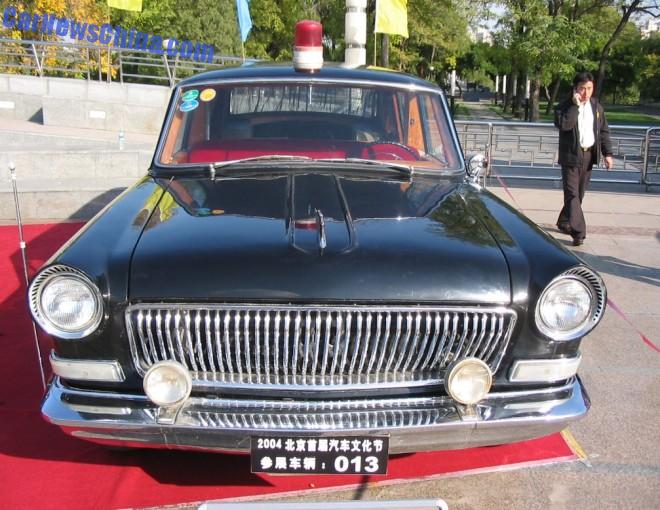 Emergency light on the roof but no other additional lighting.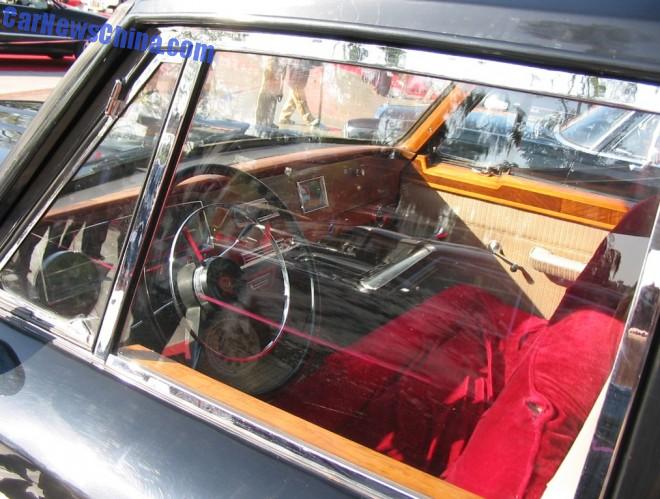 The CA770 was is very good shape. Maintained properly and fortunately not overly restored. Interior looked very clean as well. Wood is good, sunflower logo on the steering wheel, period radio. The seats are covered with red cloth.
The Hongqi CA770 was manufactured exclusively for the Chinese government. The giant state limousine arrived in 1966 and production continued all the way until 1981. Total production stands at 847 cars. The CA770 was based on the platform of the 1950′s Chrysler Imperial. The bodywork was designed in China by First Auto Works (FAW), the owner of the Hongqi brand. Today most CA770 limousines are in private hands.
Power comes from a Chrysler 5.6 liter V8 with 215hp, good for a claimed top speed of 160 kilometers per hour. The CA770 is a giant car: 5980/1990/1620, wheelbase is 3720. Curb weight is 2730kg.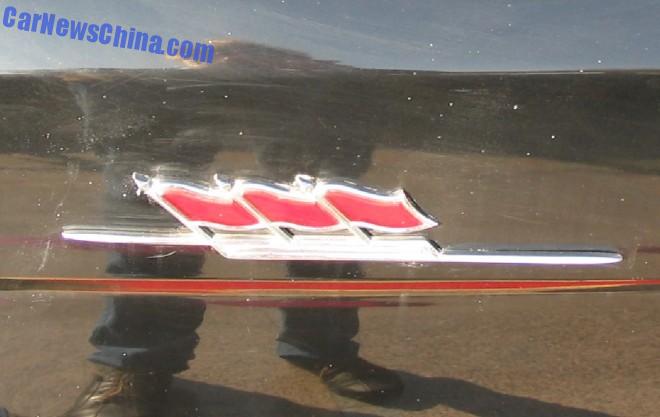 The three red flags stand for: Socialist Construction, Great Leap Forward, and Peoples Commune, the three main government programs at the time.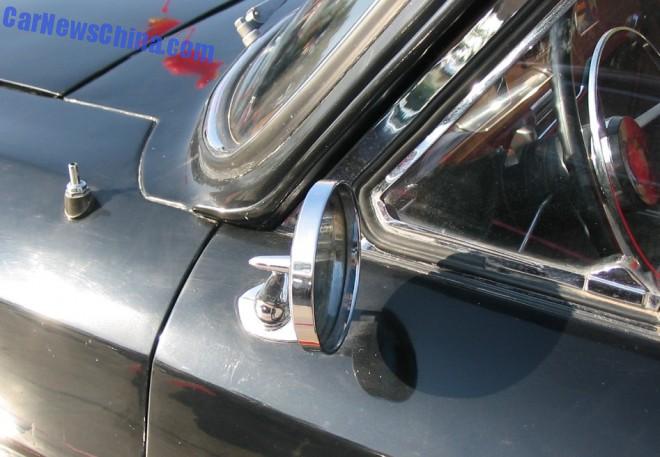 The delicate mirror. Small in size for such a big car.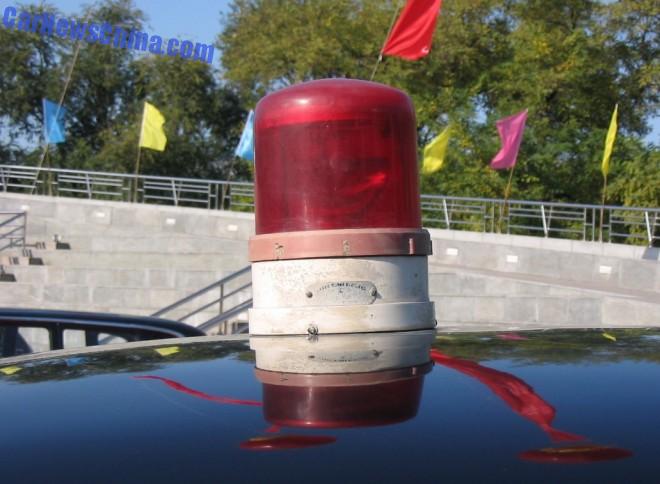 The light is fixed on the roof. Looking not too solid but nevertheless very cool.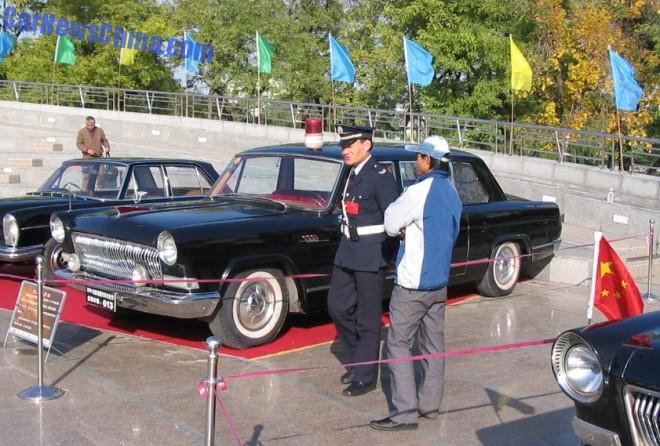 Giant Hongqi dwarfs W114 Mercedes-Benz. Present-day policeman on duty, guarding the metal. Another Hongqi on the right.
Thanks to Erik of ChineseCars.net for identifying the vehicle!
Important Information: