A sleek Pontiac Solstice GXP sporty car, Spotted in China in the great city of Dalian in Liaoning Province. The good Pontiac was painted in white with a black roof, and fitted with speedy five-spoke matte gray alloys. The Pontiac Solstice was a two-seat roadster manufactured from 2005 until 2010.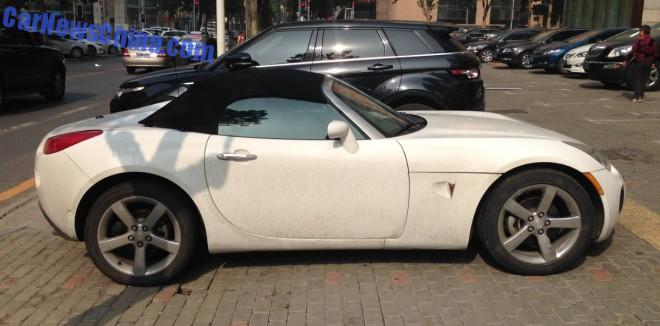 The Solstice was never officially exported to China but at least some cars arrived on Chinese shores via the gray market and/or other misty channels. The Solstice shared its Kappa platform and mechanics with the Saturn Sky, the Opel GT for Europe, and the Daewoo GX2 for Asia. Typical GM rebadging madness indeed, wasting millions on marketing and distribution, instead of just focusing all effort on one car and make it a winner.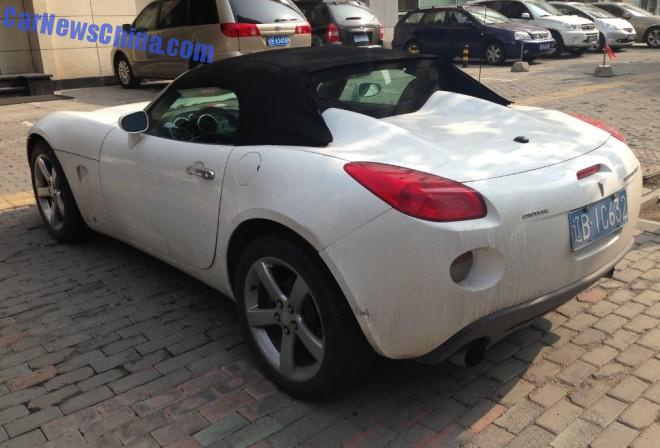 Pontiac's P has fallen off  here. Still a Pontiac or an Ontiac? Racy hubs behind the headrests of the seats. The Solstice GXP is powered by a 2.0 turbocharged Ecotec four-cylinder petrol engine with an output of 260hp and 353nm, sending power to the rear wheels via a five-speed manual or a five-speed automatic. This Dalian car had the manual. Top speed is 230 kilometers per hour and 0-100 is gone in 5.5 seconds.

Checkered flag on GXP badge. Sadly and badly the Solstice died with the Pontiac brand in 2010. Saturn and Daewoo died soon after Pontiac and Opel is on intensive care. Was the roadster a curse?  Well, GM never tried one again…
Click or Die: