Today in Spotted in China thee beautiful & badass American neoclassic cars, seen in front of a wedding-planning company in Beijing where they are for rent for weddings. From left to right: Excalibur Series V Gran Limousine, Excalibur Series V Roadster, and an extremely rare Spartan Series II Phantom Coupe. They all hail from the crazy 1980's when greed was good and cars were big, and they are in China now.
Starting with the giant Excalibur Gran Limousine; manufactured by the Excalibur Automobile Corporation based in Milwaukee, Wisconsin, USA. The company was founded in 1965 and went sadly bankrupt in 1992.
The Gran Limousine was an officially factory-made super stretched variant of the 1986-1992 Excalibur Series V Touring Sedan. Only 15 Gran Limousine limousines were manufactured from 1989 until the end in 1992 and at least two of those are in the Beijing area today. I met the other car up in the mountains a few months back.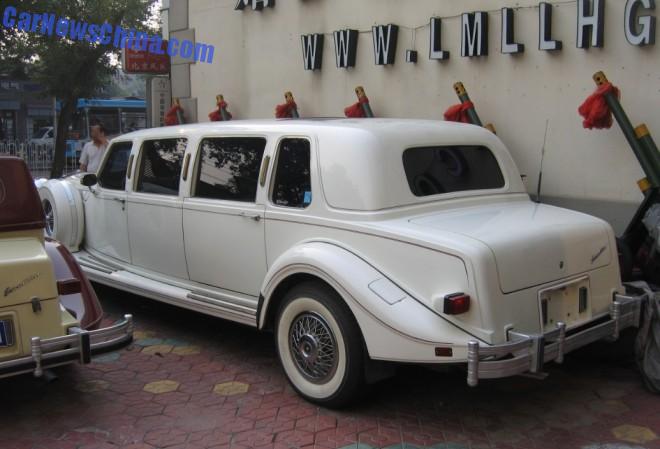 This particular car features darkened windows and white wall tires for a bit more neoclassic-feeling in privacy. The Gran Limousine is a truly grand car; measuring 7210/1950/1880, and wheelbase is a massive 5180. It was also very heavy with a curb weight of 2585 kilo. The engine thus had to be strong!
Initially, the Gran Limousine was powered by a 5.0 liter Chevrolet small-block V8 with an output of 230hp and 448nm, propelling the Gran Limousine to a 170 km/h top speed and from 0 to 100 in 12.5 seconds. Things got even more serious in 1990 when the LT1 5.7 liter small-block from the Chevrolet Corvette C4 arrived, output was up to 245hp and 468nm, good for 174km/h and 12.1 seconds. This big Excalibur is a beast…
Note cannons on the left side of the vehicle. These are pretty real and used for to firing firework during weddings. The practice was forbidden in Beijing many years ago but it still happens a lot anyway, especially in the suburbs, and police doesn't really care. The cannons are actually small beer for babies, a real man rather goes for a rocket launcher.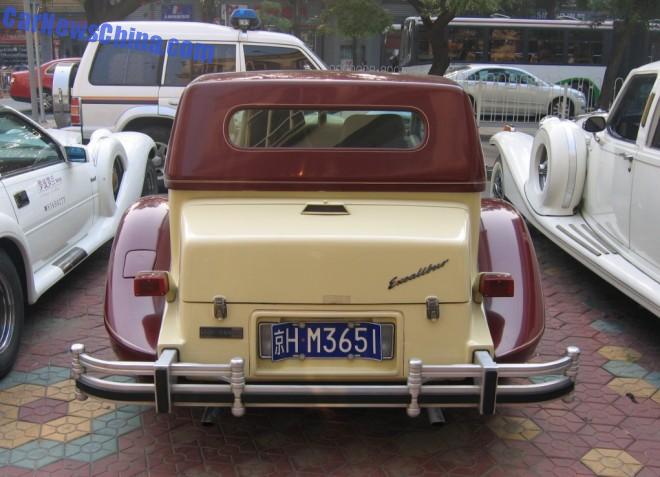 Moving on to the Excalibur Series V Roadster. We met this very car earlier on elsewhere in town so I will be brief here. The Series V Roadster was manufactured from 1986 until 1993 (small-scale production continued even after bankruptcy, but it was all over in late 1993).
The Roadster came standard with a soft top and with an optional hard top, as seen on this yellow-red car. A huge machine as well; measuring 5182/1930mm/1650, wheelbase is 3170 and weight is 1815kg. Initially, the Roadster was only available with a rather weak GM 5.0 V8 with only 195hp and 400nm, but starting from 1990 the LT1 became available in the Roadster too. The engine was rated at 300hp, good for 187km/h and a blistering 0-100 in 8.2 seconds!
Note police vehicle in the background. That is a Changfeng Leibao, a Chinese variant of the second generation Mitsubishi Pajero. It is still in production, alongside a slightly modernized version which s called Liebao Q6. Earlier on we met a Liebao fire command vehicle.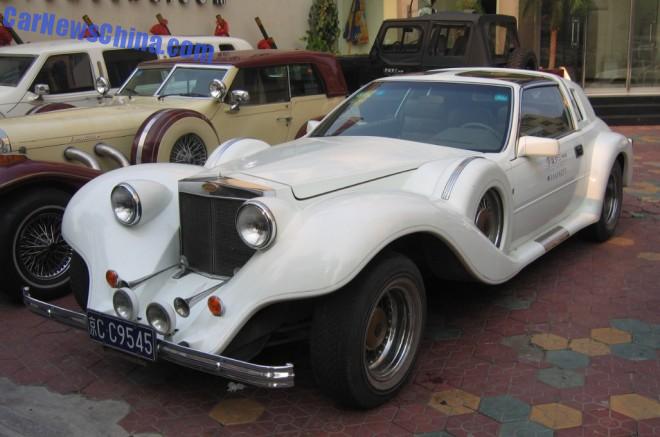 Moving on to my new favorite neoclassic car, low-slung and sleek, and much sportier than the Excaliburs. The Spartan Series II Phantom Coupe was manufactured by Spartan Classic Motors based in San Marcos, California (not to be confused with Spartan Cars, a U.K. company that was also in the roadster business). Production started in 1983 and some 300 examples were made until the company went bankrupt in 1989. The Spartan II was a kinda famous-people car; buyers included celebrities such as Eddie Murphy and Joan Collins.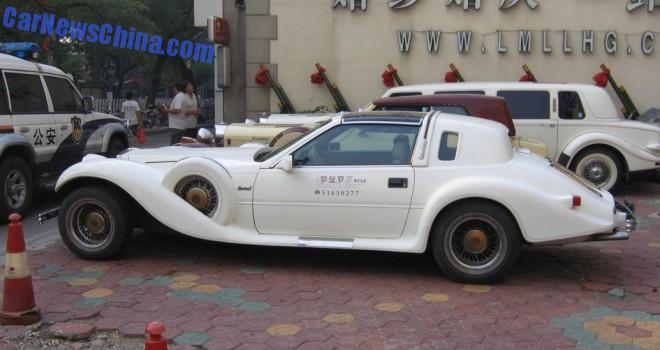 The Spartan II It was available with a fixed roof or with an ultra cool T-bar targa roof, such as this great white example in Beijing. Now for the best part: the Spartan II was based on the platform of the much-loved Nissan Z (!!!).
Initially, Spartan used the on the platform of the 1982-1983 S130 Nissan (Datsun) 280ZX Series II, powered by the 2.8 liter turbocharged six-in-line with an output of  180hp and 275nm. In 1984 Spartan switched to the new 1983-1989 Z31 Nissan 300 ZX Turbo, which came with a 3.0 V6 turbocharged engine was good for 200hp and 308nm.
Both the 280ZX and 300ZX were available with a T-bar targa roof, and Spartan simply copy-pasted the windshield and roof section. The platform of the 300ZX was slightly bigger than the platform of the 280ZX, but wheelbase was the same so Spartan didn't need to change much on the body.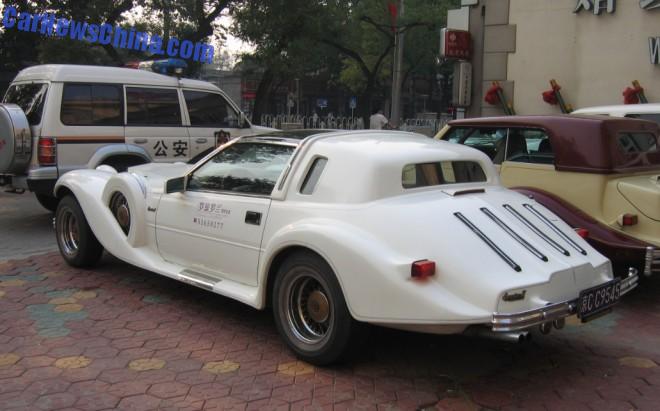 Two hundred horses might seem like a lot of power for a 'roadster', but the Spartan II was no lightweight, sporting a curb weight of 1550 kilo. Size: 5130/1890/1380, and wheelbase is 3200. That makes the Spartan II slightly longer that the Excalibur Roadster, but it is much lower.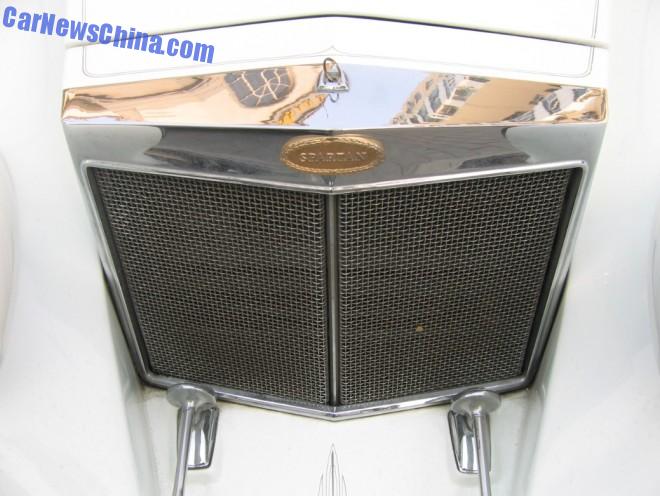 The Spartan grille ornament, depicting two crossed swords, is sadly missing, but the chrome is still shining like new.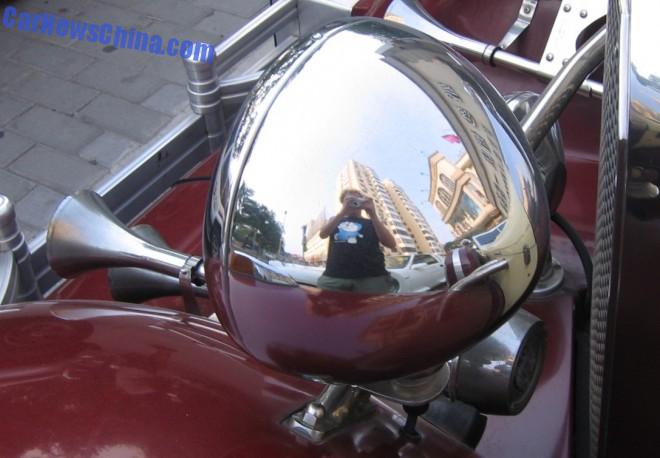 Mirroring the Excalibur.
Three great American neoclassic cars in the Chinese capital, used for zillions of Chinese weddings and wedding photos. Yez, they are still very cool down here… May they last forever!
Sources: Automobile Catalog, GilmerMirror, ExcaliburClassics, Hagerty.