An almighty U.S Specialty Vehicles G.Patton SUV, Spotted in China in the great city of Shanghai by Reader Antoine Chalendard, thank you for the photos! The G. Patton, named after an American tank which was named after the famous World War II general George Patton, is manufactured by a company called U.S Specialty Vehicles (USSV) (web, FB). Confusingly, the company also calls it the Rhino GX, but it has a G. Patton badge.
The G. Patton is designed to look like a nasty anti-riot vehicle, but it is actually not armored and unarmed. It is based on the Ford F-350/F-450 truck series and powered by a giant 6.8 liter 'Triton' V10 with an output of 310hp and 576nm. USSV is not officially represented in China but savvy Chinese businessmen import the giant vehicle via the gray market, buying directly from dealers in the United States.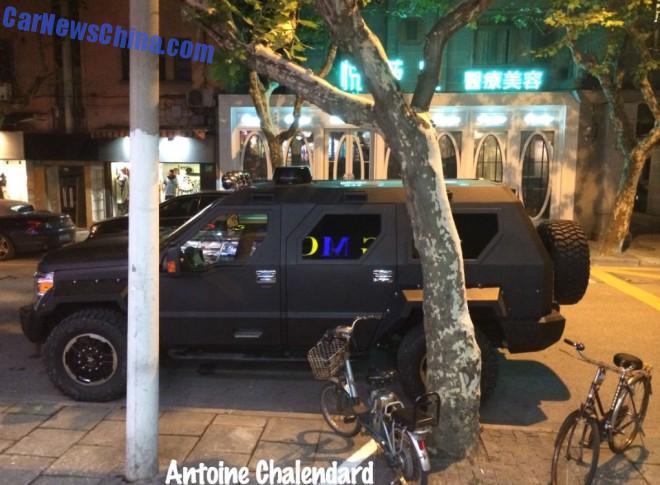 This particular car was purchased from Raceway Ford in Riverside, California. About twenty examples are believed to be in China at the moment (with Raptor!). Vurrent price hovers around 3.6 million yuan or 574.000 USD. Vehicles like this cannot get a passenger-car license plate in China. They are classified as trucks which means they cannot legally enter any city center. This black monster here however is badass, standing straight into the center of the old center of Shanghai.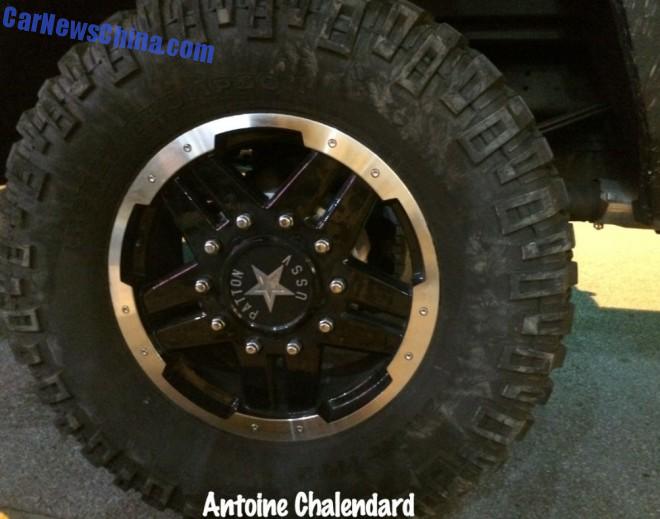 The logo on the bonnet has a G, the logo on the wheel has not. Messy, but an impressive car nevertheless.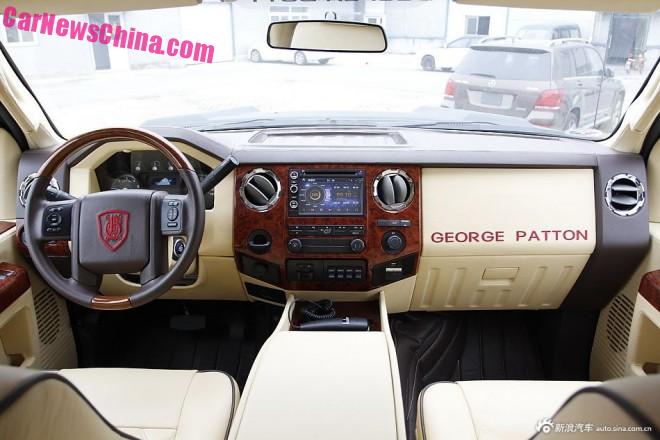 This is the interior (via), showing yet another logo on the wheel and 'George Patton' lettering on the passenger side. Shape is standard Ford but leather looks really good.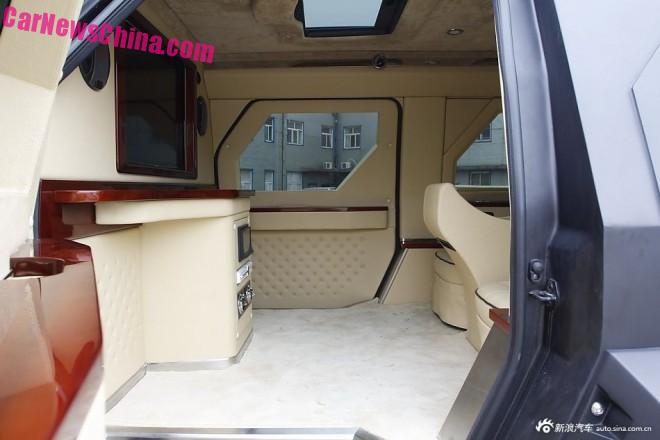 The rear passenger compartment with two captain seats and a large screen on the divider. This tank needs a chauffeur…