An incredible badass Toyota J60 Land Cruiser, Spotted in China on a wrecking yard in east Beijing. The vehicle was in a reasonable condition. Body was bruised and very dirty, but hell this is a Land Cruiser, so it should look like it just bumped over the Himalaya. The 'Cruiser was fitted with a large roof rack and a protruding bumper for an extra heavy winch.
The interior was dirty and dusty but otherwise in a fine shape.  Typical 1980's color scheme,  with cheap black plastic and a lot of brown. Steering wheel original, beautiful round vents, and the gear lever almost hits the roof! The radio is interesting. It is not original, but it is period, with a shiny front and a cassette player.

The J60 Toyota Land Cruiser was made from 1980 until 1989. It was manufactured in Japan and in Venezuela, where it was called the Toyota Samurai. The J60 was as capable off-road as any Land Cruiser, but had some comforts added to compete on the then-emerging SUV market. It came with aircon standard, an extra heater in the back, and comparatively soft seats.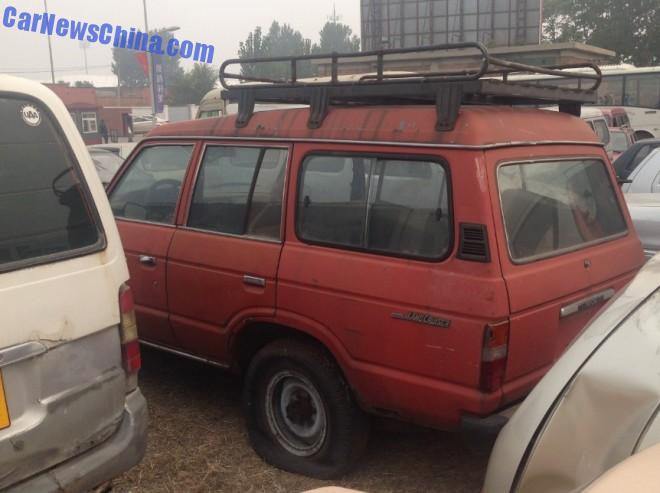 The names of the available colors also sound more marketing than mountaineering: Alpine White, Brown, Desert Beige, Freeborn Red, Royal Blue, Charcoal Gray, Cognac, Gray-Blue, Rootbeer, Sky Blue, Stardust Silver. I love the Rootbeer most, but this Beijing example is Freeborn Red.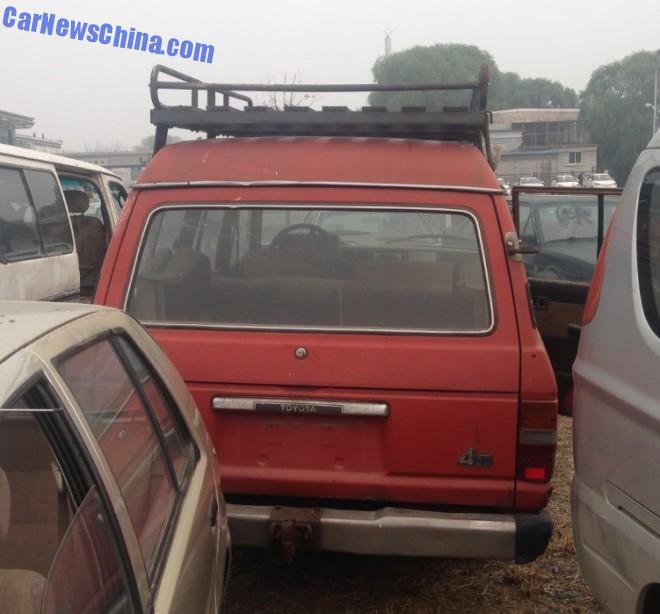 Roof rack designed for heavy loads. Chrome strip around rear window as shiny as ever. Tow hook fitted on the bumper.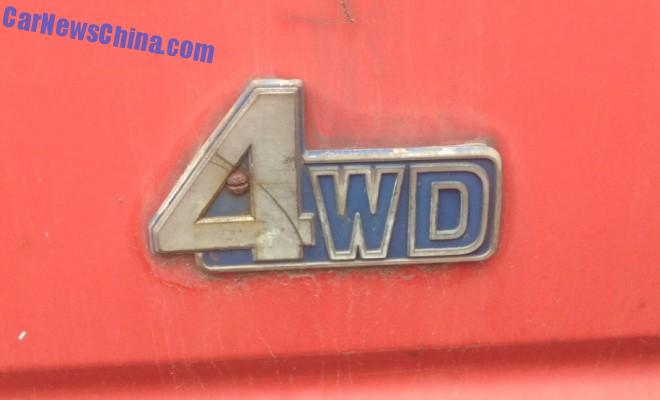 The L60 Land Cruiser was available with five engines: a 4.0 six, a 4.2 six, a 3.4  diesel four, a 4.0 diesel six, and a 4.0 turbo diesel six. Three transmissions: 4-speed manual, 5-speed manual, or 4-speed automatic. This particular Beijing car had a five-speed manual, but I couldn't find out which engine was under the bonnet.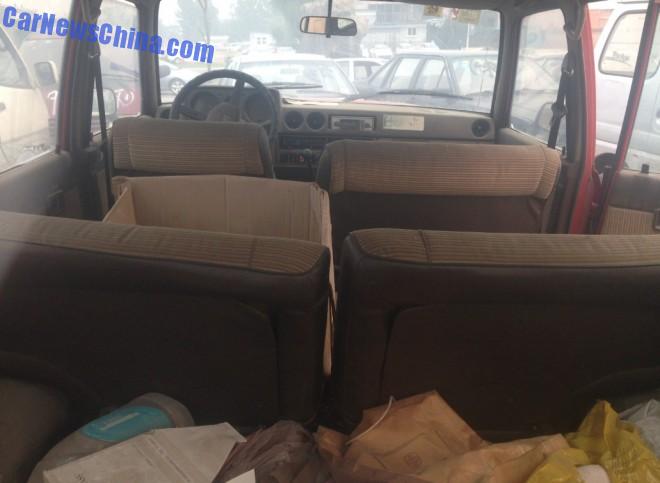 The J60 is a huge car. This one has the standard 2+3 five seat configuration. A 2+3+3 eight seat configuration was optional. Size: 4675/1800/1750, wheelbase is 2730.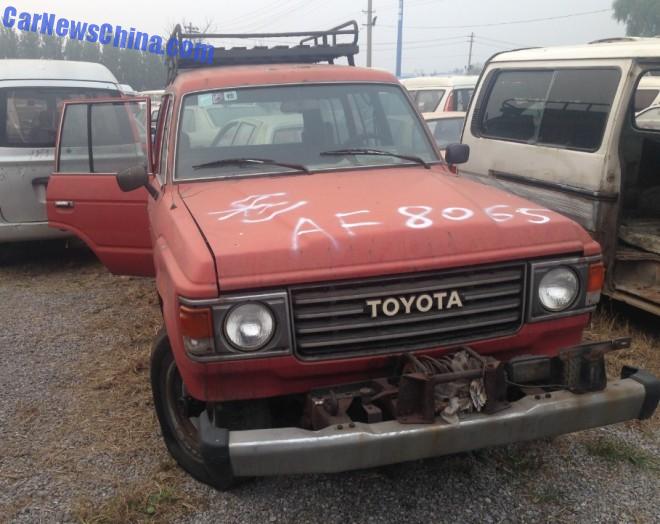 Sadly and badly, this 'Cruiser will never hit the road again. It was scheduled for destruction and it is probably gone when you read these very words. Good bye Old Warrior!, may you scale a many mountain in the automotive heavens above.