This is the Longrui Auto Utility Pickup Truck, a small electric car seen on the Shandong EV Expo in China (intro). The vehicle comes with a Hummer-like nose, bright orange paint, off-road tires, a two-seat cabin, suicide doors, and a small pickup bed. It is designed for duty in public areas, such as parks, bus stations, and shopping streets.
A truly beautiful minimalistic dashboard, perfectly suited for a 'ute. One dial for speed, one dial for battery, and one tiny drive selector. The Longrui Auto Utility Pickup Truck is a brand new vehicle manufactured by a company called Longrui New Energy Automobile Group (web), based in the great city of Xinzheng in Henan Province.
The company makes several small electric cars, including the rather hip 'Aite' LSEV, which was at the show as well, and various older-looking compact cars based on existing vehicles, such as the Aishuan which is based on the Lifan 320.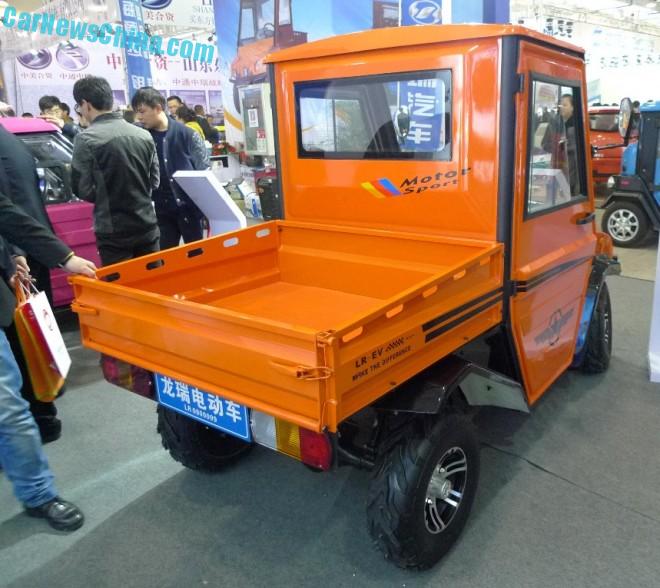 The Utility Pickup Truck is powered by a tiny 2.5 Kw electric motor mated to a lead-acid battery. Top speed is 40 kilometer per hour and range is 110 kilometer. The vehicle is so small it can basically go anywhere: 2860/1760/1880.  The cabin is on the tall side, without reason it seems, a lower cabin would make for an even better package. A full charge on 220V takes seven hours. Price for all this pretty starts at 25.000 yuan or 4034 USD.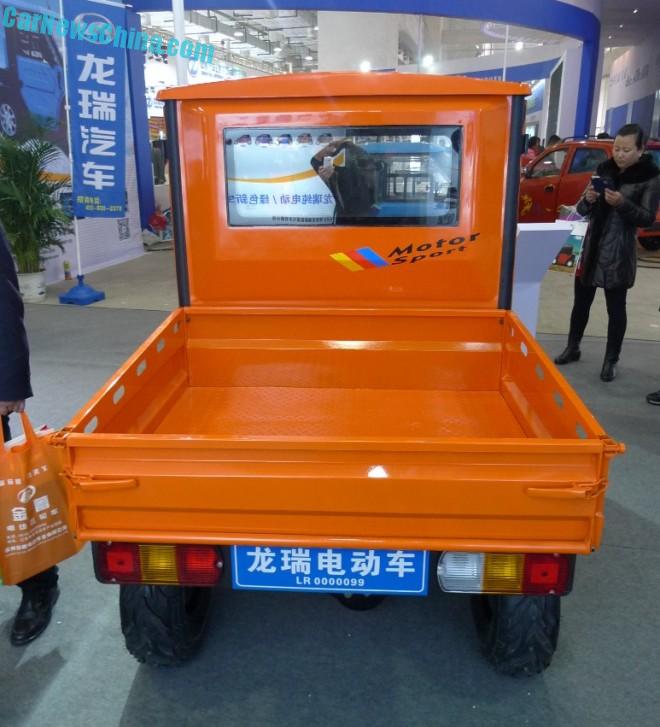 This kind of small truck is becoming very popular in China. They come as pickup, van, panel van, single cab, double cab, and whatever imaginable in between. They are already in use in zillions of Chinese cities by various government departments. In Beijing for example they are used for cleaning parks and large squares, and as garbage trucks in the famous 'hutong' alleyways. Making all these vehicles electric makes a lot of sense. They don't need to be fast, they don't drive far, and they can charge at night at base.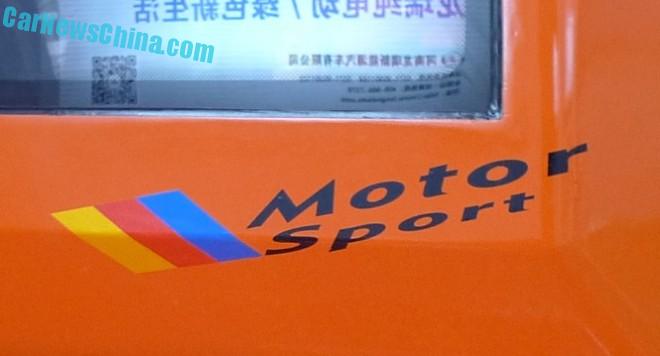 A lot of car makers on the show had their vehicles dressed up with these 'Motor Sport' decals. Guess they were cheap!