This is the flashy Shandong Shanneng SNF-1, a new low-speed electric vehicle (LSEV) from China, seen last week on the Shandong EV Expo  (intro) in Jinan City. The Shandong Shanneng SNF-1 is a two-door tricycle painted in Pink and white, featuring speedy decals, LED-like lights, large black mirrors, roof rails, a single windshield wiper, and racy wheels with shiny alloys.
Typical tricycle handlebar with a sporty touch. Tiny digital screen in the instrument panel. Radio with USB connectivity on the left, and the single speaker on the right. The Shandong Shanneng SNF-1 is powered by a tiny electric motor with an output of 1Kw, mated to a lead-acid battery. Top speed is 50 kilometer per hour and range is 120 kilometer. Size: 2080/1020/1550. All specs as claimed by the manufacturer. It seats three with a 1+2 configuration. Price for all this pretty: 14.988 yuan or 2410 USD.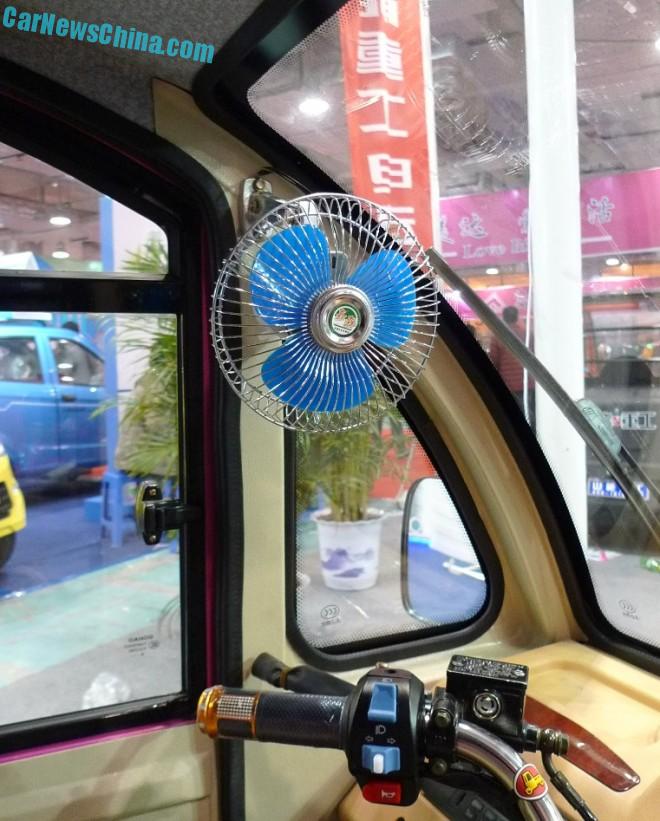 Want a fan? Here is a fan. Fake wood panel on top of dash for a bit of luxury.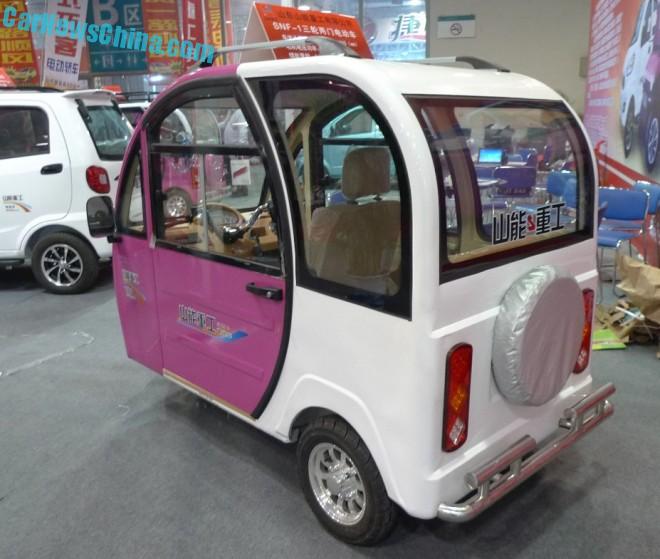 Spare wheel on the back. Heavily chromed bumper. Taillights looking really cool. Large rear window for superb visibility. This kind of tricycle is very common in China, even in the suburbs of large cities like Beijing and Shanghai, but in the countryside they are all over the place. The are notoriously unsafe but famously reliable, and when something brakes anyway any local shop can fix it up for a few yuan.
The Shandong Shanneng SNF-1 is manufactured by a company called Shandong Shanneng Heavy Industry (web), based in the great city of  Zoucheng in Shandong Province. The company makes a wide range of electric tricycles and a few electric four-wheelers, including a car called Aps. Oddly, our pinky is called SNK800-A on the company's website, but it was SNF-1 on the show.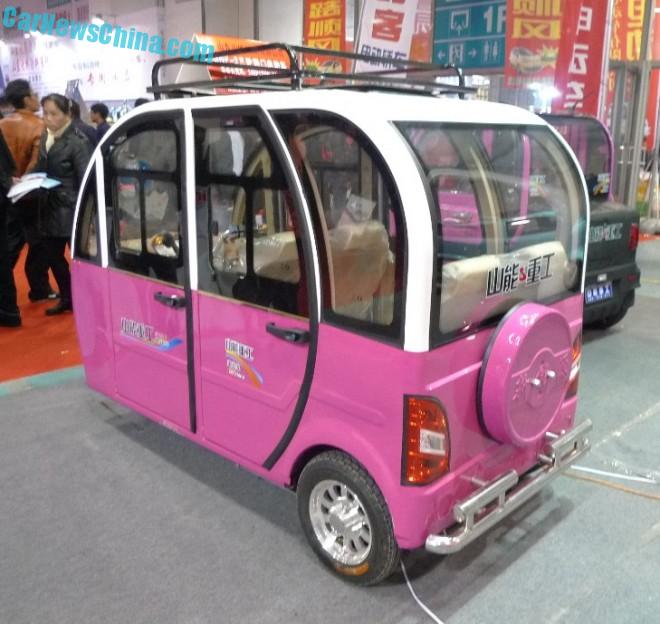 This is the four-door version, called Shandong Shanneng SNF-1. It is 45 centimeter longer, seats four, has different taillights, and comes with a Pink spare wheel cover!