This is the Jiayuan Lingzu, a new low-speed electric vehicle (LSEV) from China, seen last month on the Shandong EV Expo  (intro) in Jinan City. The Jiayuan Lingzu is a two-seat micro car, featuring a Jeep-like grille, big black bumpers, a tall greenhouse with huge windows, and sturdy wheels with shiny sporty six-spoke alloys.
Wide wheel arches and a side bar. Endless windows in a thin black frame.
It was late on the day when I arrived at Jiayuan, and everybody was tired. Staff, dressed in blue jackets, was hiding in the vehicles, and if they didn't do that, they were smoking next to the vehicles. Nobody cared what I was doing, which was fine with me. On other boots of other brands, and earlier, I had to go through elaborate photo-snapping sessions; me with the car, me with the manager, me with the deputy manager, and such so on. Foreigners are still a rare breed in this LSEV business….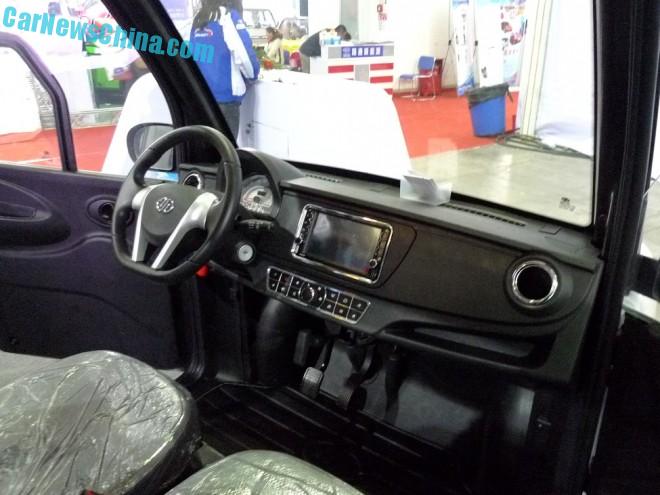 Back to the Jiayuan Lingzu. Quality-wise, it was one of the best vehicles of its kind I saw on the show. Everything felt strong and well-put together, and the materials were top-notch. The interior was good looking as well, with a central digital dial and a large LCD screen in the center console.
The screen can be used for checking the battery status and for watching MP4 video. Air vents round with shiny edges. Red panic button is located on the far left just behind the steering wheel. An unusual position, most panic buttons are positioned around the center console. A panic button switches off all electricity and thus the car.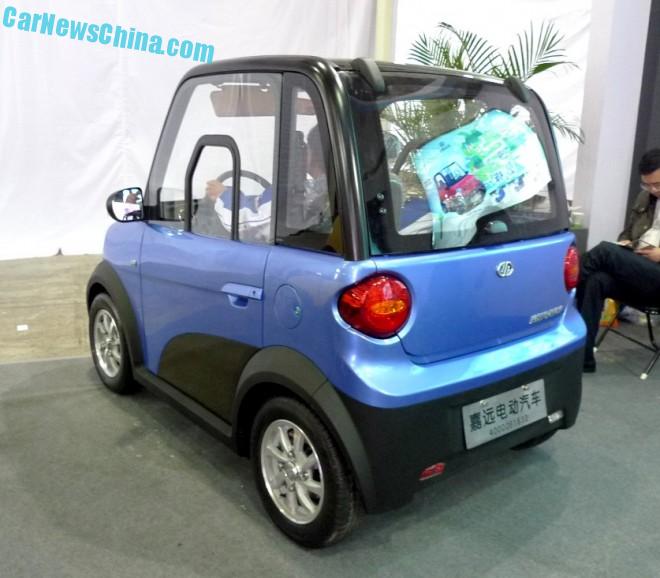 The Jiayuan Lingzu is powered by a tiny electric motor with an output of 3.5 Kw, mated lead-acid battery. Top speed is 40 kilometer per hour and range is 120 kilometer. The Lingzu is really micro: 2220/1260/1565, wheelbase is 1100 and weight is 630 kilo. Charging takes eight hours on 220 volt. All specs as claimed by the manufacturer.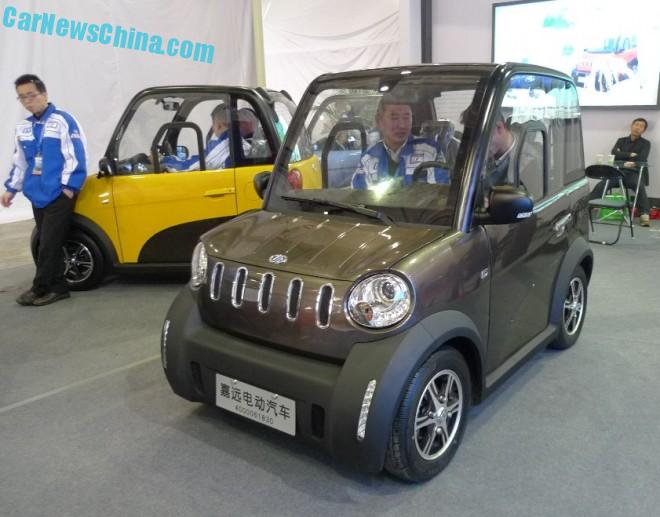 She looks brilliant in brown. Staff sitting inside and smoking out. The men in the yellow car were watching a cartoon.
The Jiayuan Lingzu is manufactured by a company called Nanjing Jiayuan Electric Vehicles (web), based in the great city of Nanjing in Jiangsu Province. The company makes electric buses and vans, and electric sightseeing cars including a mad locomotive designated 'JYGRC5-C1', which sadly wasn't on the show.