An extremely rare Mini Cooper Mk VII Final Edition, Spotted in China in the great city of Shanghai by Reader BYDfortheWin (thank you!), who runs a Facebook-page with all sorts of great Shanghai metal. The Final Edition was the final series of the original Mini Mk VII, which was manufactured from 1996 until 2000. The Final Edition was only made in the 2000 model year, it comes with a set of four rally lights on the bumper, white racing stripes over the bonnet, a stripe with a commemorative badge on the sides, and a top-spec interior.
Mint green interior with leather seats and real wood on the dashboard.
This particular green example is the very first Final Edition we see in China, and one of the very few original Mini's we know about. It has Macau license plates covered by black Guangdong Province license plates, and the steering wheel sits on the right. This indicates the car was originally exported to Macau, where they drive on the left, and sold on to Guangdong, before it finally moved to Shanghai. It must have been a hell of a lot of paperwork to have this great British machine registered in mainland China, as cars with a wheel on the wrong side are normally considered illegal, no matter how old or special.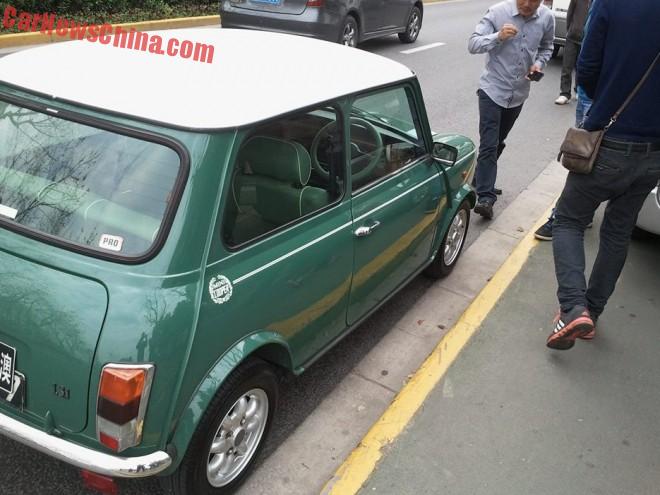 Commemorative badge on the rear fender.  Sporty eighth-spoke alloys were standard on the Final Edition. Power came from a 1.3 liter four-cylinder petrol engine with 62hp and 95nm, mated to a four-speed manual gearbox. Top speed was 148 kilometer per hour and 0-100 was gone in 13 seconds. Not fast, but it goes in style.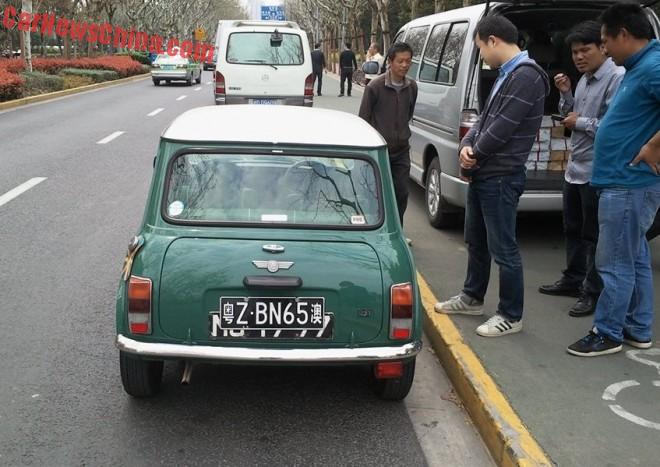 A small British car in the giant city of Shanghai.