We have received another flock photos of the all-new 2016 Ford Taurus, showing that Ford is indeed going increasingly conservative when it comes to design, a trend that started earlier this year with the incredible bland Ford Escort.
The 2016 Ford Taurus debuted yesterday in Shanghai for media and trade, it will have its public debut tomorrow on the first day of the Shanghai Auto Show. The interior hasn't been revealed yet, the lone car on display had black windows and the doors were locked.

The 2016 Ford Taurus stands on a new platform called 'ABB', it will be manufactured in China by the long-running Changan-Ford joint venture. It is the first time that Ford is using the Taurus name in China. Chinese name is Jinniuzuo (金牛座).
The Taurus will be positioned above the highly successful Ford Mondeo (Fusion), which is made in China by Changan-Ford as well. Price for the Taurus will start around 300.000 yuan or 48.400 USD, it will be launched on the Chinese car market in H2.

Initially, the Taurus will only be available with one engine: a 2.7 liter V6 'Ecoboost' turbo with an output of 325hp and 475nm, mated to a six-speed automatic gearbox. Later on a 2.0 turbo will become available as well. Ford has disclosed the length and wheelbase, but nothing else: 4996 and 2949 respectively.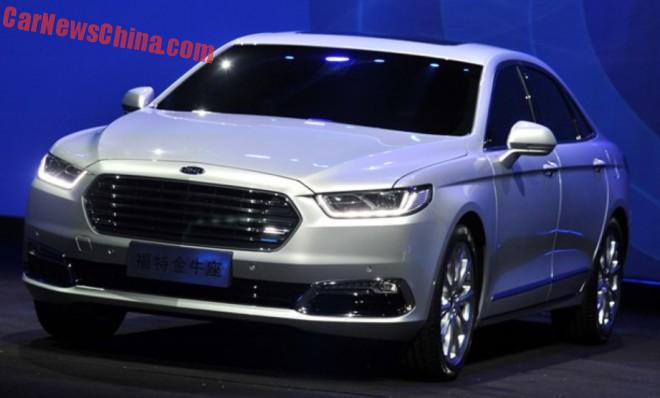 It is a good looking car, clean lines and all, but it appears to be far too boring for the hyper competitive Chinese car market, where a bit of bling is still very much king.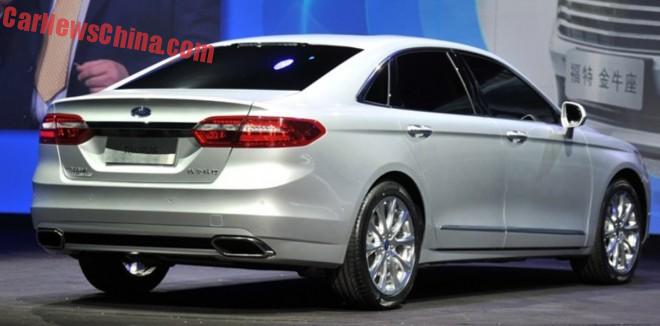 Rear spoiler nicely integrated in boot lid. Exhaust pipes kinda cool. Still awake..?