This is the brutal W Motors Lykan HyperSport, the brand and the car will have their China-debut tomorrow on the Shanghai Auto Show, followed by a launch on the Chinese supercar market in the second half of the year.
The red car in the background is the very car that starred in Fast & Furious 7.
The Lykan HyperSport is manufactured by W Motors, a Lebanese company founded in 2012. The first car debuted on the International Dubai Motor Show in November 2013. The company said initially it was going to build only seven cars, but that plan is now gone, as W Motors hopes to sell a many in China.
The monster is powered by a twin-turbocharged 3.7 liter flat-six engine with an output of 750hp and 960nm, good for a 385 kilometer per hour top speed and a 0-100 in 2.8 seconds. The engine is sourced from famous Porsche tuner Ruf, which uses for the manic Ruf CTR3.
Fuzzily, when launched in China the Ruf CTR3 did only 5.5 million yuan. One of the reasons the Lykan is so expensive are the headlights, which are made out of titanium LED blades with 420 15cts diamonds, which sounds just mad enough for wealthy Chinese car buyers to like very much.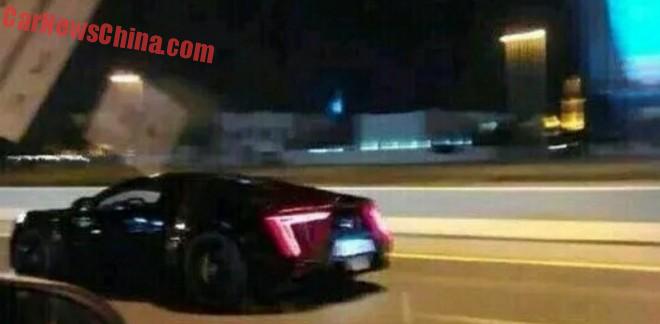 The black car was spotted road racing in Shanghai last week. It sure looks speedy, but those diamond headlights are heavy, which again will slow it down quite a bit.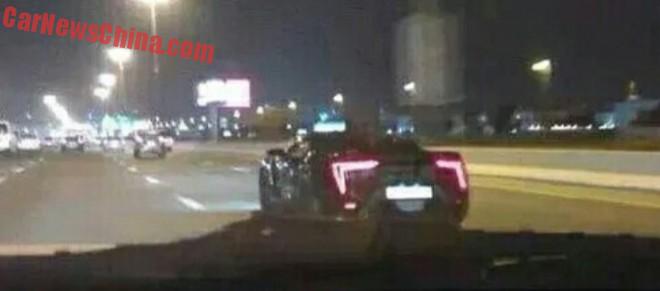 No diamonds in the taillights, just red LED. Tsk…