This is the all-new BYD Song SUV, unveiled on the Shanghai Auto Show in China. It is officially still a concept but it is 99% production ready. The real thing will be launched on the Chinese car market in Q4. The BYD Song is the hybrid variant of the upcoming BYD S3 SUV, it will be launched on the Chinese car market in the third quarter of the year.
A stylish but busy dash, in typical BYD style. The main instrument panel is partly digital partly analoque. Large screen in the center console. Wood panels a nice touch, rather special for BYD, as they normally go for alu of 'carbon' stuff. Colors are a bit of a mess again, as usual, with that wood battling orange door panels and seats. Round air vents completely mismatching with the rest of the interior.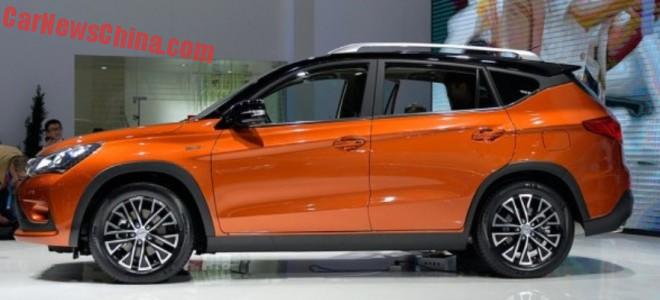 Sadly and badly, BYD still has not announced anything on power output, likely because they are still working on it, but the company confirmed what we already knew: a plug-in hybrid drive-train consisting of  a turbocharged 1.5 liter petrol engine mated to two electric motors, one on each axle, creating a four-wheel drive car. Transmission is a six-speed DCT. BYD says that the acceleration from 0 to 100 takes only 4.9 seconds.  In electric mode the Song has a range of 70 kilometer.
Size: 4565/1830/1720, wheelbase is 2660.
BYD is not joining the latest trend in downsizing the lights, they are huge as usual. Roof rails in matte chrome look very usable.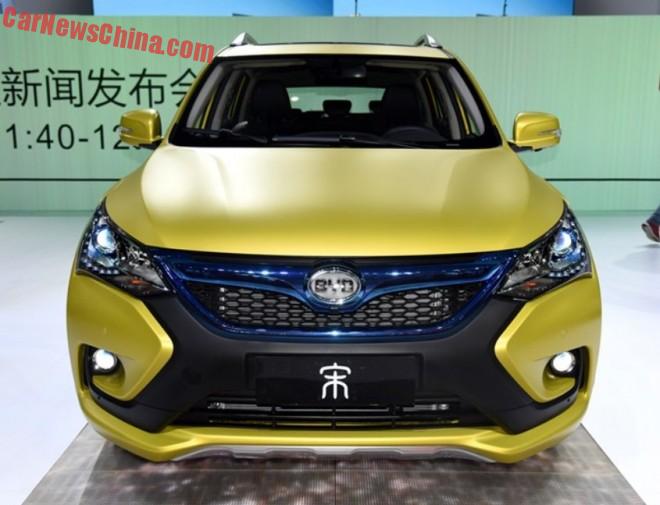 A rather models grille for a BYD. Not too much chrome this time. Black 'X' a nice new touch.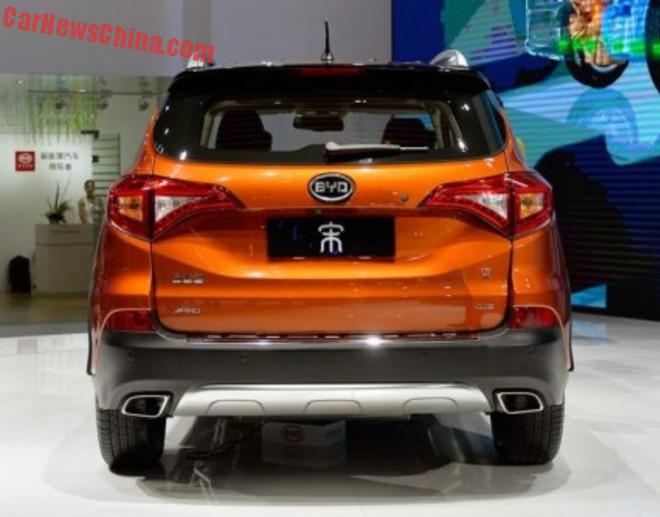 Two exhaust pipes flanking the skid pad. All together a good looking car with impressive tech, BYD showing once more they are on the right track to automotive stardom, and higher sales.