The brand new 2016 Ford Taurus will be launched in China in September December, mass production of the new full-size Ford sedan officially started yesterday in a brand new factory in the great city of Hangzhou in Zhejiang Province. The Ford Taurus debuted in April on the Shanghai Auto Show.
A neat interior with a tad too much gray, dressed up with some wood on dash in cream white leather seats. Steering wheels looks more Focus than Taurus. Start button on the left of the screen. Fortunately no fuzzy gearbox buttons on the center console like in a Lincoln, but a more modern drive-selector on the center tunnel with a shiny shiny knob.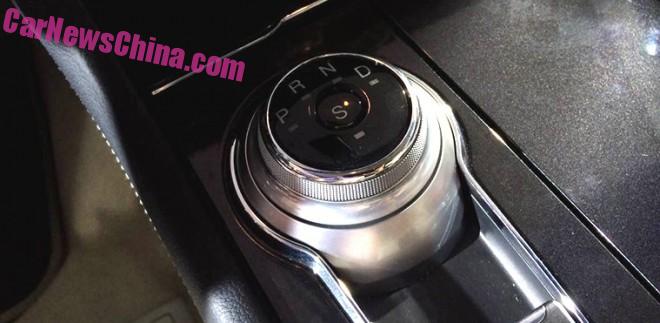 The knob, how hip is that for a Ford..?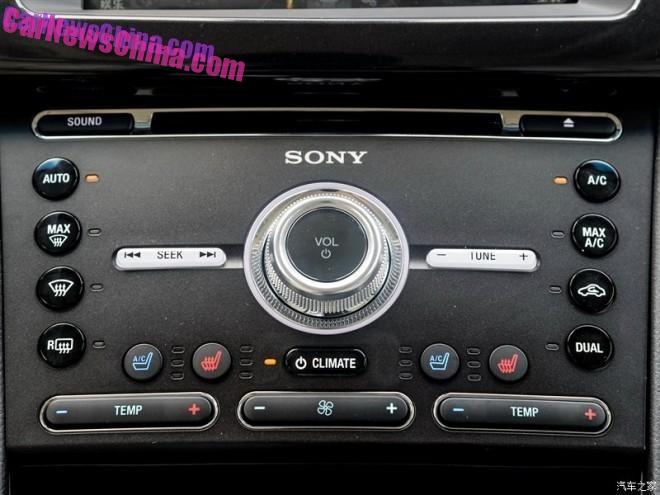 Interestingly, the Taurus comes with a standard CD player, while we are really living in 2015 now, the time of iPhones, Bluetooth, and streaming things. Nobody has compact discs anymore, and certainly not the younger generation of Chinese car buyers. They all wireless kids you know! Even more interestingly, said CD player is clearly marked as a Sony, like Ford wants to show off with the troubled Japanese brand.
It has a 'sound' button, we wonder what that does. The panel is otherwise a bit messy too, with shiny-white oval selector buttons, shiny black round buttons, a shiny-black oval button, non-shiny matte black round buttons, and non-shiny black oval selector buttons, and the main button in shiny chrome!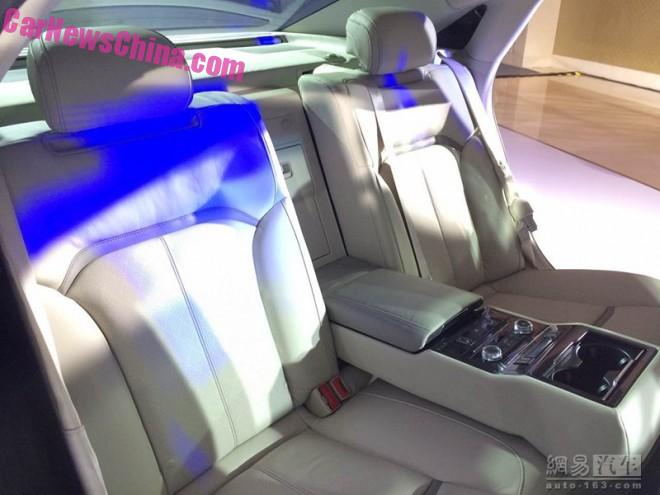 Captain seats in the back for the chauffeured clientele. Seats look a bit flat.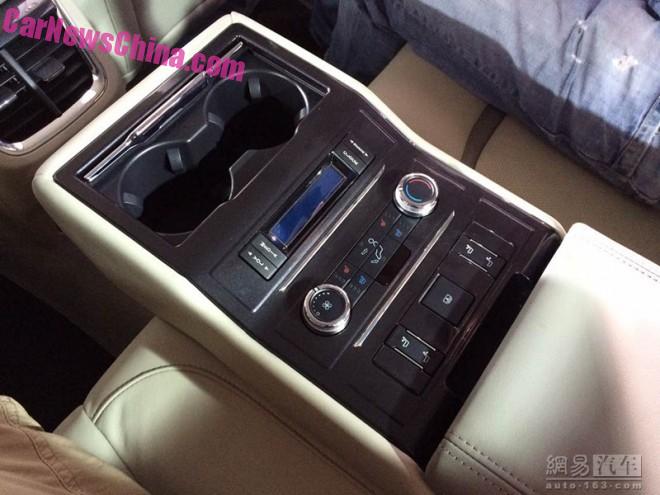 Such a control panel is a nice idea if properly done. This isn't. The various parts don't seem to match very well, in the way they were installed, in the materials they were made off, and in the colors they have. A bit of a mess, just like that center console CD-player area.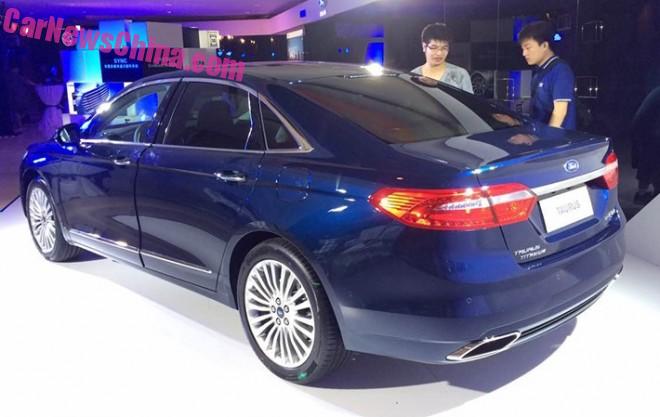 Spoiler nicely integrated in the boot lid. Chrome strips connecting taillights are a new trend in China, we see the thing on almost every new car, from local and international brands, and Ford is joining in. Chrome strips around the side windows, chromed door handles, and chromes exhaust pipe tips. Ford clearly wanted to Bling up the otherwise boring design a bit.
The 2016 Ford Taurus stands on a new platform called 'ABB', it will be manufactured in China by the long-running Changan-Ford joint venture. It is the first time that Ford is using the Taurus name in China. Chinese name is Jinniuzuo (金牛座).
The Taurus will be positioned above the highly successful Ford Mondeo (Fusion), which is made in China by Changan-Ford as well. Price for the Taurus will start around 300.000 yuan or 48.316 USD.
There will be three engines available: a 1.5 turbo four with 181hp, a 2.0 turbo four with 245hp, and a 2.7 turbo V6 with 329hp, and the latter will be one of the most powerful engines ever used in a China-made car. Size: 4996/1878/1503, and wheelbase is 2949.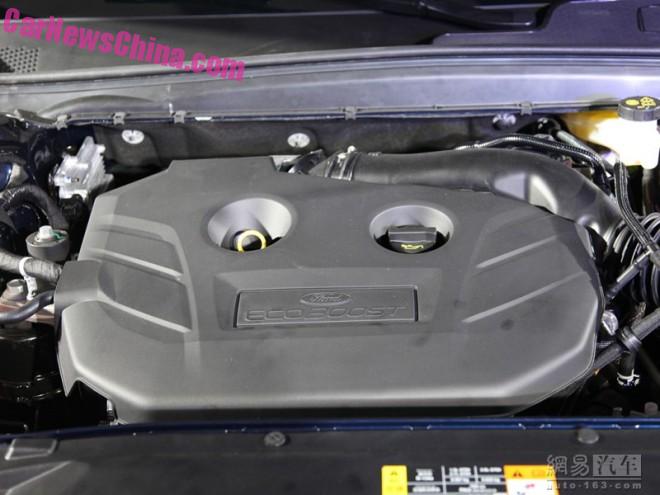 The 1.5 turbo with a gray engine cover.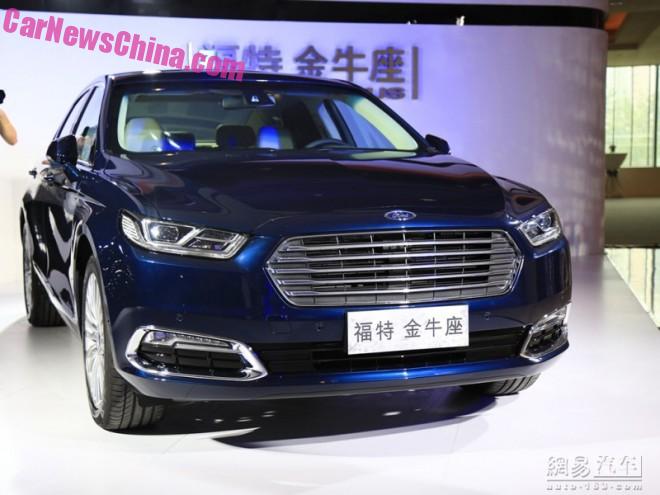 Headlights are good.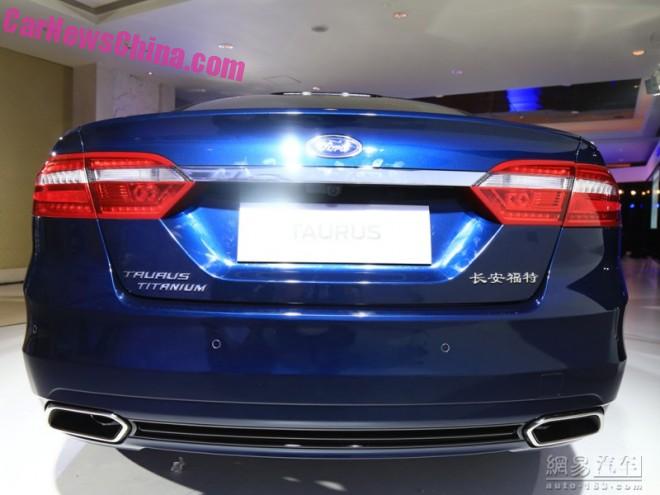 The new Changan-Ford Taurus Titanium for China.