The very first photos of the all-new Volvo S90, leaked in China in 1:18 model car form, showing off its sleek sedan-coupe design with 'Thor's Hammer' headlights similar to those found on the Volvo X90.
The Volvo S90 is a new car in the Volvo lineup, set to compete with the Audi A6, BMW 6-Series, and Mercedes-Benz CLS. The S90 will be manufactured in Sweden and in the new Volvo plant in Daqing in northern China.
Rear lights similar to those found on the Volvo Concept Coupe.
The Volvo S90 stands on the same platform as the successor of the Volvo S80 sedan, which will compete, just like today, with the Audi A6, the BMW 5-Series, and the Mercedes-Benz E-Class. The S90 will be positioned below the long-rumored Volvo S100, a large sedan that will go after the A8, 7, and S. The latter is the pet project of Li Shifu, CEO of Geely, the owner of Volvo.
The engine lineup of the S90 will be the same as on the recently launched Volvo XC90 SUV:
T5: 2.0 turbo: 257nm and 350nm.
T6: 2.0 turbo + supercharger: 325hp and 400nm.
T8: Drive-E hybrid. 2.0 turbo + supercharger and a 80hp electric motor. Total: 405hp and 640nm.
D4 diesel: 2.0 turbo: 193hp and 400nm.
D5 diesel: 2.0 twin-turbo: 228hp and 470nm.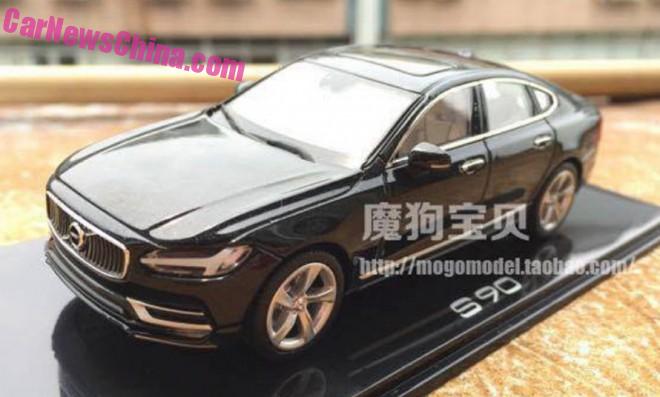 The photos first appeared on Weibo, China's equivalent of Twitter-mixed-with-Facebook. Mogomodel refers to a popular car model shop on Taobao, a giant Chinese e-commerce website owned by Alibaba. The S90 however isn't on sale in the shop yet…
Car makers are having this sort of models made to hand out to the media, dealers, and VIP customers at the launch of a new car. Most models are manufactured by toy makers in China, and they are not very good in keeping secrets; earlier this month we had the Bentley Bentayga naked in 1:18 too.