A very racy E36 BMW 328i Coupe, Spotted in China on the Beijing Tuning Street. The good Bimmer is painted in a white with a black bonnet, and further sexed up with a body kit, lowered suspension, darkened windows, black strips over the bumpers and side, and superbly cool black silver BBS alloys.
Black strips around the windows, matching perfectly with the white body. The vehicle was very dusty but appeared to be in good shape inside and out. The E36 3-Series was manufactured from 1990 until 2000 with a facelift in 1996. It was never sold in China so seeing any E36 on the road in a rare pleasure. This particular car has black license plates indicating it once belonged to a foreign-owned company which were allowed to import their own cars in the 1980's and 1990's.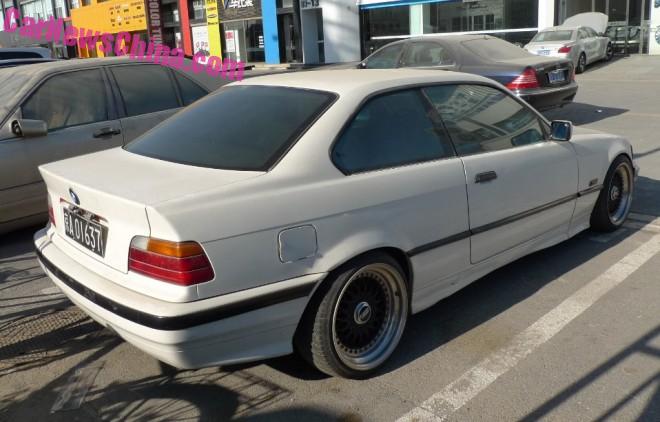 The 328i was the second-fastest E36 after the mighty M3. It was powered by a 2.8 liter six-in-line with an output of 193hp and 280nm, good for a 240 km/h top speed and a 0-100 in 7.2 seconds.
Time now for our small but precious China BMW E36 Collection: 328i cabrio, 325i cabrio, and a sporty 325i sedan.