A thunderous Toyota Tundra TRD Pro crew cab, Spotted in China in the Dongba area in far east Beijing. The giant pickup truck was dusty and dirty but seemed brand new from the boat, fitted with an extra heavy bumper with a light bar, super wide side bars, and racy black alloys.
The Tundra TRD (Toyota Racing Development) Pro is Toyota's answer to the mighty Ford F-150 Raptor. It is powered by a brute, no Prius bullshit here, 5.7 liter 'iForce' petrol V8 with an output of 381hp and 544nm. When that is not enough TRD also has a Supercharger Kit on offer, which brings power up to 504hp and 750nm. This red car in Beijing had the standard 381 horses. Should be enough do deal with the Great Wall, traffic jams, and then some.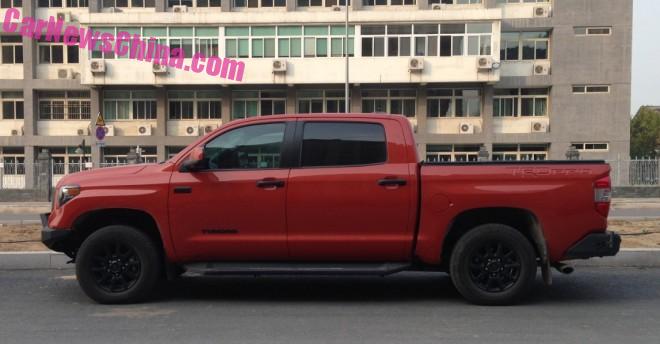 The TRD Pro comes with off-road goodies such as special shocks, higher ride height, stiffer springs, skid plates, and a duel exhaust system. It seems however that is particular example has been lowered again, likely for the cool.
The second generation Toyota Tundra has been in production since 2007, with a major facelift in 2014. This is a facelifted example. The Tundra is not officially imported into China, but some cars arrive via the gray dealer-to-dealer market, mostly from dealers on the U.S. West Coast.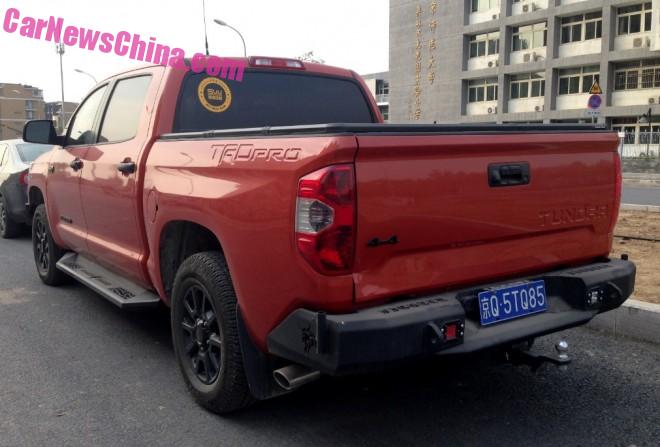 Extra wide rear bumpers, a hook to haul a house, and the pipes sticking out to the sides.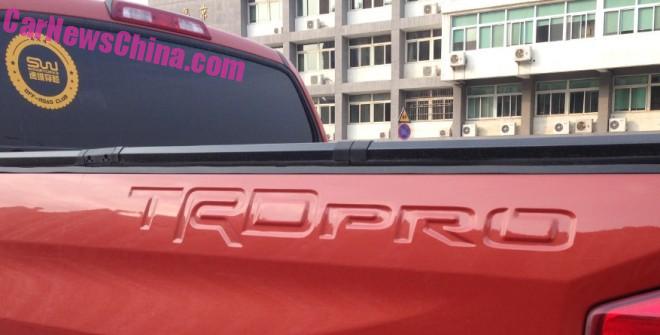 TRD Pro badge stamped into the bed.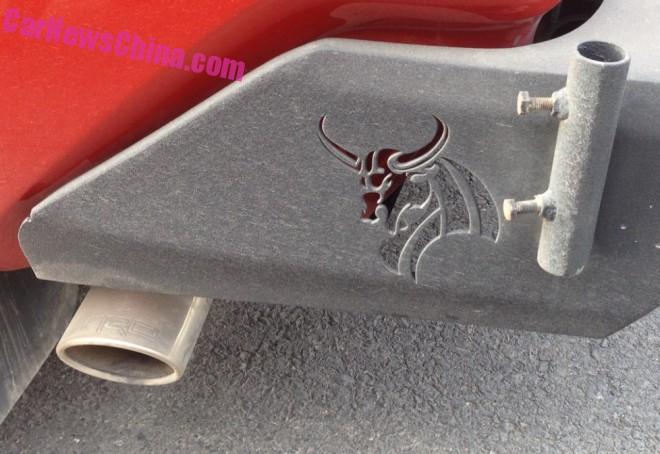 An angry bull on the bumper, and a bolted-on flag holder for off-road racing.