Spectacular Spy Shots of the 2017 Porsche Panamera, seen almost completely naked in an underground parking in China. The 2017 Panamera will have its worldwide debut on the Beijing Auto Show next month. The Panamera sports a completely redesigned rear with wider shoulders, new lights, and a new bumper section.
The front end is sleeker and more aerodynamic, with the pronounced fenders and a lower nose. The new Panamera is based on the MSB-F platform, a special variant of the MSB platform. The MSB platform will also underpin the new Audi A8 and the next generation Volkswagen Phaeton and Bentley Continental.
The 2017 Porsche Panamera will be available with a new 4.0 liter twin-turbo V8, which replaces the current 4.8 liter V8, a 3.6 turbo V6, and a 2.9 turbo V6. The new V8 will measure something like 3.9999 liter to make sure it stays just under 4.0. Engines with four liters and more are slapped very hard by Chinese taxes, sometimes doubling in price compared to a smaller-displacement model.
This is also why Ferrari, McLaren, Mercedes, and BMW have all gone small and turbocharged. China has become the largest market worldwide for performance cars, but price does matter. The only exception is Lamborghini which stubbornly continues with 5-or-more liter cars, costing far more then anything comparable. They will loose out in China.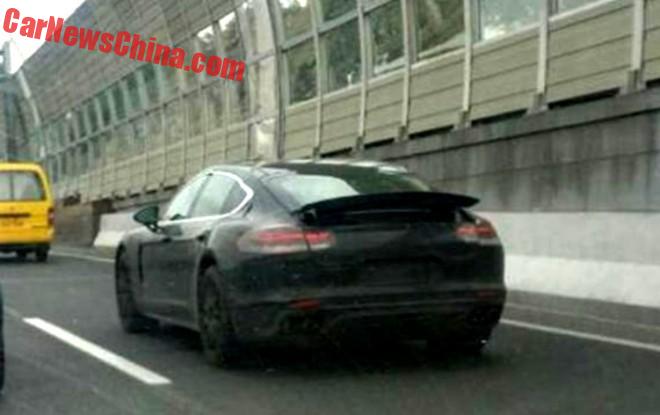 Another test car, seen in Shanghai, showing the new much larger wing.