The very first photos of the new Citroen C6 for China, seen here on a dealer event for Citroen dealers, where taking photos was not allowed. Happily, somebody brave took a few shots anyway, revealing an absolutely crazy grille, small full-LED lights, and a lot of shine. The Citroen C6 will officially debut on the Beijing Auto Show later this month and launch on the Chinese car market in September.
The Citroen C6 is basically the same car as the Dongfeng Fengshen A9, with a fancier interior, a slightly different rear, a rather different front, and a higher price tag. The front of the Citroen is without a doubt better than the Dongfeng's, but we think the Dongfeng's rear is much better than the Citroen's.
The Citroen C6 and the Dongfeng Fengshen A9 will be manufactured alongside each other by the Dongfeng-PSA joint venture. They are both based on the PSA EMP2 platform, which will also underpin the upcoming Citroen DS9 sedan which is scheduled to arrive in late 2017.
Dongfeng Motor can use the platform because they are one of the largest shareholders in PSA. Companies also have the long-running Dongfeng-PSA joint venture that makes various other Citroen and Peugeot branded cars for the Chinese market.
The engine too is the same for both cars: a PSA 1.8 liter 'THP' turbo with an output of 200hp 204hp and 280nm, mated to a six-speed automatic transmission sending power to the front wheels.
The Citroen C6 will compete with cars such as the Ford Taurus, the Buick LaCrosse, and the Toyota Crown. This segment is relatively unknown in Europe but very popular in China. Price-wise the vehicles are positioned just below the 3-Series, A4, and C-Class, but they are usually bigger and more luxurious.
Price of the new C6 will range from around 200.000 to 300.000 yuan.  For comparison, the China-made Citroen C5 starts at 180.000 and ends at 240.000, and the China-made C-Class L starts at 314.000 and ends at 590.000 yuan. Price for the Fengshen A9 starts at 179.700 yuan and ends at 229.700 yuan.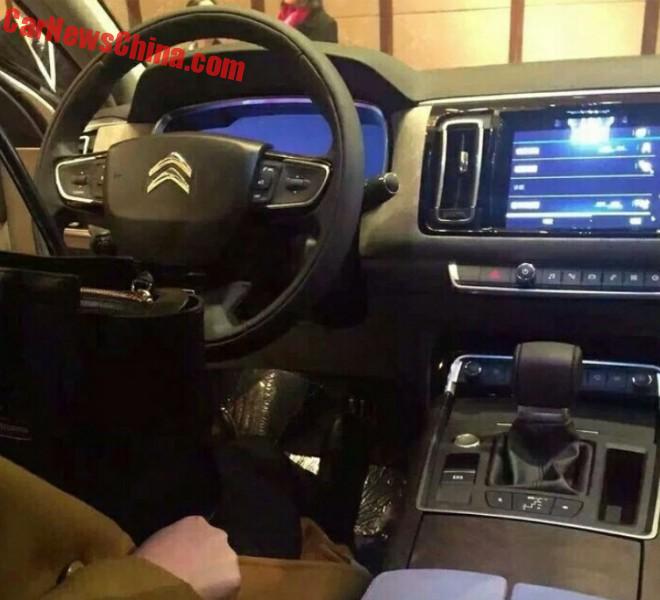 The dashboard with an all digital instrument panel and a large touch screen in the center. There seems to be no wood, unlike in the Dongfeng. Both cars share the same steering wheel.
Well, it sure looks like an interesting car. We expect more photos very soon…