The new Ford Tourneo MPV has been launched on the Chinese car market. Price starts at 176.900 yuan and ends at 203.900 yuan. The Tourneo is a slightly dressed up variant of the Euro-Ford Tourneo Custom. The Tourneo comes with some extra shiny in the grille and bumper, and fancy alloy wheels.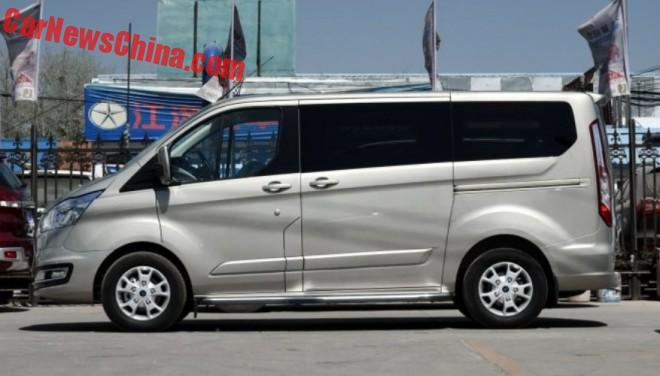 Design is fuzzy, not to say a mess, with lines and creases and corners going absolutely everywhere. This, combines with those tiny tiny wheels, makes for rather awkward looks. And it gets even worse inside: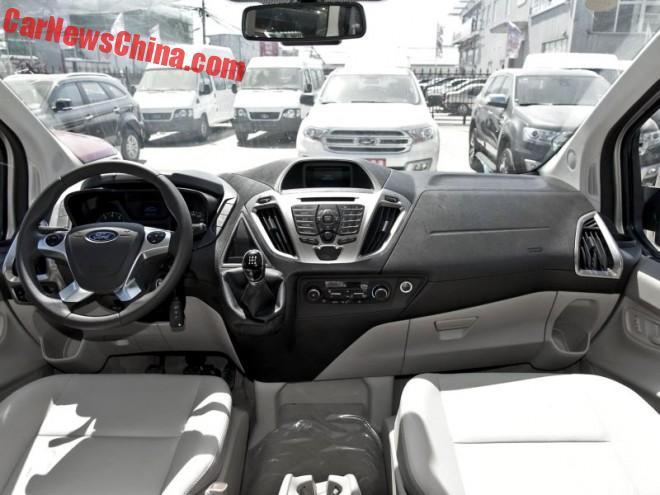 I cannot look at this for more than a second without getting very dizzy. What a mess. Just look at the way they fitted in the aircon controls, to the right of the gear lever, half under the center stack, partly in front of the passenger seat. And those cup holders on each side, under the dashboard!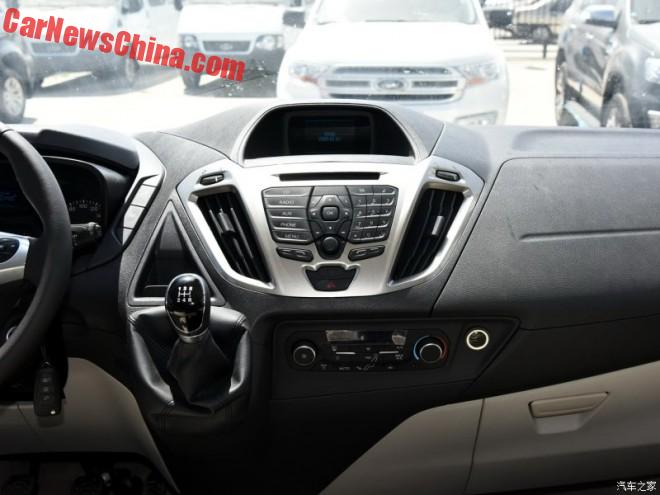 There is a super small screen on top, but it isn't touch, and it isn't 2016.
The Tourneo is surprisingly low tech in any way. It is only available with a five-speed manual gearbox. That;s five-speed (o5). The only available engine is a 2.0 turbo petrol with 203 hp and 300nm, which is good enough for a top speed of 156 km/h and a 0-100 in 13.7 seconds. It is thirsty, fuel consumption is 9.5 liters per 100 kilometer.
The Tourneo is made in China by the Jiangling-Ford joint venture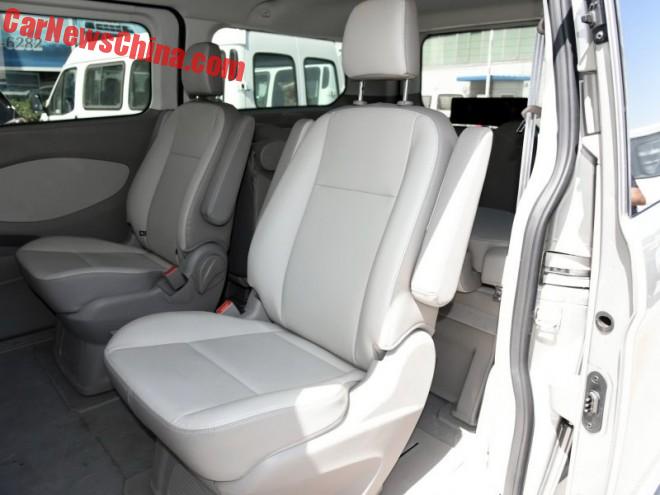 The Tourneo seats seven in a 2/2/3 config. It is aimed at taxi companies, airport taxi companies, and hotels. Its lone competitor in its price range is the Shanghai Maxus G10, which has a much better looking dash. The Buick GL8 is much more expensive and operates in a higher market segment.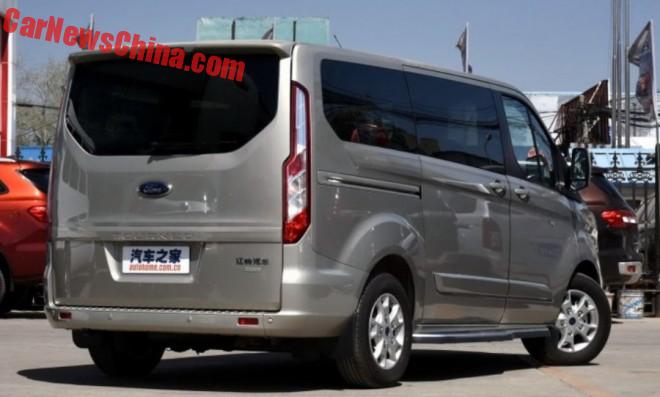 The rear lights are well-designed.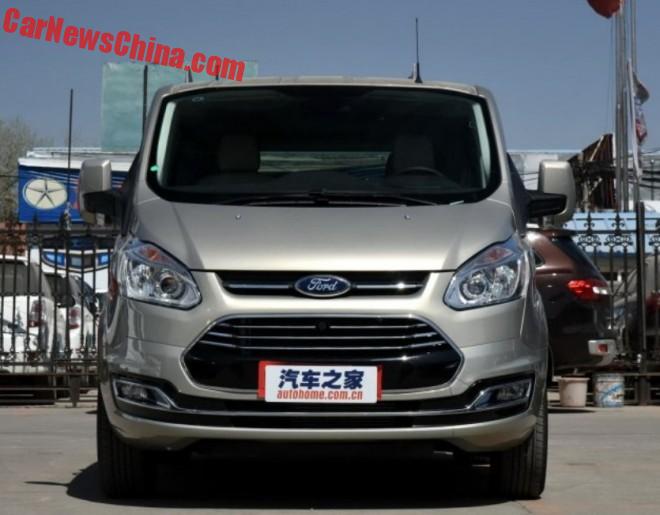 Grille with shiny bars and a large Ford logo.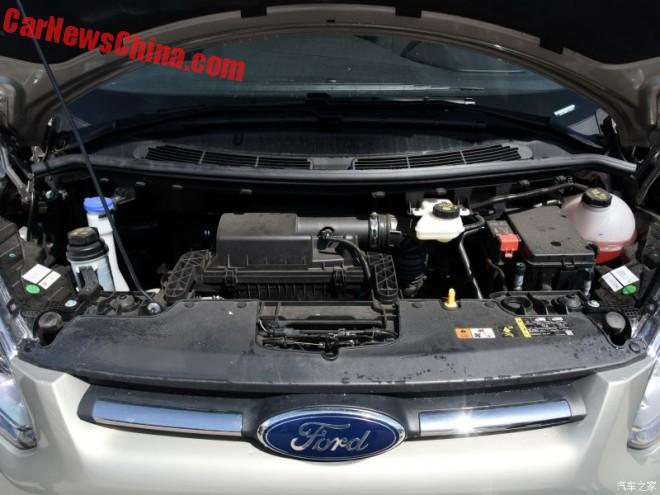 An ugly engine bay.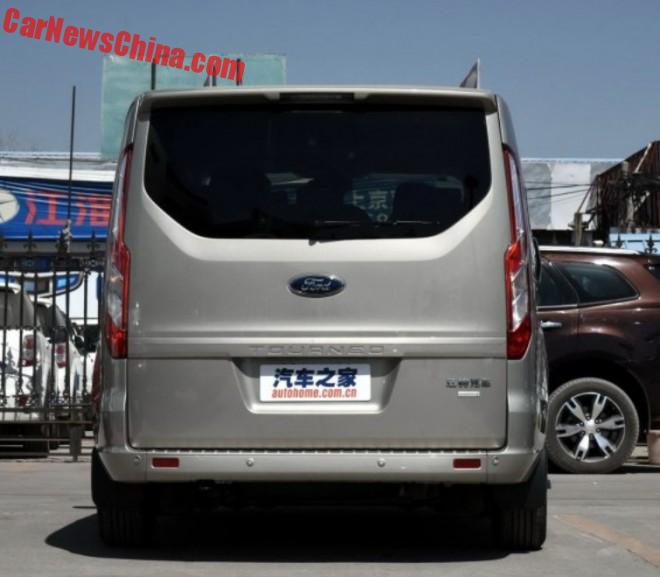 This Tourneo is not going to be an easy sell. The main reason for that is the absence of an automatic 'box and the high fuel consumption. Ford is aiming this Tourneo at the passenger car market, not at the van market, but they forgot to make it a passenger car.