A brand new Tesla Model X has crashed in China, damaging the left-front fender, the bumper, headlight section, and the front suspension. The Model X was hit by a BYD F6 sedan on a crossing on an almost empty road in the city on Xinzheng near Zhengzhou in Henan Province.
The accident marks the first Model X crash in China. It happened around 19:00 on yesterday July 28. We don't know whether the autopilot was on or not.
The crossing is located in a new area, connecting the Zhonghua North Road with the Jinhe Avenue. The exact location is here.
The photos were taken from a passing vehicle right after the crash. We see a shirtless man on the right side of the Model X, looking through the window. The airbags of the Tesla have been deployed. The doors are closed. There is no sign of the driver. The man on the scooter appears to be a local onlooker.
The Tesla has no license plates. That is not unusual when a car is new. But normally such a car would have a clearly visible temporarily license plate (looking like a white note) behind the windscreen,and this Tesla doesn't have any. That means no insurance, and a big fine.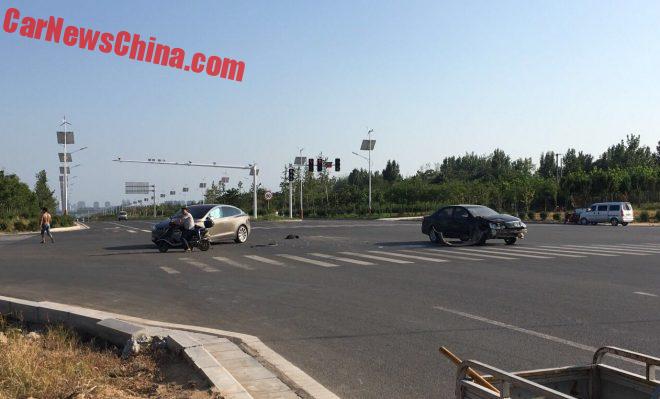 The shirtless man can be seen walking away on the left side of the photo. On the right side the BYD F6, a sturdy Chinese sedan. It is no longer in production. The crashed example appears to be a 2010 or 2011 model.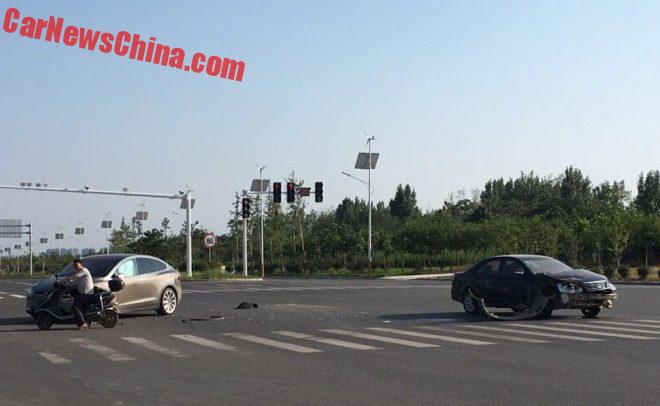 The same photo enlarged. The front of the F6 is heavily damaged. It seems it hit the Model X full on the left-front bumper. There are traffic lights but it is impossible to know who was wrong here. In general, most drivers tend to ignore traffic lights on this sort of roads in this sort of places.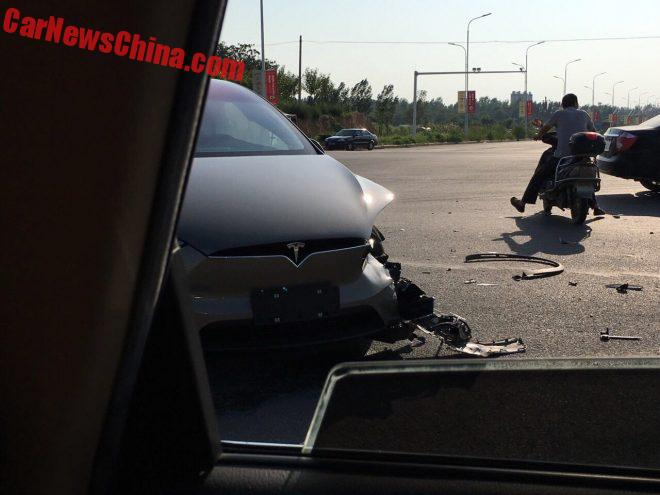 The fender is shattered.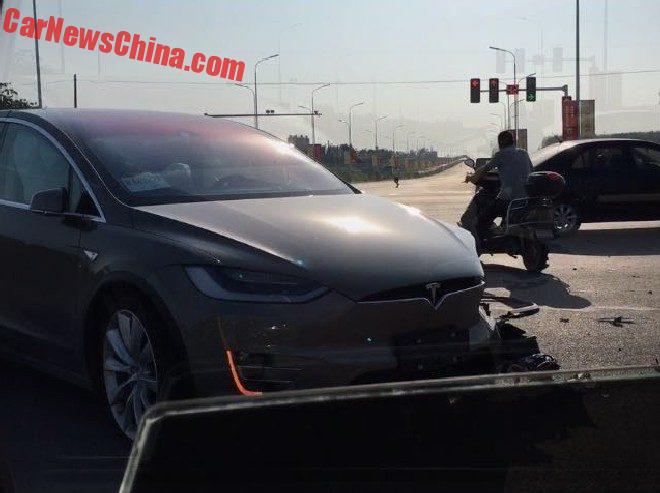 Side airbag on the left deployed as well.
More as we get it.
The Tesla Model X launched in China in May. There are five variants available: the 60D, the 75D, the 90D, the P90D, and the China-only P90D Signature Red edition. Price starts at 750,000 yuan and ends at 1.15 million yuan ($113,000 – 173,000), and the Signature Red does a whopping 1.47 million yuan ($225,000).
Photos via Weibo.