Drama on a rural Chinese road. A white Bentley Bentayga SUV without license plates crashed into an electric scooter. Happily nobody got hurt. The Bentley was driven by a young woman on shiny high heeled shoes. She can be seen inspecting the damage on her bumper. The electric scooter was driven by a somewhat older woman wearing black shoes, and sporting a sporty short haircut.
The scooter lady, dressed in black, looks annoyed at the Bentley lady, who looks at her phone. The scooter is of the heavy kind, with a factory-installed bumper all around and a large luggage pod on the back. These things are powered by a stinkin' lead-acid battery pack but can easily go 70 km per hour and have a range of about 60 kilometer. They can seat a whole family. They are everywhere down country.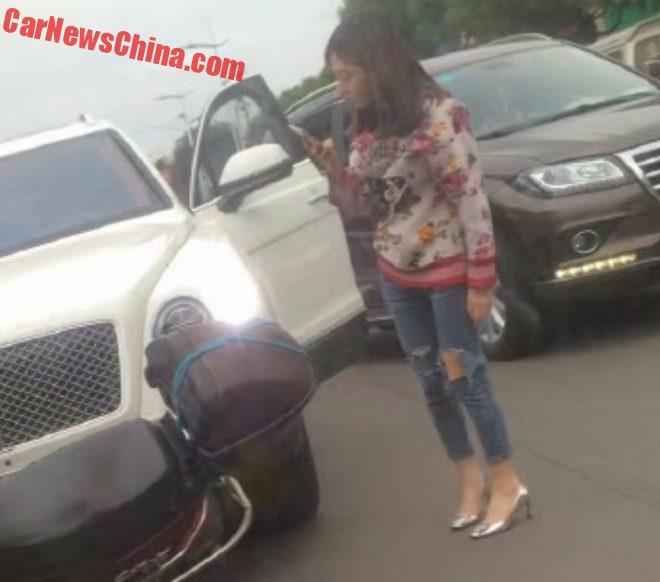 Driving a 600hp SUV with those shoes is dangerous. Her trousers are so hip they have holes in them. Her sweater is a bit wuzzy.
The Bentley Bentayga is extremely expensive in China. Price starts at 3.98 million and ends at 4.8 million yuan. That's $590.000 to 714.000. Repairs are famously expensive… This white example has no license plates, and I don't see any temporarily plate behind the window either, which means insurance won't pay a dime. This little lady better get rid of those shoes!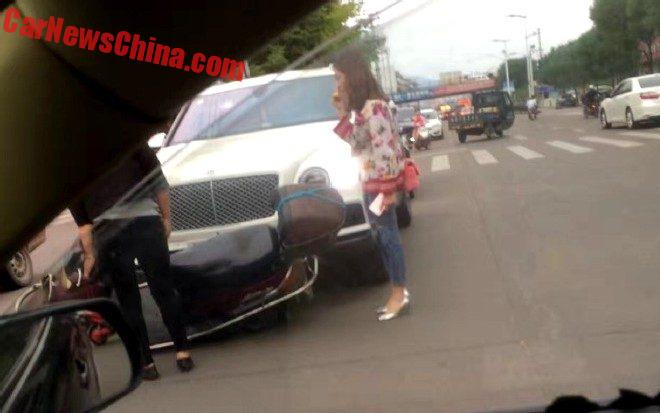 The scooter lady keeps holding on to her vehicle. The Bentley lady finally makes the call. Rear wheel of the scooter looks bended. Rapairs to those scooters however is cheap. Buying one new will costs only 5000 yuan or so ($740). The Bentley Bentayga costs 1000 times more.