The very first photos of the new Hyundai Verna hatchback for China, following hot on the heels of the new Verna sedan. The Verna hatchback will debut on the Guangzhou Auto Show in November and launch on the Chinese car market in early 2017. It has become a sharp looking little car, much better than…
… the unpretty current Verna hatchback. That grille is just horrible! Anyway, it will be gone soon. Price starts at 72.900 and ends at 99.900 yuan. But as it is walking on its last legs prices at the dealer are going down fast; with some selling for as little as 62.000 yuan, 10.000 off the list price. So if you want an ugly old Verna, now is the time to make a move. Engines: 107hp 1.4 and a 123hp 1.6.
One word about trim levels. There are three of them. The low-spec car is called GL. The mid-sped car is called GLX. The top-sped car is called… TOP.In English and in Chinese. TOP. With three capitals.
That's the top of stupidity. Or is is actually really a good idea? But then they should have called the other levels LOW and MIDDLE.
The rather old engines will continue in the new Verna hatchback. And even worse; the 1.4 will lose seven horses, ending up with just 100hp. The 1.6 stays at 123 horses. Both engines will be mated to a six-speed manual or a four-speed automatic. Yes, four-speed automatics still exists in many new cars in China.
The Verna hatchback is made in China by the Beijing-Hyundai joint venture.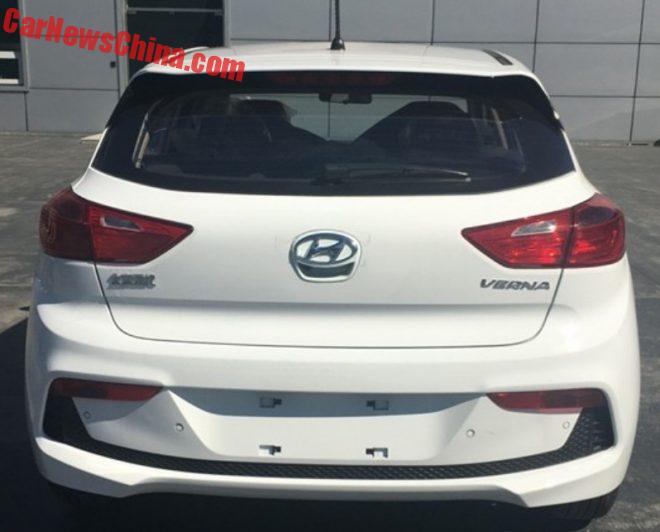 Lights are rather large for late 2016. Badge and door handle are mixed into one, looking odd. The bumper is nicely racy.
A better looker than before but the old underpowered engines are a serious letdown. A lot of other auto makers are launching 1.0 turbo and 1.2 turbo engines in this segment. Hyundai lags behind.