A beautiful old Toyota Coaster Deluxe minibus, Spotted in China in the far eastern wastelands of Beijing, where villages and villagers are still holding out. The good Coaster was abandoned and very dirty but not in an overly bad condition. A local told me it hadn't been used since the Olympic Games, which was in back 2008.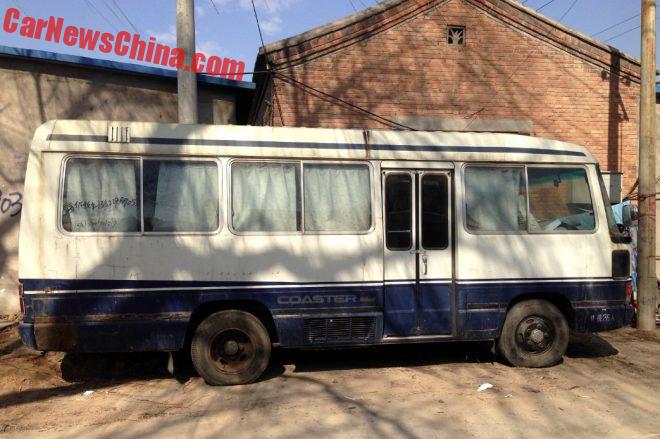 The second generation Toyota Coaster was manufactured from 1982 until 1992. It was exported to China in small numbers, so seeing one is a rare pleasure. This white blue example is an early car with round headlights, later examples had square lights.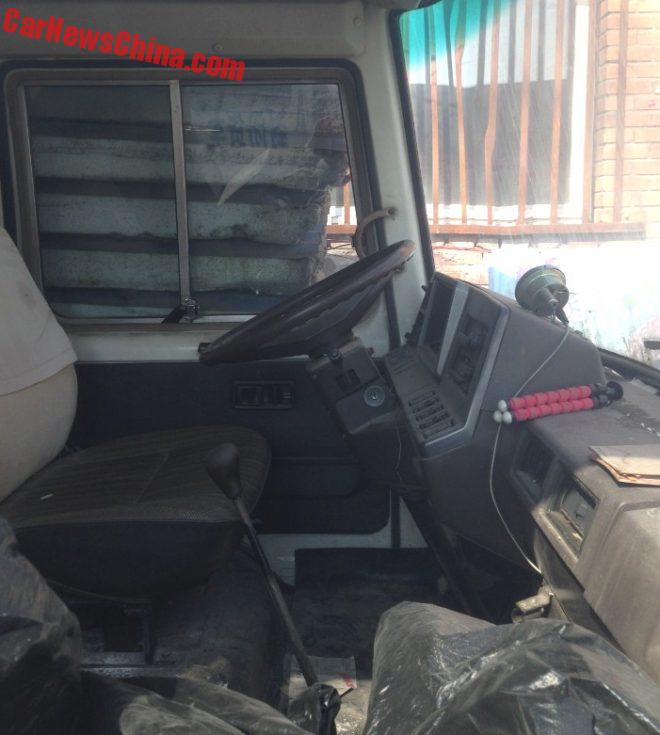 The Deluxe was the mid-trim level, above EX and below Super Lounge. This car in Beijing has the high roof and the long-wheelbase body. Size: 6860/1995/2380, and wheelbase is 3800. Power comes from a 3.4 liter four-cylinder diesel engine with 98 horsepower.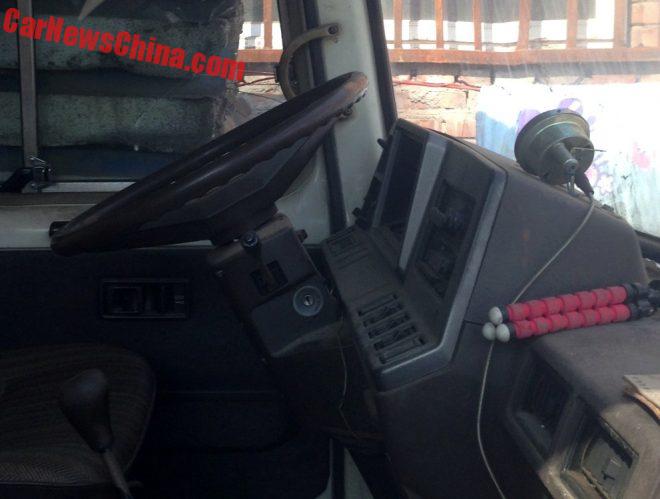 Fabric on seats is original. Dashboard in 1980's brown with loads of switches. Steering wheels lies almost flat like in a truck. The interior too was very dirty and the passenger compartment was loaded to the max with old crap. Many old buses in China are 'converted' into storage rooms or even living spaces.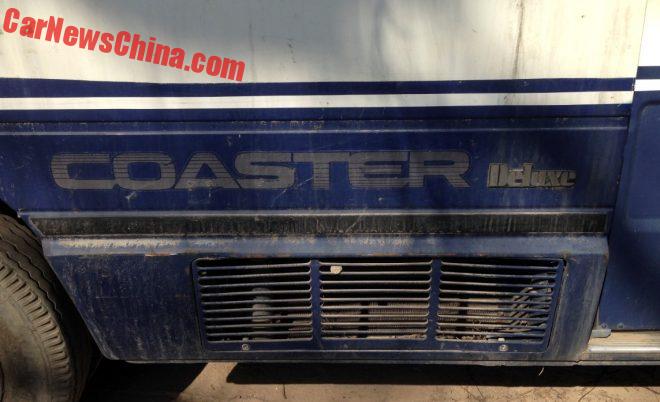 Coaster is a sticker. Deluxe is a metal badge.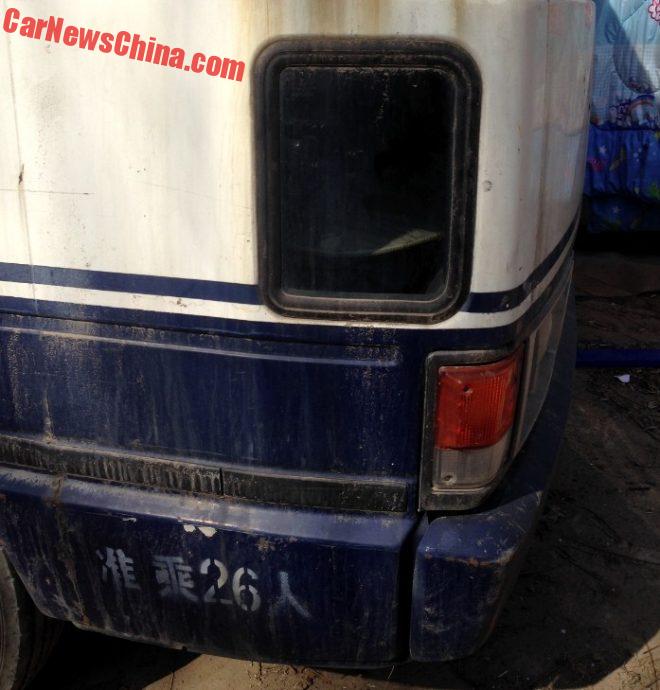 By law any commercial-passenger vehicle has to have a government stamped stamp with the maximum number of passengers. This Coaster Deluxe is thus officially rated at 26 persons including driver and co-driver.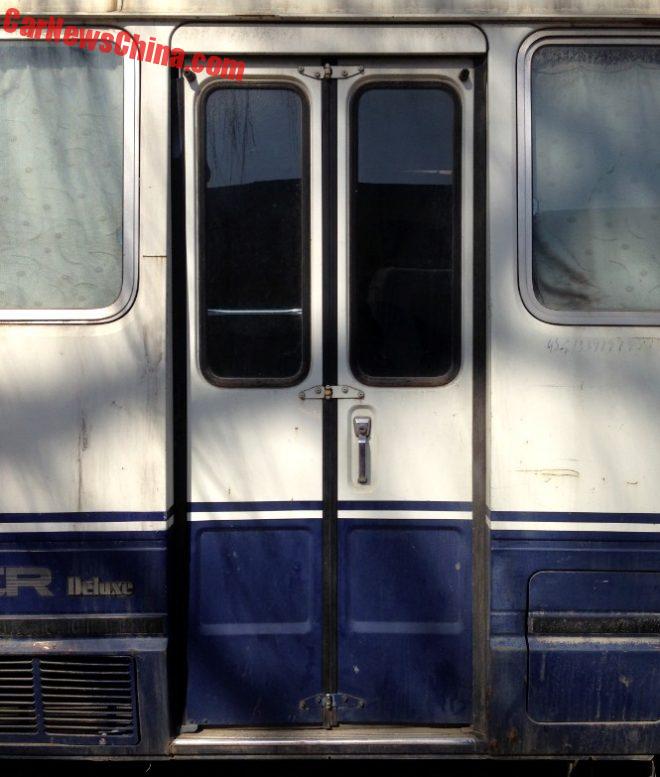 A beauty of a door; romantic almost. Goin' travel! "Ladies and gentlemen, please get your asses aboard!"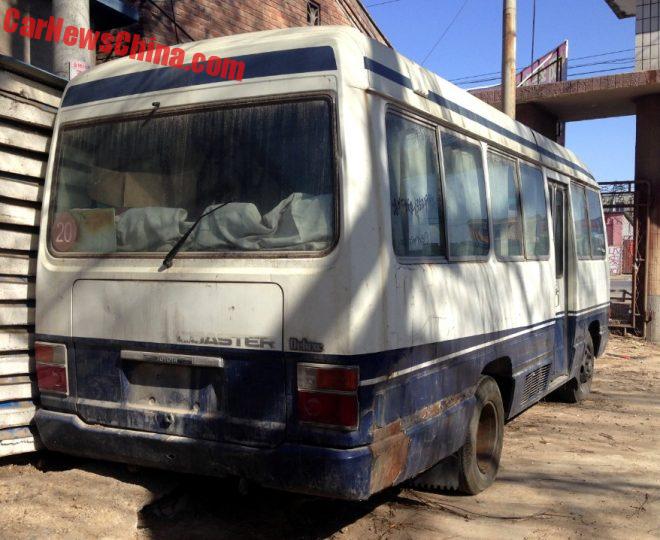 Four seats in the back. The bus was parked on a dirt road leading to a small village surrounding an old factory. The place was so full of dust that all the dogs barked coarse.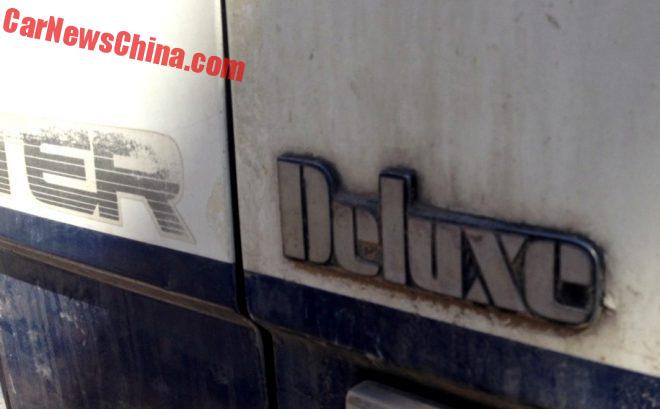 Thanks Toyota, for your many years of service.
And by the way: Toyota has launched a very sweet website about their history. It is a little complicated to work with but it has data and pics on every Toyota ever made, including the Coaster.