Faraday Future has unveiled the ultra speedy FF91 Electric SUV at the CES in Las Vegas, during a spectacular show that took about an hour too long. Biggest surprise besides the car was the appearance of none other than Jia Yueting, whom we missed at the groundbreaking ceremony of his new factory in China.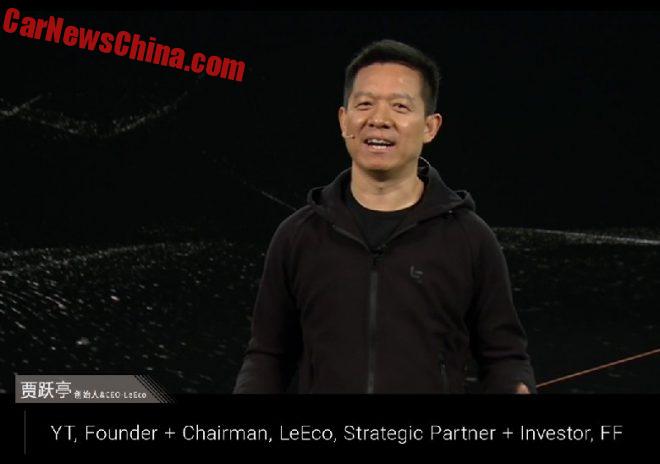 Jia was announced as "YT Jia". Jia is his last name so in Chinese it comes first. In English it naturally comes last. Yueting was shortened to YT. Very good, much easier. YT was titled as Founder + Chairman of LeEco and Strategic Partner + Investor in Farafy Future. That indeed is correct. LeEco hasn't invested a dollar in FF, it is a personal investment by YT. However, he borrowed the money for the investment by using his shares in LeEco as a collateral.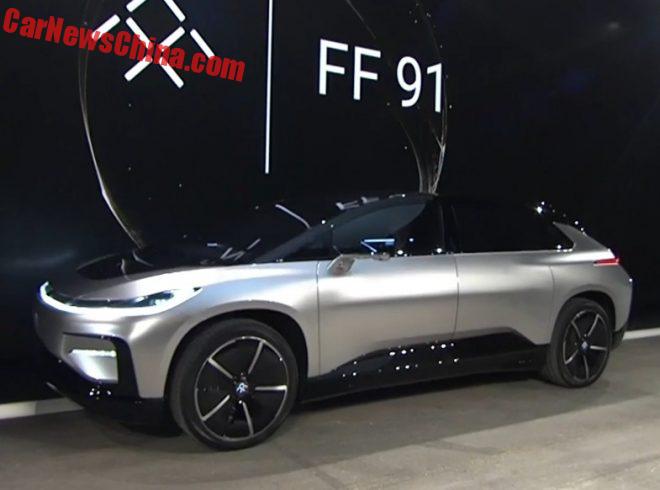 Now to the car! It is not a production car but more like a mix of a concept and a prototype. It looks good, a low slung SUV-MPV with suicide rear doors. It can drive autonomous and is stuffed to the roof with radars, apps and monitors. FF claims it goes from 0-100 km/h in 2.39 seconds, beating the 2.9 seconds of the Tesla Model S P100D. The electric motor has a massive 1050 hp from a 130 kWh battery pack. Range is 700 kilometer. No other specs released.
FF has two cars in Las Vegas, the silver car that looked very much like a concept and a white-black example that looked like a prototype, complete with huge panel gaps. The interior of the former was completely finished in concept-car style, with a lot of plush and pretty. The interior of the latter was unfinished and only briefly visible when it did an autonomous-parking demonstration on a parking lot.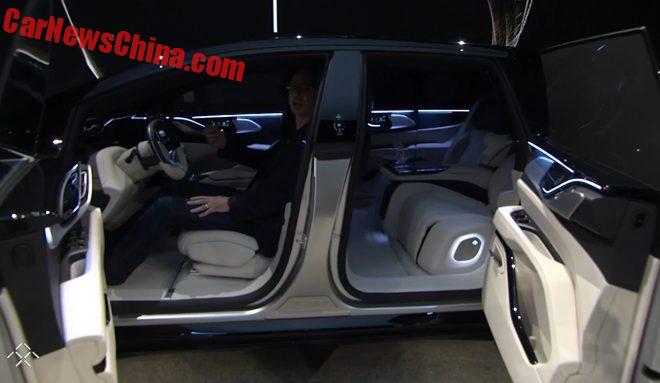 Four individual seats with two wine glasses in the armrest in the back. Every passenger will get a "Global user profile" so whenever he or she steps into whatever FF91 the car will remember that person's settings and preferences.
The FF91 is part of an "EcoSystem EV", to be developed by Faraday Future, and that sounds very much like the LeEco ecosystem. The car's systems will "load you music, email, movies", just like they said about the LeSee electric sedan. The FF91 will have "mobile internet at fiber speeds" and that sure sounds speedy.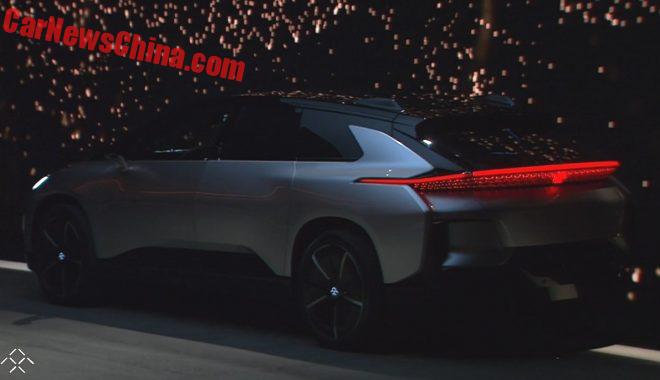 The silver car drove on stage with YT on the driver seat. The self-parking system apparently didn't work properly and the car came to a halt on the right side of the stage, almost hitting the wall.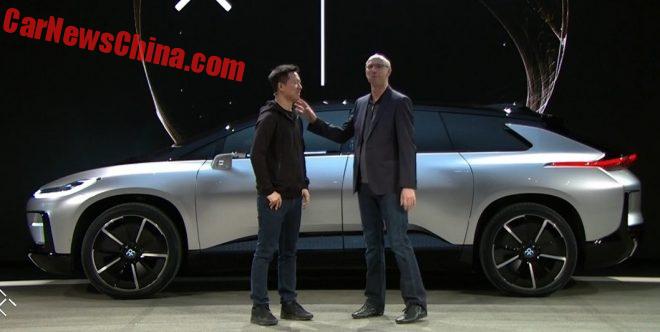 YT then got out and chatted with vice-president of R&D and engineering Nick Sampson, who was dressed very poorly, like FF hadn't paid his salary in years.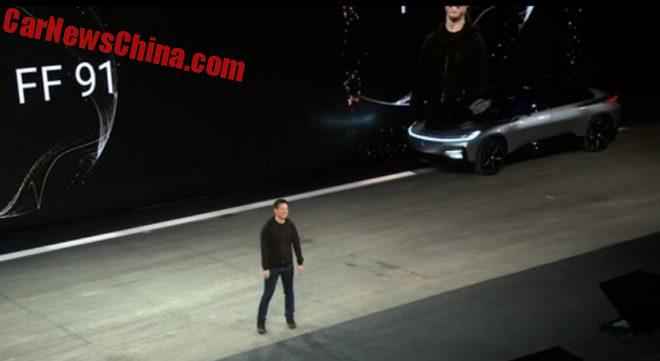 After that YT made a run to the center of the stage for a speech in English, which went rather well. Look at the position of the car! YT 'asked' Nick where he could buy the FF91, and Nick explained it like this:
Buyers can reserve a FF91, they have to deposit a "fully refundable" 50.000 yuan in China or 5000 USD in the U.S.. The first takers will receive a special first-edition car called the Alliance Edition, limited to 300 cars that will be divided over China and North America. The Alliance Edition will have: an exclusive exterior color called Silicon Valley Aluminum, Alliance Edition badges, and a personalized Alliance Edition UI/UX interface. Half of the sales proceedings of the Alliance Edition will be donated to "an environmental protection fund to help save planet earth".
Deliveries are set to start in 2018. How exactly they will achieve that is unsure, as they still don't have a factory. During the CES ceremony they showed images of excavators moving earth around, and they claimed that "phase 2" of the building process would start "soon".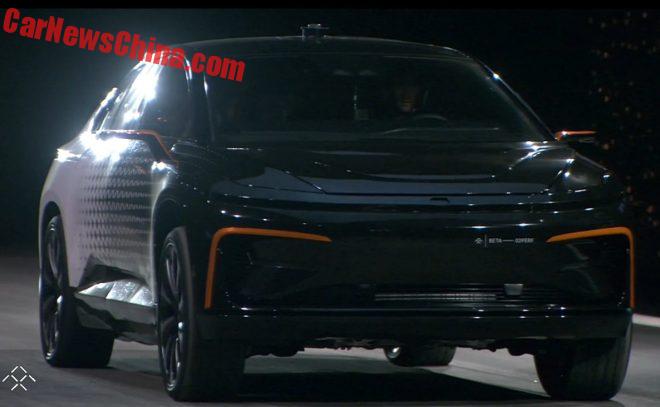 The second car was clearly far from finished, but they did an acceleration demonstration with it on stage, which was ultra. They also raced a Bentley Bentayga, a Ferrari 488, a Tesla Model X, and a Model S.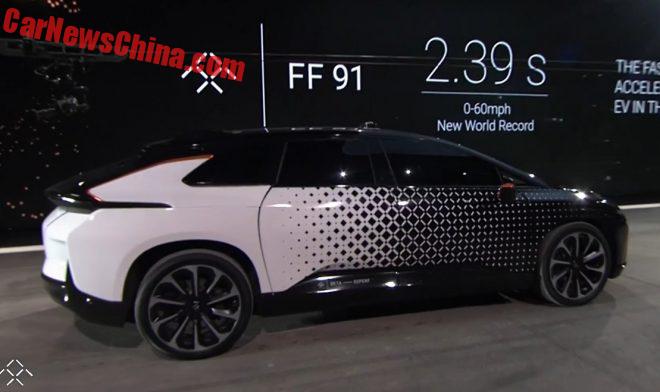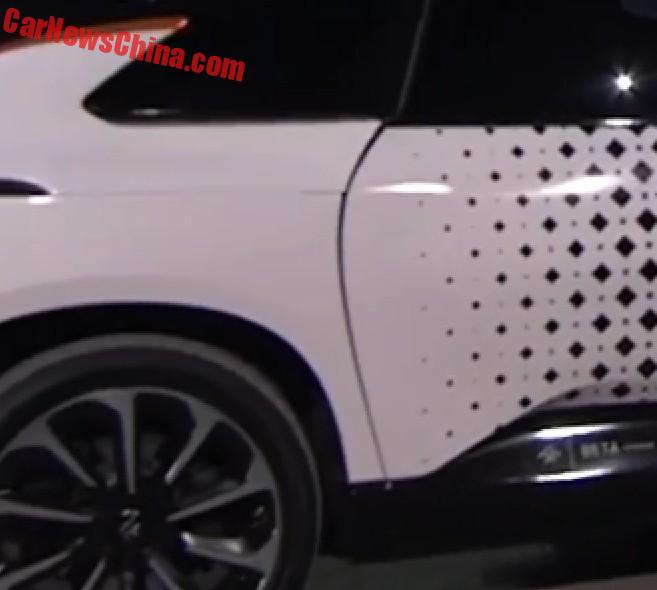 That panel gap is big enough to fit at least 10% of YT's ego.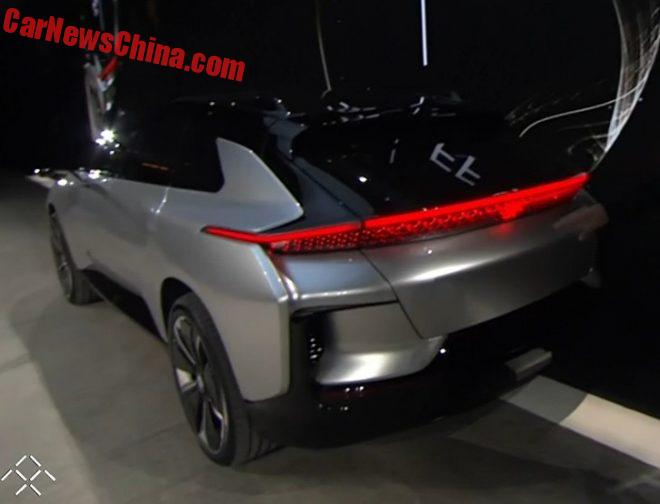 I really like the winglets on the D-pillar. They said these were spoilers, but they are not.
FF also had a lot of new slogans; the best one was: "New Species – Reformat The Future". That sounds really like they are going to invade earth and brainwash my poor old fashioned brain-based memory!
Anyway; we will be back soon with more details about the car and FF's other plans.
If you want to see the entire 74 minute show please check it out on LeTV, LeEco's internet TV site. It starts with a one-minute commercial that you cannot skip. Parking-on-stage fail starts at "56. Have fun.