Yesterday we saw the launch of the new Polestar 1, a concept previewing a new hybrid coupe of Volvo's new electric performance brand (yes I know…), and today we have more about the underlying technology. Let's start with the powertrain: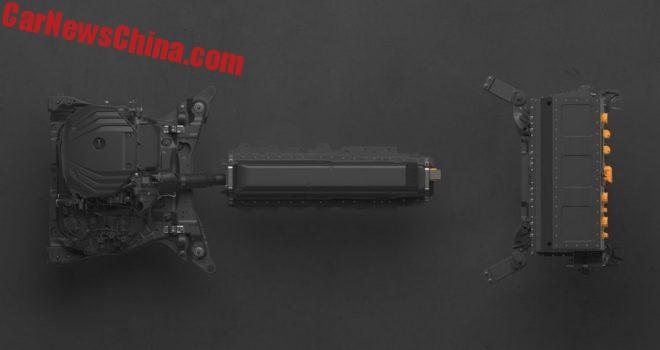 The Polestar 1 is a plug-in hybrid electric vehicle (PHEV). It has four motors:
1. a turbocharged and supercharged 2.0 patrol engine that powers the front wheels. Only the front wheels, there is no connection of any kind with the rear wheels. Output is 382 hp. At low revs it is only the supercharger that works, in mid-revs they work together, in in high revs it is turbocharger only. Gearbox is an eight-speed automatic.
2/3. two electric motors at the rear, each motor drives one rear wheel. Each motor has an output of 109 hp, 218 together. The electric motors are mated to 'planetary gear set', which, according to Volvo, enables torque vectoring.
4. an Integrated Starter Generator (ISG), good for another 46 hp. The ISG is located directly on the crankshaft between the engine and the transmission.
Volvo claims a combined power output of 600 hp and 1000 Nm.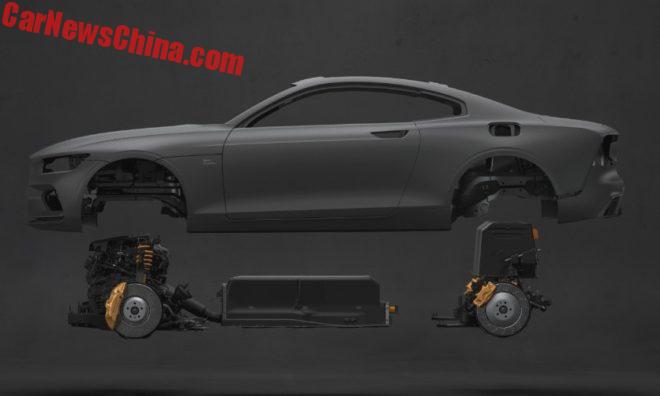 Batteries.
The Polestar 1 uses three 33 kWh battery stacks. One under the center tunnel in the front-middle of the vehicle, and two at the rear. Volvo says that this enabled them to create an "ideal weight distribution" of  48% on the front wheels and 52% on the rear wheels.
The images also show that there is no connection between the engine and the batteries in the rear, so I assume that re-generated energy is only stored in the center-tunnel battery. Volvo claims an electric-only range of 150 kilometers (NEDC).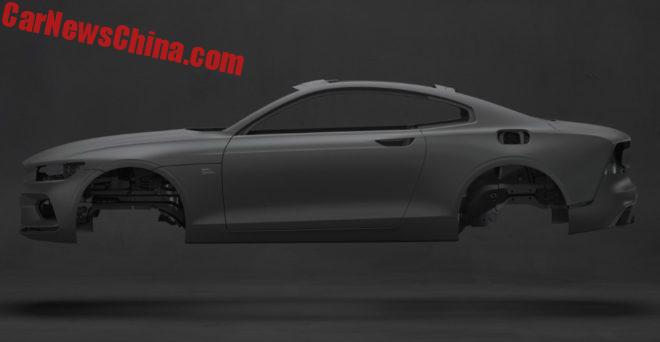 Platform: The Polestar 1 is based on Volvo's Scalable Platform Architecture (SPA). SPA underpins the XC90, the S90, and the V90. The Polestar 1 is most closely related to the S90, is is basically an S90 coupe, but has a 320 mm shorter wheelbase and a 200 mm shorter rear overhang.
Body: "major body parts" (Volvo doesn't elaborate any further) of the Polestar 1 are made of carbon fiber. Volvo claims a weight reduction of 230 kilo and a 45% increase in torsional stiffness compared to steel-only car.
Chassis: Polestar wants to be sporty, and they have therefore fitted the 1 with adjustable electronic-valve Öhlins shock absorbers and  400 millimeter Akebono 6-piston brake calipers.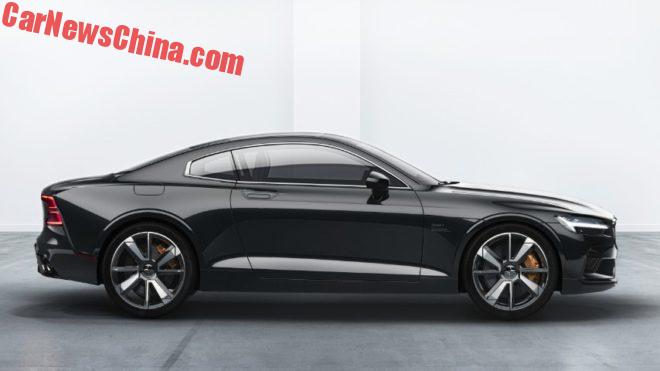 It all seems very impressive, but 382 hp on the front wheels? Not so sure about that one! The description if the chassis is typically tuner-talk, Polestar used to be a tuner, with fancy brand names and the like. The battery-weight distribution seems quite smart, although the rear-battery packs appear to sit very high up in the chassis, which would be bad for the location of the center of gravity.
Production of the Polestar 1 will start in mid-2019 in a new factory in Chengdu, China. Production will be limited to just 500 cars a year. More on that and the new-ish ownership ideas in a later post, where I also will try to answer the question what Polestar really is…