Beijing Auto New Brave Warrior
Wanna be cool? Buy a New Brave Warrior
The Beijing Auto New Brave Warrior is probably the coolest pickup truck in the world, and it is now finally available on the civilian market.
The pickup truck comes in 13 variations, varying from double cab to single cab, from long bed to short bed, from flatbed to high bed.
The designation of the flatbed cars is BJ2850, and the designation of the high bed cars is BJ3035.
They are based on the Beijing Auto BJ2022 Brave Warrior, originally developed as a military vehicle. The pickup truck has 'New' in its name because it is new for the civilian market, not because it is a new car; military variants have been around for a while.
There are three engines available: a 112 hp/200 Nm 2.2 petrol, a Mitsubishi sourced 190 hp/250 Nm 2.0 turbo petrol, and a 136 hp /340 Nm 2.5 liter turbo diesel.
The 2.2 and 2.5 diesel are mated to a five-speed manual, the 2.0 turbo to a six-speed manual. Power goes to all four wheels.
The 2.0 turbo is new for the series. The engine is made locally at the Shenyang-Mitsubsihi engine-making joint venture. It also powers classics like the Landwind X7 and the Zotye SR9, among many other vehicles from various Chinese automakers.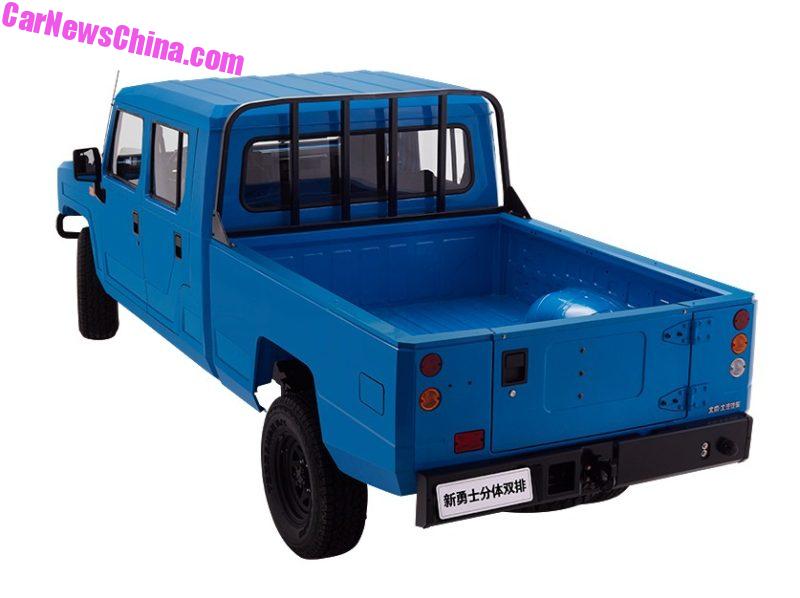 The entire series is manufactured by Beijing Auto Works (BAW), a subsidiary of the Beijing Auto Industry Corporation (BAIC) that mostly makes rugged 4×4's and SUVs like the BJ80, the BJ40, the BJ2022, the BJ212, the Zhangqi, and the somewhat trendy BJ20.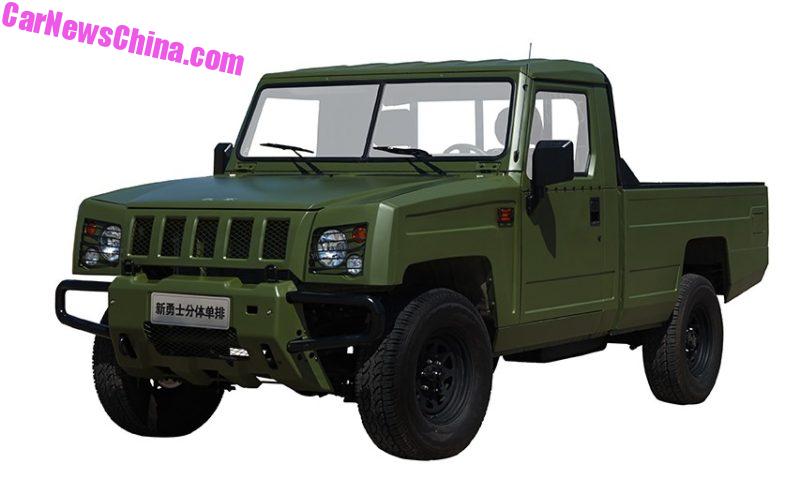 The size of this single cab short-bed car is: 4850/1830/2025, with a 2850 wheelbase. The double cab short-bed: 5000/1830/2025, with a 3035 wheelbase.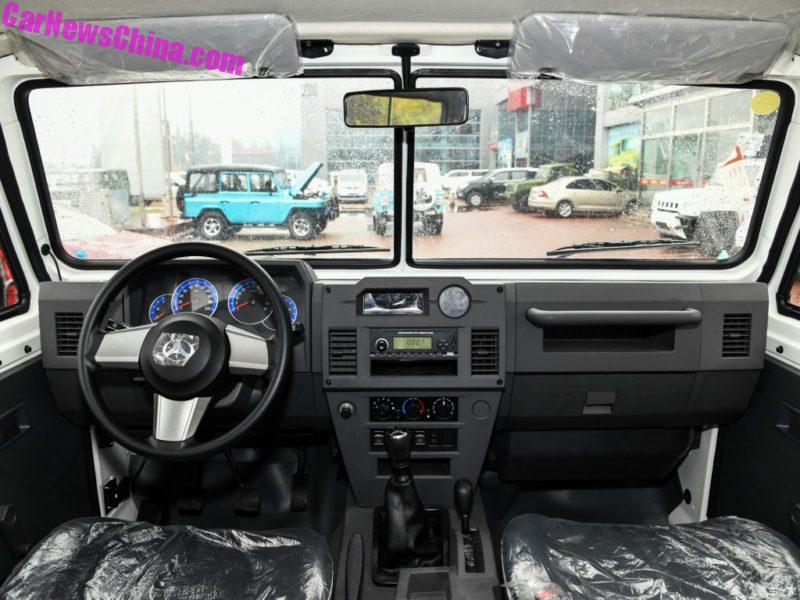 Happily, the interior is the same for all. Very basic, but it does have blue detailing on the dials, which is likely the hippest thing BAW has ever done. The sound system is very simple, just a radio with a USB port. No CD player, not even an AUX. Number of speakers in the entire interior: 2 (two).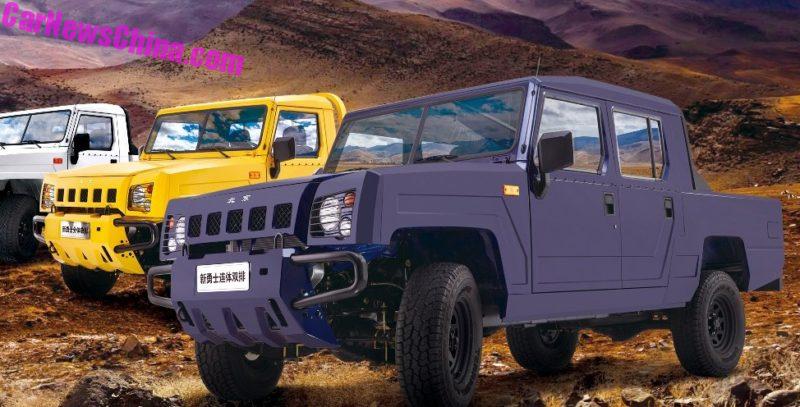 Now for the money. The New Brave Warrior is cheap. Very cheap. Price starts at just 78,000 yuan and ends at 98,000 yuan. That is $12,340 to $15,500.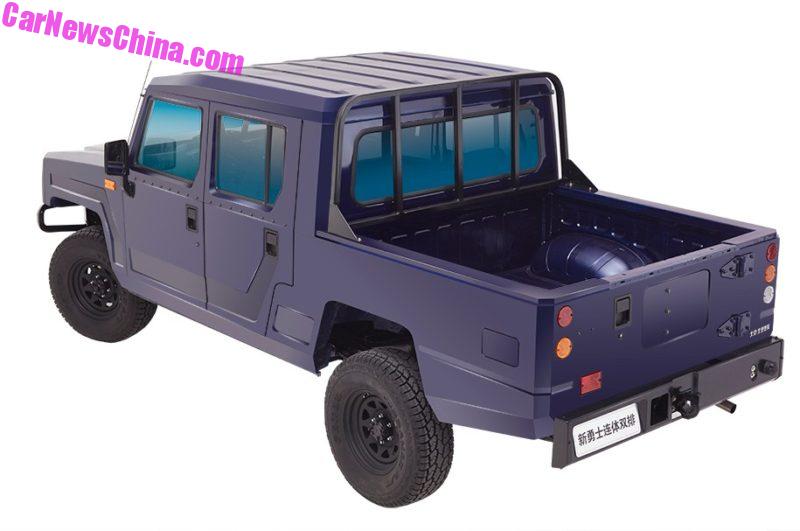 This purple color is kind of hip too, but the one you want is…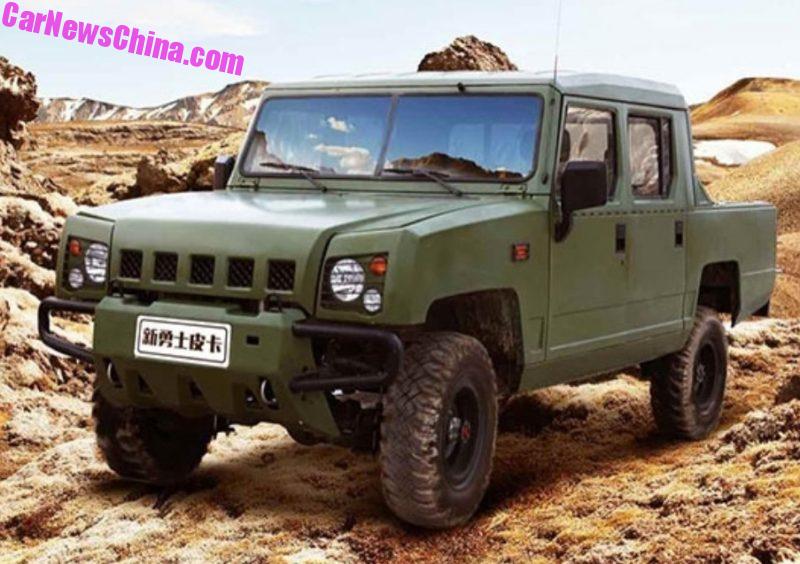 … army green!
The best news is that the New Brave Warrior has arrived at my favorite BAW dealer in Beijing. I will go there next week to have a good look.