The market for small and medium pickup trucks is huge in China, with dozens of manufacturers competing for customers. There is a huge variety of vehicles and power trains, making for a complex and highly competitive marketplace. One of the best established players is Dongfeng Xiaokang, and they have just upgraded their best-selling C71 and C71 trucks.

Dongfeng Xiaokang was founded in 2003 as a maker of small commercial vehicles. It is known internationally as DFSK Motor, and DFSK is short for Dongfeng Sokon Automobile. The company is a joint venture between Dongfeng Motor and Chongqing Sokon Industry Group (aka Sokon Group).
In 2008 Dongfeng Xiaokang started making passenger cars under the Dongfeng Fengguan/Fengon brand (aka DFSK Glory). In 2016, Chongqing Sokon Industry Group established the Seres EV brands which used platforms and technology developed by Dongfeng Xiaokang.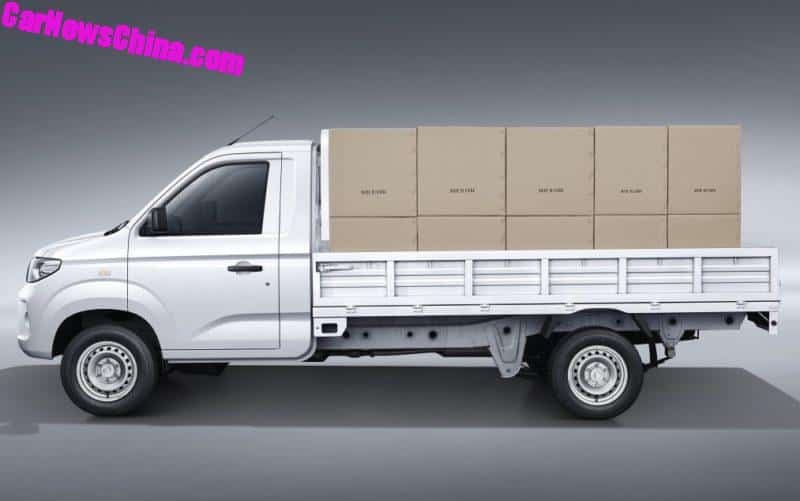 But while all these passenger adventures are going on, DFSK Motor's main business remains building and selling commercial vehicles. They are intended for customers in cities and countryside, and may carry everything from cattle to computers. They are usually strong and easy to fix, very reliable, relatively and intentionally low tech, and dirt cheap.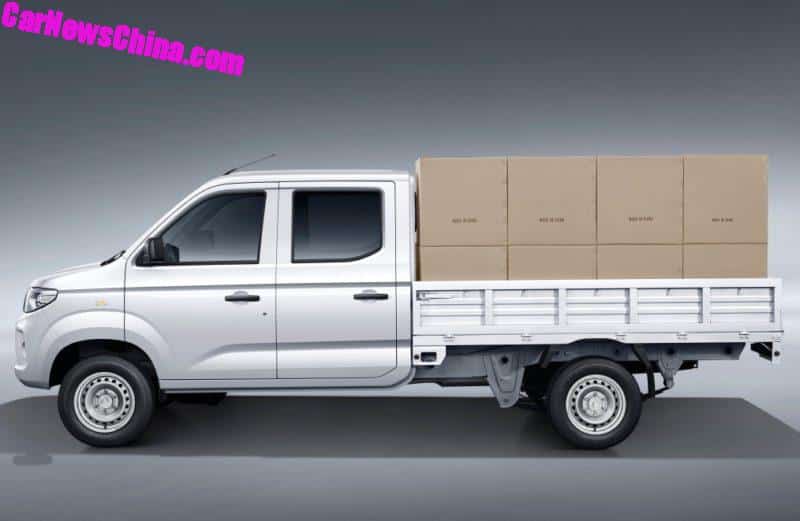 The C71 is the two door single cab version, with a length of 5620 mm, the C72 is the four-door double cab with 5335 mm. The recent updates include minor design changes up front, a new infotainment system inside, and the addition of a new base model, which rides on these super cool…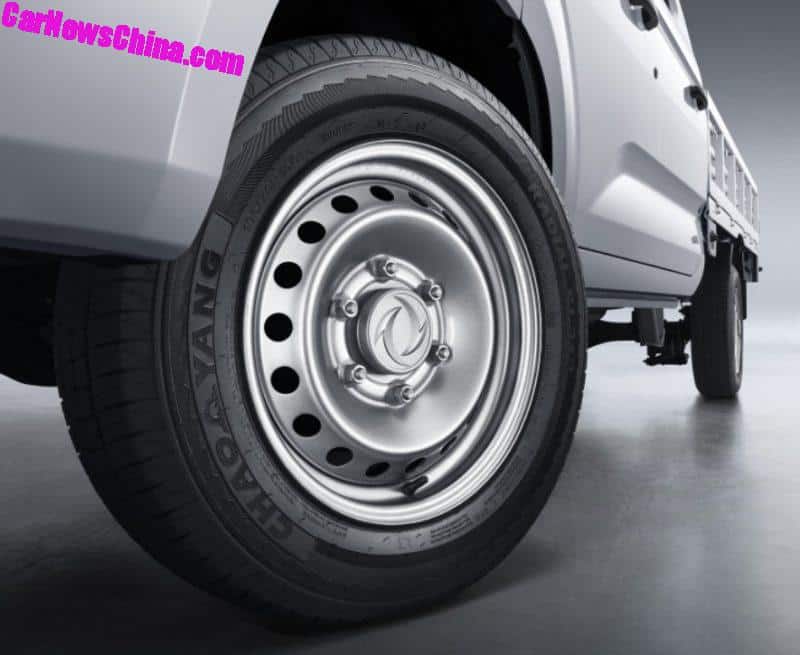 … and super basic steel wheels, with the Dongfeng badge on the center hub. Dongfeng apparently knows these wheels are cool, as they released a media picture fully focused on the wheel and the Chaoyang tire.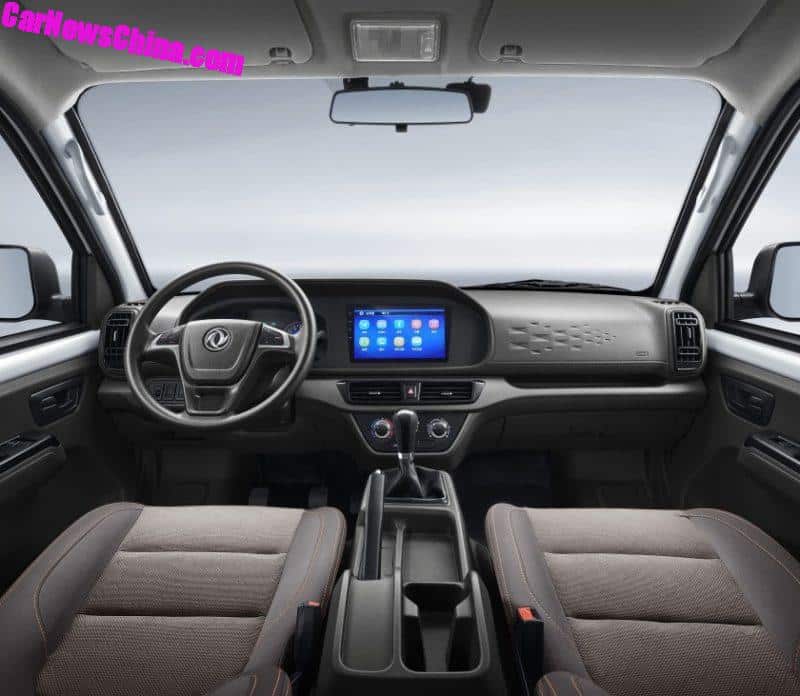 The C71/C72 share the same dashboard, and even dirt cheap basic pickup trucks don't go without a 10 inch touch screen these days. It seems like a nice place to work anyway, with comfy seats, a car-like steering wheel, a simple heating system, and some nice design touches like the vertical air vents and the 'bubbles' on the right side of the dashboard.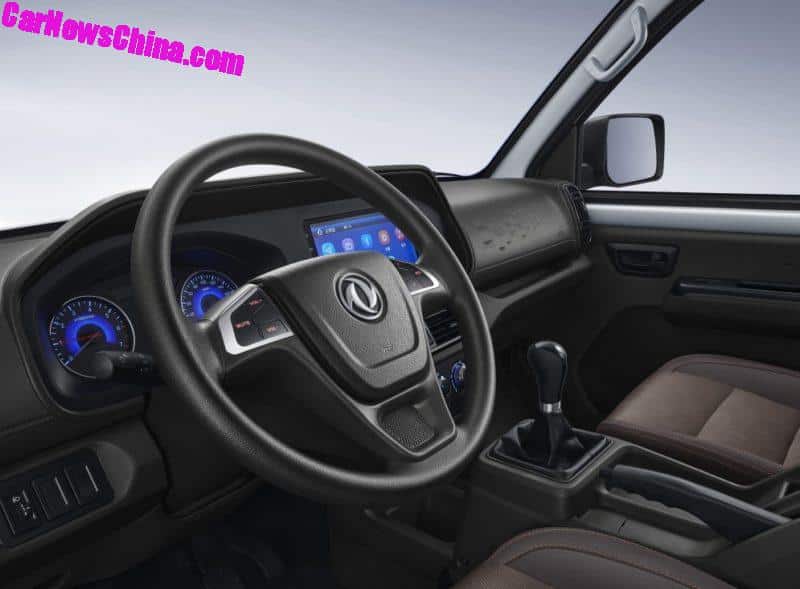 The blue dials are somewhat hip too!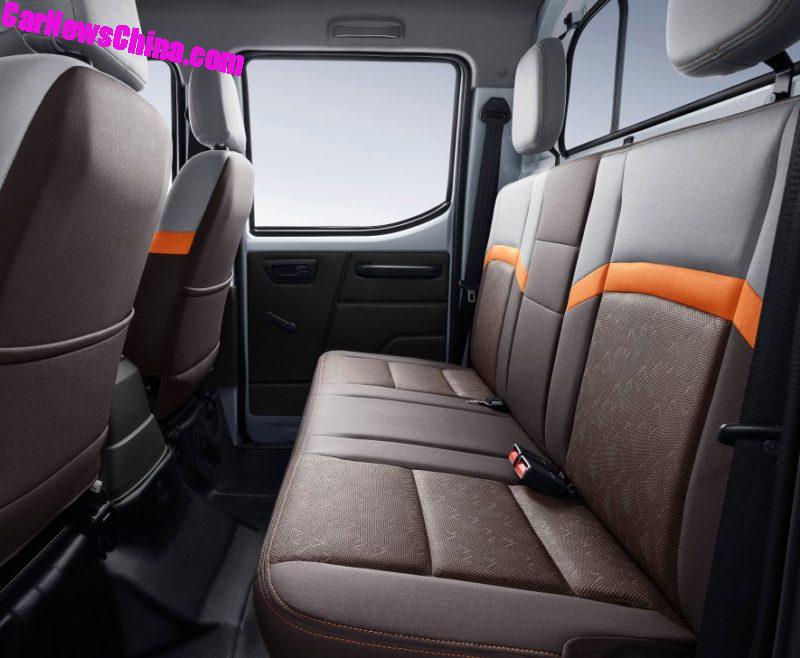 The back seats of the C72, with orange detailing.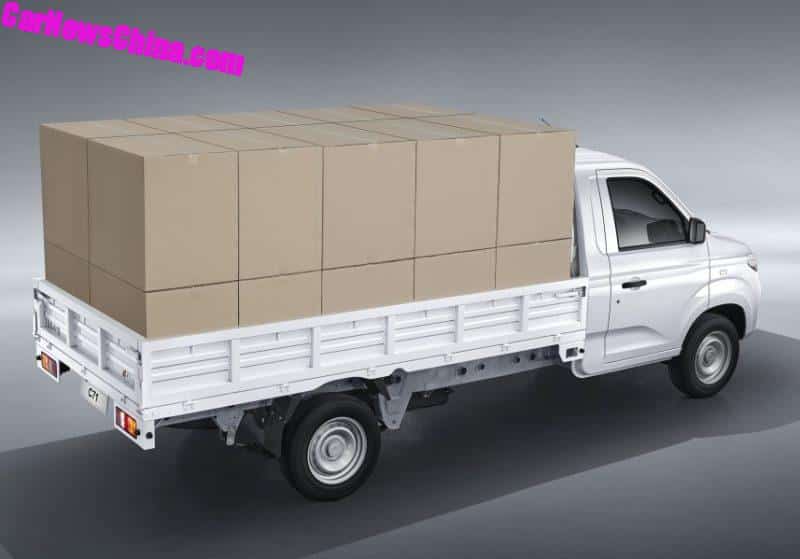 Power: the base version is powered by a 1.6 liter petrol engine with an output of 122 hp and 158 Nm, good for a 120 km/h top speed. The top versions get a 2.0 petrol, with 143 hp and 200 Nm. Gearbox is always a five-speed manual, sending horses to the rear wheels.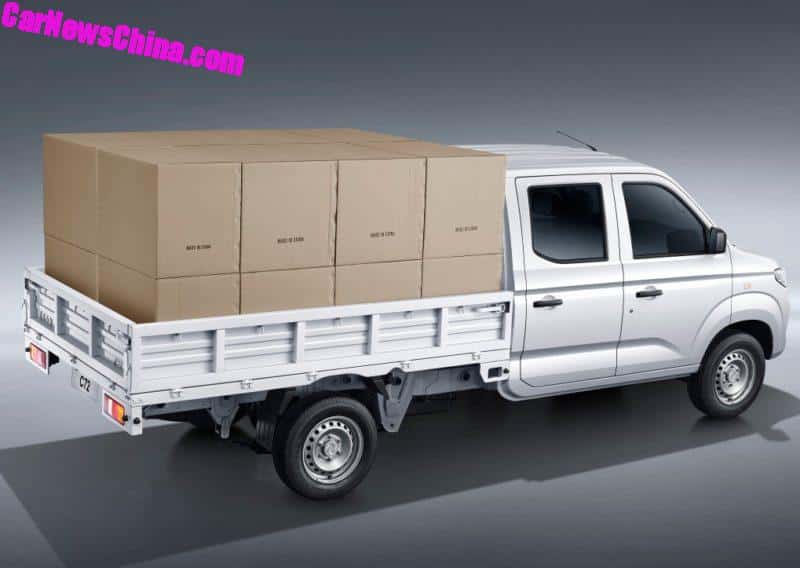 Most important for pickup trucks is the bed's size. We got the numbers. C71: 3200/1680/370. C72: 2530/1680/370.

Now for the money. They are cheap. The C71 1.6 starts at just 46,800 RMB (73,250 USD) and the C72 1.6 starts at 54,800 RMB (85,700 USD). The most expensive model is the top C72 2.0 which goes for 64,800 RMB (10,100 USD). Still not much for a four-door pickup truck with 143 hp and an infotainment system. Dongfeng Xiaokang is going to sell a lot of these, we bet.