Great Wall Poer Artillery pickup
I like Chongqing Auto Show. Compared with Shanghai Auto, which traditionally takes place in April, Chongqing is much smaller but more pragmatic. Shanghai is more about showing muscles, the latest technology, and concept cars. "Launch in 2025" was the favorite phrase there. There is lots of PR. But at Chongqing, automakers show more cars you can actually buy now or soon. My colleague Tycho would probably say this show is less focused on millennials. Let's have a look at the three highlights of the show and one surprise.
Great Wall Artillery is officially listed.
Many Chinese cities are loosening restrictions on pickup entry. Sales explosion starts slowly, as pickups never became very popular in China. But it's changing.
Great Wall Motor (GWM) Artillery is a pickup belonging to the GWM Cannon (炮) series. To be correct, GWM Cannon has a new shiny English name for the global market – Poer. According to GWM, it is pronounced as "power," and of course, it has a meaning. It is an acronym for Powerful, Off-road, Enjoyable, and Reliable. But it wouldn't be Great Wall if there is only one meaning, right? So the letter P has another three meanings – Power, Peak, and Perfect.
Great Wall Motor Poer Artilerry
Now it can get a bit confusing – GWM Poer is known under different names in different countries. Hence, if you hear about GWM Pao (pinin translation of Chinese word cannon), GWM Ute (mainly Australia), GWM P-series (concept name), it is still the same GWM Poer. I think I will stay with the Cannon for now.
GWM launched the Cannon series in 2019, and the first car was simply called GWM Cannon, without any type-name or number. It was a luxurious pickup for 126 000 yuan (18 000 USD) with a 2.0 turbo petrol engine, 190 hp, and 360 Nm. Size is 5410/1934/1886, with a 3230 wheelbase. The series even launched its own logo, which looks like a cannon's muzzle seeing from the front. The rear of the car always features the original GWM logo.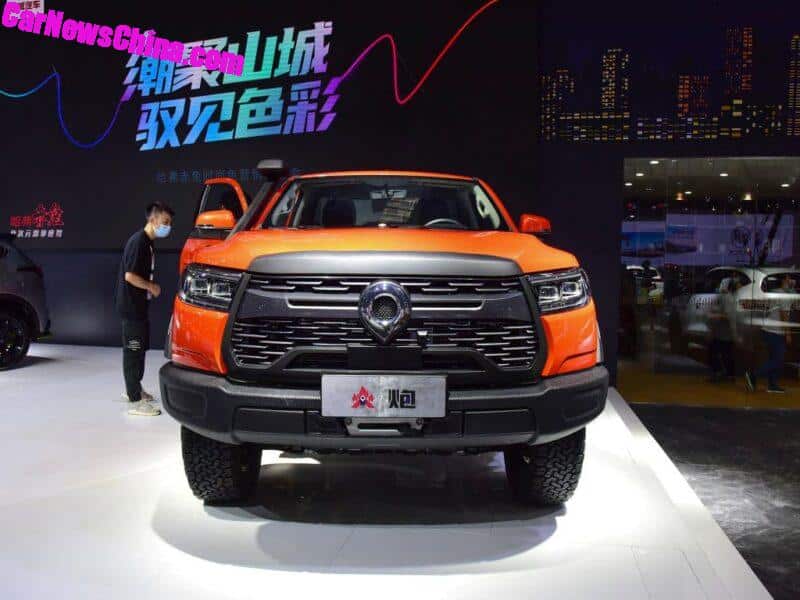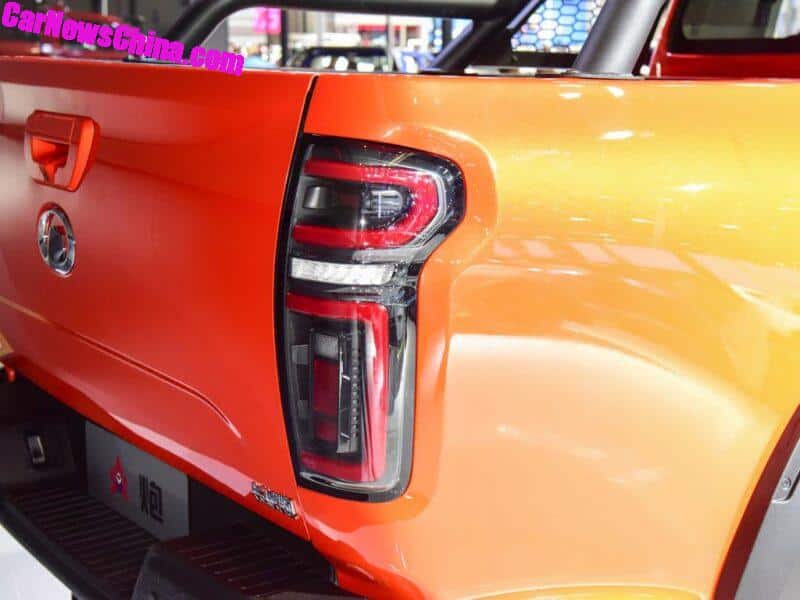 Now back to Artillery. The car will be manufactured in the GWM plant in Chongqing. It makes sense it's officially launched on home ground. Compared with the 2019 GWM Cannon, the biggest difference is it has only two doors. It is also a bit smaller, with a wheelbase of 2745mm (comparing with Canon's 3230mm). Length/width/height is 4963/1975/1950mm. The car is based on the same Tank 300 platform and is equipped with a 2.0T power engine. Power and peak torque are increased to 215hp and 380 Nm. It has a ZF 8AT gearbox, 4 wheels drive, and seven driving modes based on different terrain – mud, sand, snow, sport, etc.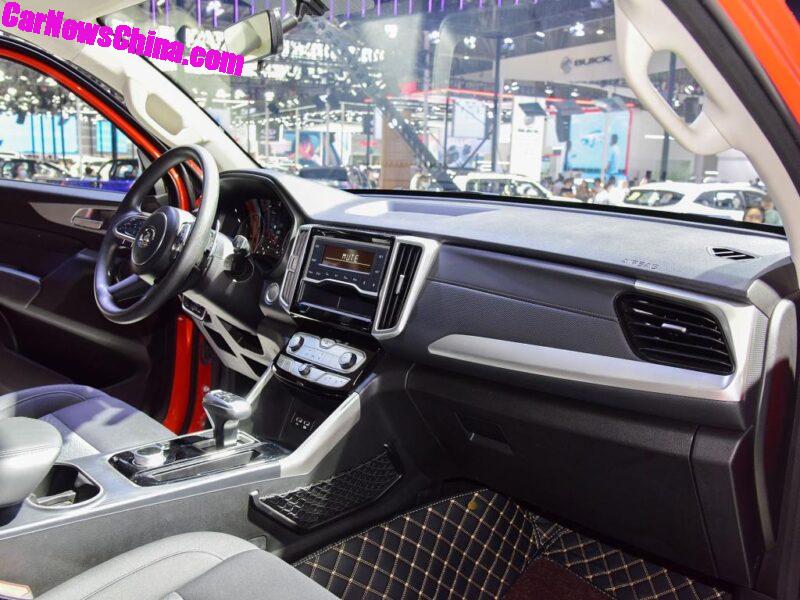 The specialty is BFGoodrich tires filled with nitrogen which is supposed to make cars more reliable off-road and minimize explosion due to excessive heat. The Artillery price is 179 00 yuan (28 000 USD), which is pretty confident. Still, it is a great price/performance ratio as we are used to Great Wall.  According to the automaker, the car is trendy, and the first batch was already sold out. The second batch of preorders would start on 1st July.
Who would think ten years ago there will be a GWM pickup attacking 200 thousand yuan. And selling like a hot cake.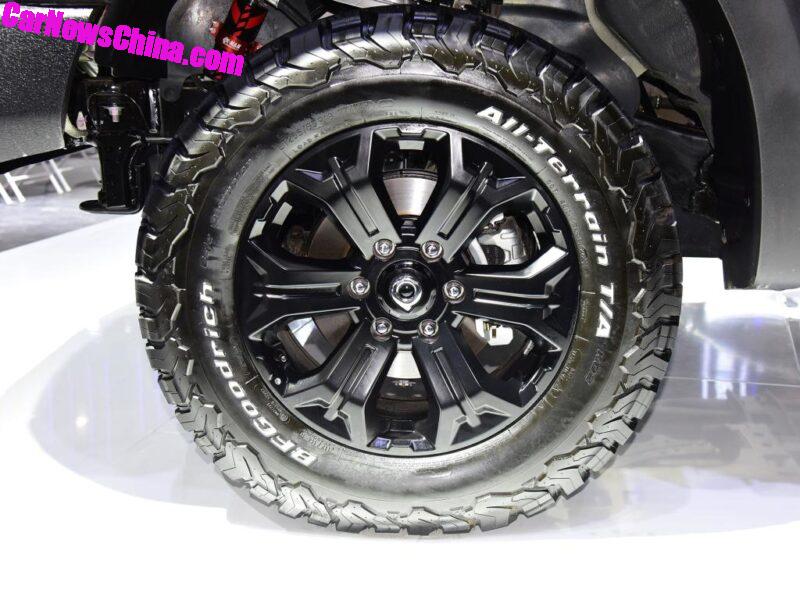 2. Changan Oshan X7 Plus interior unveiled
Oshan is a premium brand under Changan aimed at young buyers. Original Oshan X7 was a compact SUV launched at the 2019 Shanghai Auto Show starting at 80 000 yuan (12 500 USD). In 2021 (January – May), Changan sold 110 000 of its Oshan X7. They also launched a few variations of X7, the most interesting was the electric version called Oshan X7 EV which caught our attention because of fake exhaust pipes. I have nothing against fake exhaust pipes, but on the electric vehicle, seriously?
X7 Plus is supposed to be the new Oshan flagship model. It was first announced at Shanghai Auto this year, but now Changan revealed more details and cabin design.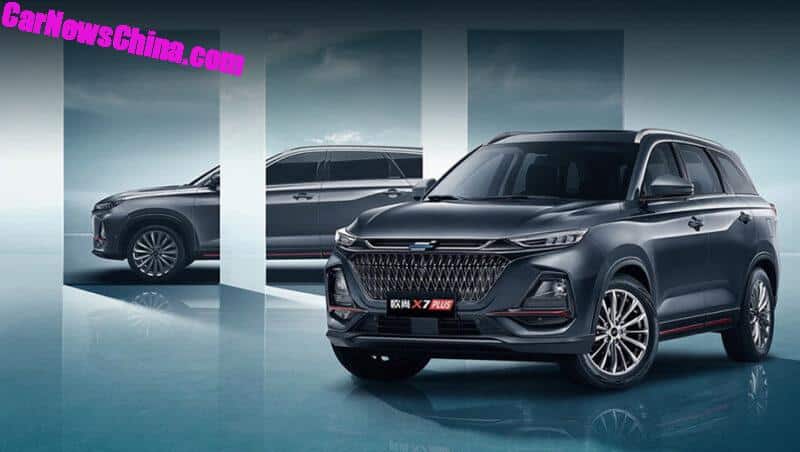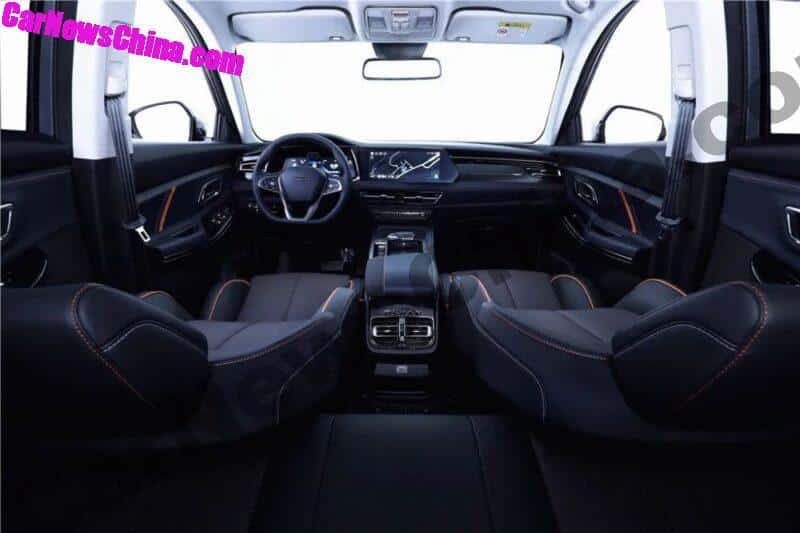 The car has Changan's latest generation Blue Core  1.5T engine, 188 hp (136 kW), and peak torque 300Nm. The gearbox of the Plus version is 7-speed. The original X7 had only a 6-speed setup.
The size is 4730/1870/1720mm, the wheelbase is 2786mm. Plus is a larger car, the original X7 from 2019 size is 4705/1860/1720mm. Also, some minor exterior design changes were made, for example, a new radiator grille with a complex pattern and narrowed headlights which gives it a pretty striking look. Interior is refreshed classic Oshan X7 style, visually looks more compact, and adopts a new dual-screen control panel.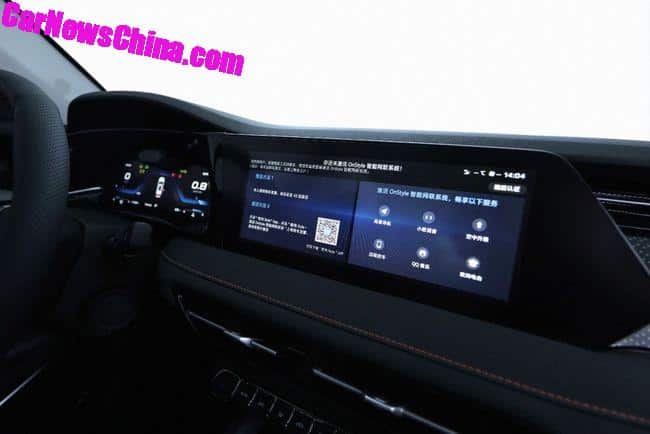 According to Netease, Oshan finally enhanced its NVH (Noise, Vibrations, and Harshness). The whole car has 52 NVH solutions for absorbing vibrations, wind, and tire noise, including 26 sound-absorbing cotton layers to reduce engine and exhaust noise. The seats were also upgraded and use microfiber leather which provides more comfort.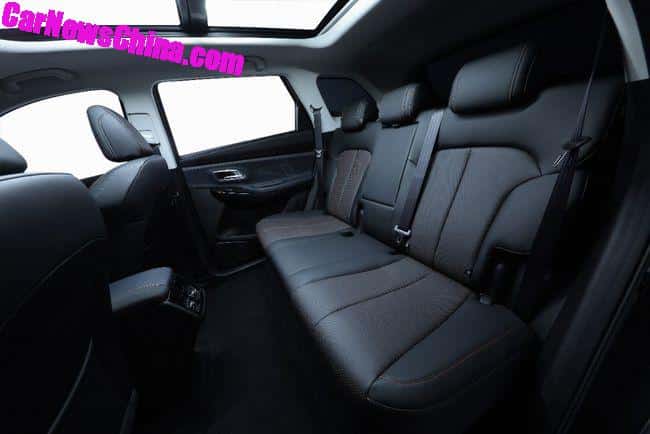 Oshan should list the price in September, and we are very curious about it.  If similar to the original X7, it would make it an exciting vehicle.
3. Hybrid cars BYD Tang DM-i and BYD Song Plus DM-i
DM-i is a plug-in hybrid platform developed by BYD and launched in January 2021. According to the manufacturer, it is a super hybrid technology that focuses on ultra-low fuel consumption. According to what I found, it is an EREV (Extended Range Electric Vehicle). It means the petrol engine is there only to charge the battery. Electric engines power wheels. The same scheme uses Li Auto in its Li-One.
BYD was a leader in plug-in hybrids cars in China since 2008 when they launched the world's first mass-produced plug-in hybrid car BYD F3DM.
Now back to the launched cars. Tang and Song are SUVs from BYD named after famous Chinese dynasties. BYD likes to experiment with these cars, so they introduced almost every engine version you can imagine – fully petrol, fully electric, PHEV, and now EREV. BYD officially launched the latest one at Chongqing Auto, and these EREV car's names will end with "DM-i".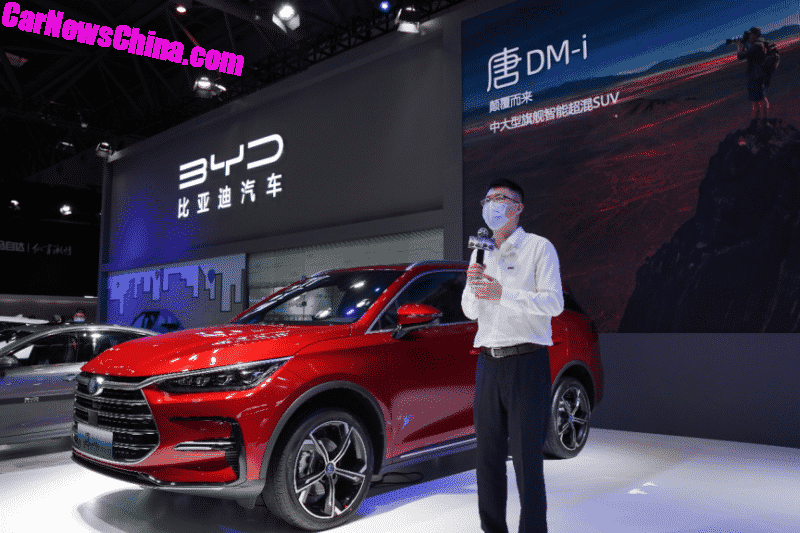 Tang DM-i is a medium-large SUV with official fuel consumption of 5.3L/100km and a range of 1050km. The price starts at 190 000 yuan (30 000USD).
Song Plus DM-i is a crossover SUV with a consumption of 4.4L/100km, and BYD promotes it as a world-first widebody plug-in hybrid car. Not sure why this SUV needs a widebody kit as it's really a sports car, and its acceleration 0-100km/h in 7.9 seconds. The price starts at 146 000 yuan (22 000 USD).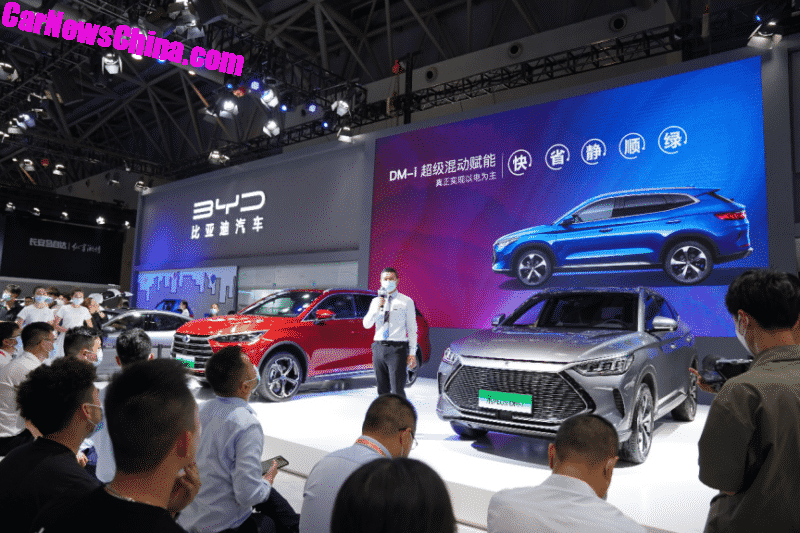 You can buy both cars in two versions, 51km or 110km – this probably indicates the battery range without the help of a gasoline engine.
And one more thing…
Bonus: War of hybrids is coming – Changan fires at BYD at launches Blue Core iDD hybrid engine
BYD was a long time dominating the plug-in hybrid market, with some serious competition only being Li Auto, which only has one model yet. It's changing now as Changan is joining the game and, after 6 years of development, launching its Blue Core IDD hybrid engine.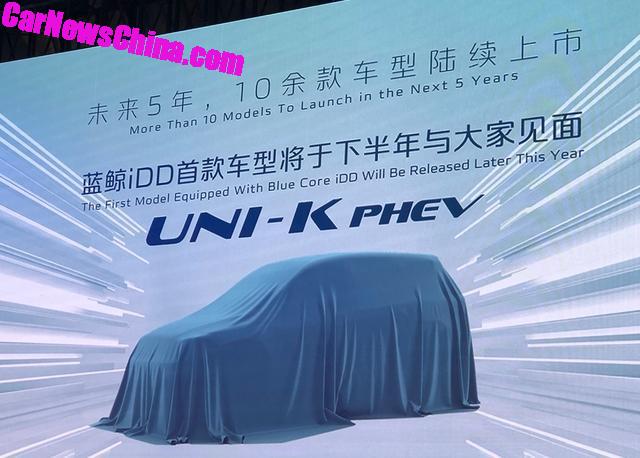 The first car equipped with a new iDD system will be UNI-K PHEV, and it should have a consumption of 5l/100km and a 130km pure electric range. The total range with a full tank is 1100km. Changan will launch the car in the second half of the year.
The specs of Blue Core iDD look pretty similar to BYD's BYD DM-i engines. We will keep an eye on that as it would be interesting to watch if Changan can compete with BYD and weaken its strong position in the hybrid market.
That's all from Chongqing now. We didn't see any breakthrough technologies or big announcements, but rather several nice launched cars near mass production and lots of practical stuff.
Source: GWM Pickup, Netease Auto, DW,