Hu Chengchen, who used to be the lab director of The Asia Pacific region of Cerlens, the world's largest programmable chip manufacturer, and has rich experience in chip front-end design, joined NIO in October as a chief expert & Assistant Vice President.
According to public information, Hu Chengchen received his doctorate in computer science and technology from Tsinghua University in 2008 and taught at Xi'an Jiaotong University for a long time. At the age of 29, he became an associate professor at the School of Telecommunications and was promoted to professor and head of the computer department. Its main research direction is data center, network, big data, etc.
In 2017, he moved from academia to industry as the Director /CTO of The Asia Pacific Laboratory at Selynx. Now, I am joining the new energy vehicle industry and serving as the chief expert of NIO as the head of the Technical Planning Department.
Under the overall environment, the global chip shortage became a common situation in 2021. In August, NIO delivered 5880 units, which was lower than Ideal and Xiaopeng, and directly ranked Neta in the "top three" sales volume of newly built cars, which reflected the importance of chips automobile delivery and intensified NiO's desire for chips.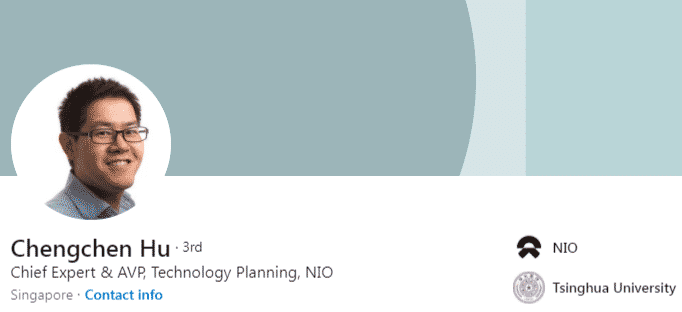 Nio is recently dealing with a talent shortage that hits China. However, as early as 2020, independent research and development of Nio started planning autonomous computing chips. The plan is still in its early, driven mainly by Nio's chairman and CEO Li Bin. The recruitment of chip design rich experience Hu Chengchen demonstrates Nio's thirst for related technology, and Hu's arrival may bring new impetus to NIO's chip development.