The new Saloon Mecha Dragon electric sedan was unveiled on the 2021 Guangzhou Auto Show in China. It looks mad and different but it really is a production car, set to launch on the Chinese car market next year. Design is a mix of cartoon, muscle car, and modernity.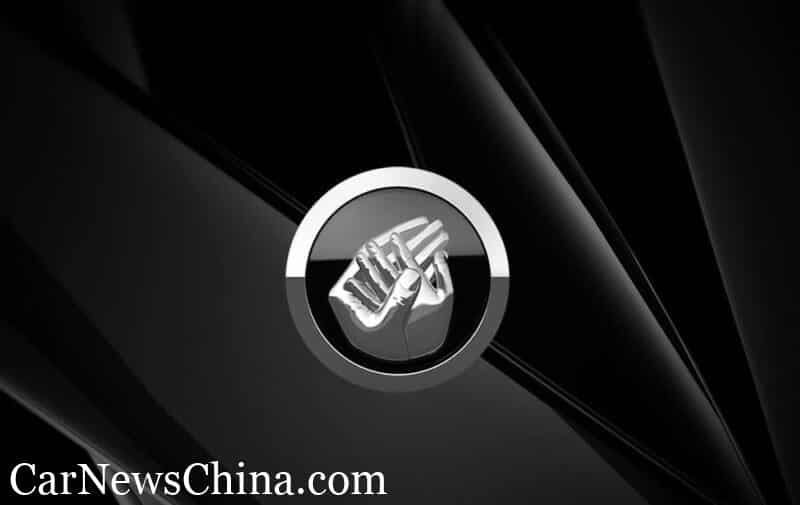 Saloon Auto (沙龙汽车) is a new high end luxury EV brand under Great Wall Motor (GWM). Their logo is a big hand holding a smaller one. The brand is aimed at youngsters born in the 1980's and 1990's. Their first car is called the Mecha Dragon (机甲龙), which refers to a cartoon dragon from the Japanese Mega Man series. This matches nicely with the looks of the vehicle, but less so with the logo. GWM is planning an entire new series of Saloon Auto cars, all with similar wild designs and loaded with luxuries.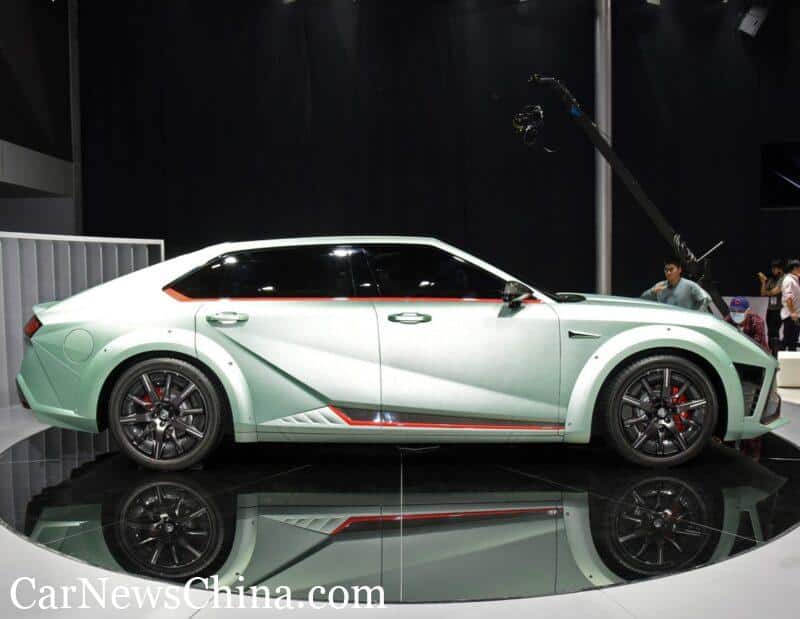 On the show Saloon showed two examples of the Mecha Dragon: a limited First Edition (green car) and a 'normal' production car (silver car). The First Edition is limited to 101 units and they are sold out already, according to the company. Price for the First Edition is, or was, 488.000 yuan. The standard car will sell for just under 400.000 yuan.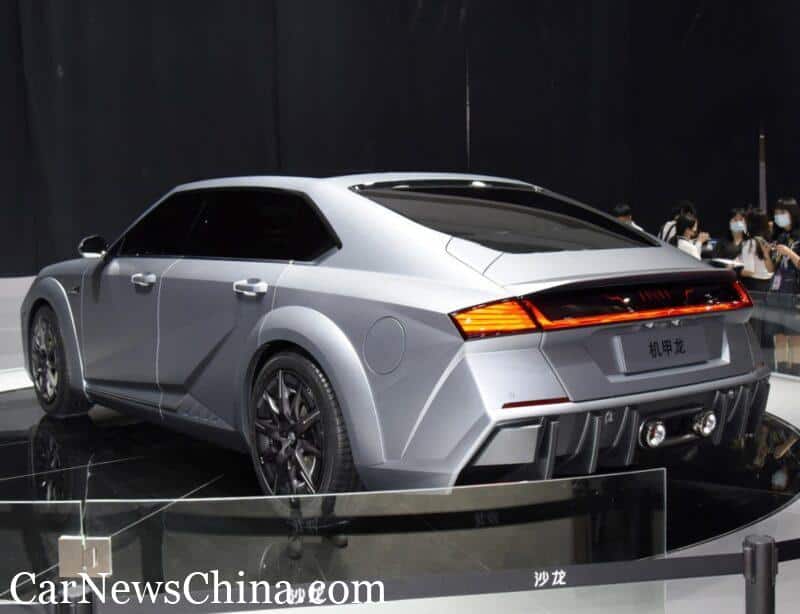 So what do you get for all that money? A mad five-seat sedan with a fastback-like rear end. Power comes from two electric motors, one over the front axle and one over the rear. Combined output is 550 hp and 750 Nm. The motors are mated to a big 115 kWh battery pack. Saloon Auto claims a 0-100 in 3.7 seconds and a 802 CLTC range.
The Mecha Dragon uses an 800V voltage platform, which allows very fast charging: in 10 minutes it can charge for 401 kilometers (four hundred and one, not four hundred) and in 15 minutes it can charge for 545 kilometers. However, whether it can really charge that fast also depends on the charging infrastructure, and right now there aren't that many chargers available in China that can charge so fast.
Naturally, there is lots of tech aboard for autonomous driving, including: 7 ultra-high-definition cameras, 4 surround view cameras, 5 millimeter wave radars, 12 ultrasonic radars (!), and 1 independent high-precision positioning unit. The system runs on Huawei's Da Vinci architecture and has a NPU computing power of 400TOPS and a CPU computing power of 440K DMIPS. The autonomous driving system is called Captain-Pilot.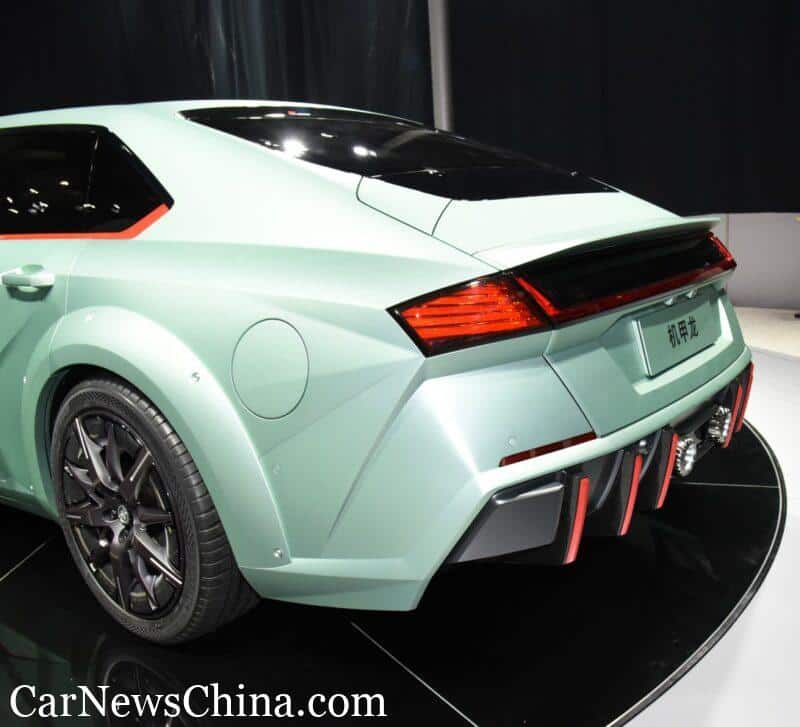 Note the 'exhaust pipes'. They are really cool: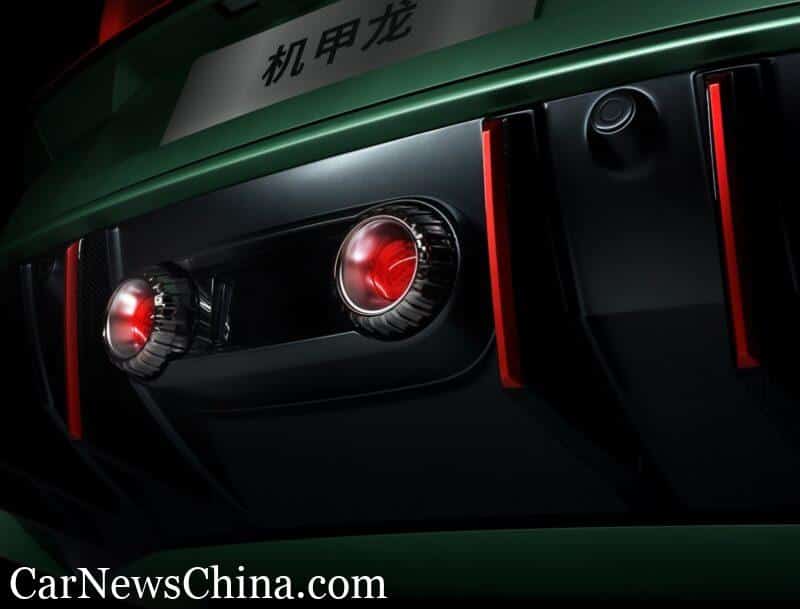 They light up in red when accelerating!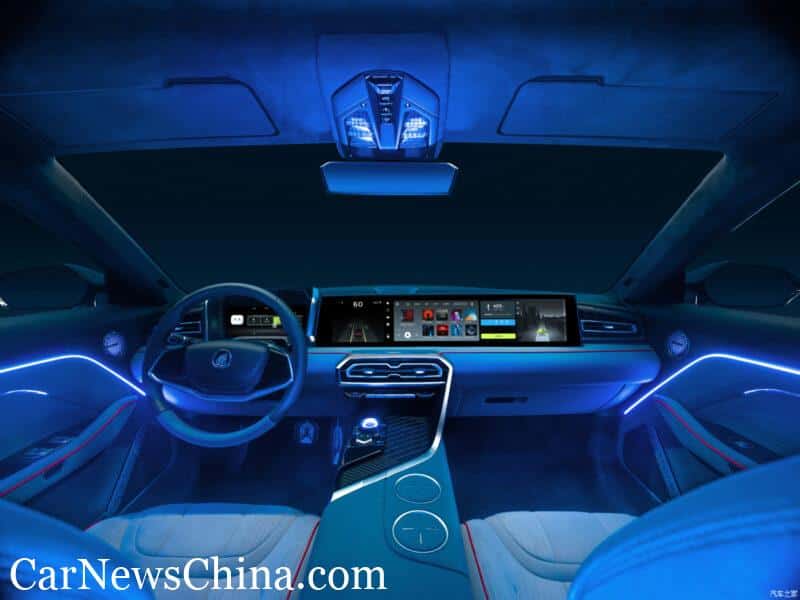 Saloon didn't show the inside, so the two cars are probably early production cars or even prototypes without a finished interior. Happily, they did release some renderings of the interior, showing a dashboard with a 10.25 inch instrument panel and a 27 inch 4k touch screen that can be configured to show 3 streams, like on the example, or one stream if you want to watch a movie. The audio system comes from Harman/Kardon. The screen looks ultra high tech but the air vents look oddly old fashioned in comparison.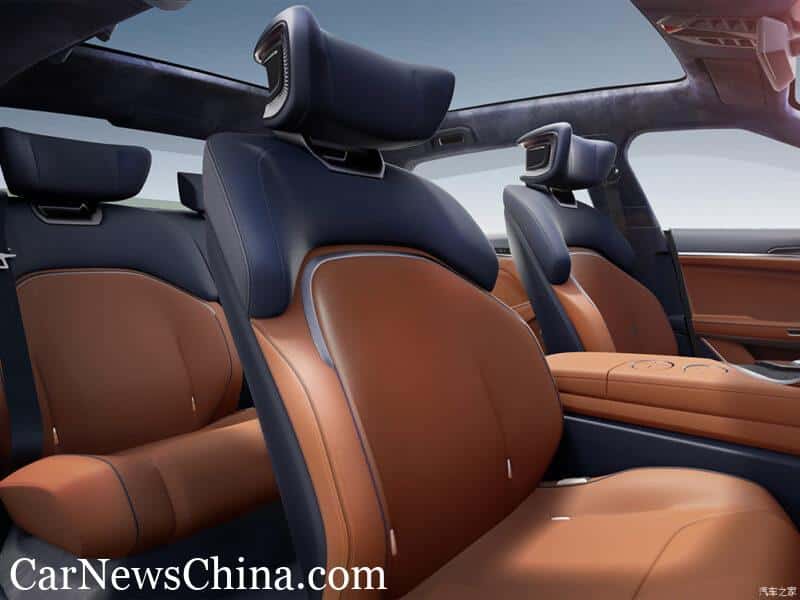 The seats are clad in leather and seem very wide. Center seat in the back only big enough for a child.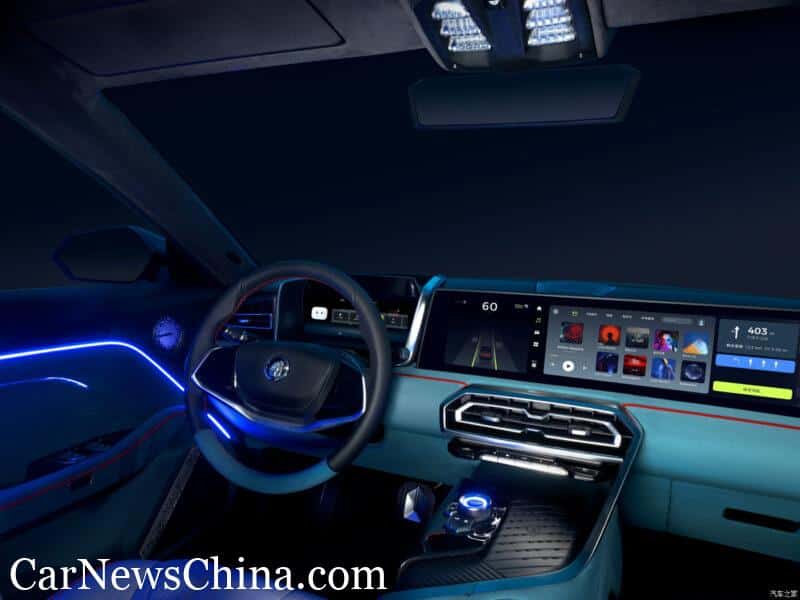 Smart camera mirror with crystal ceiling lights.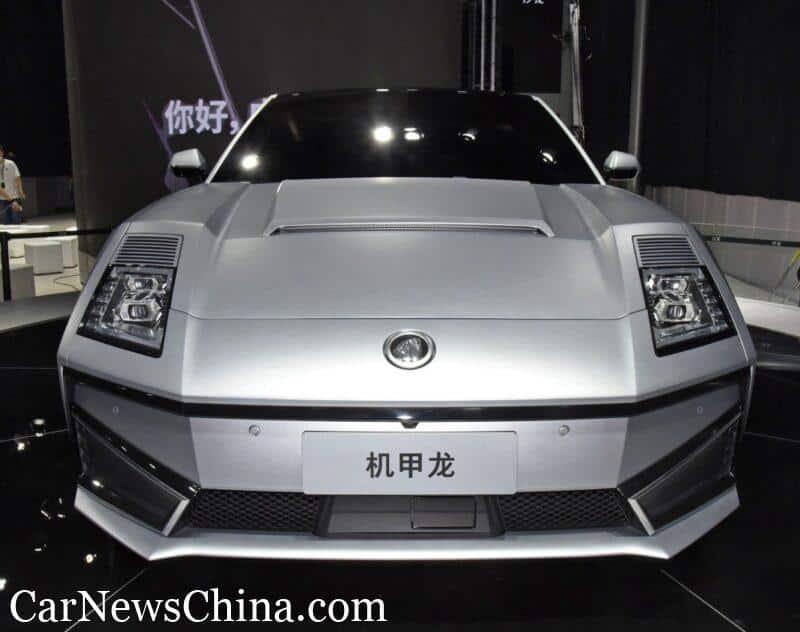 Hood scoop is not real of course but it looks badass, and so do they air vents above the lights.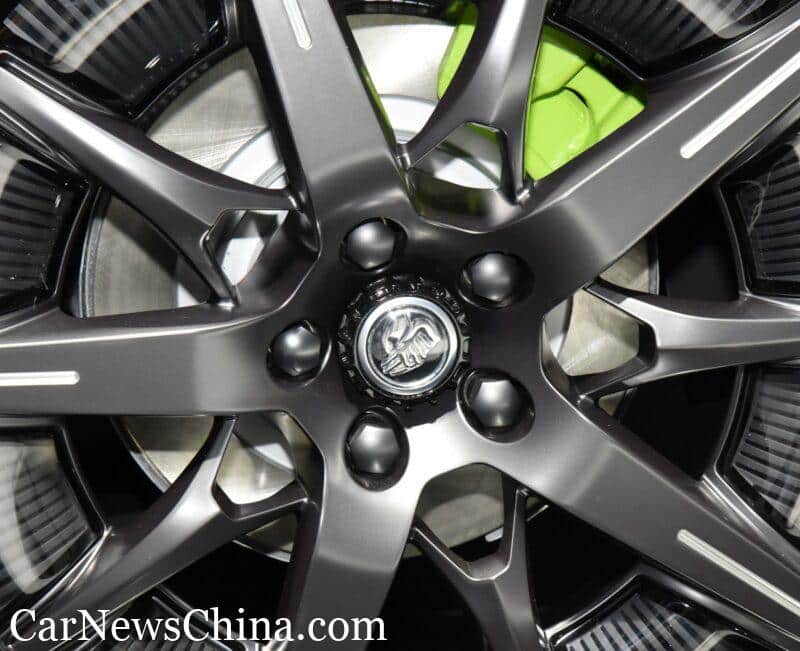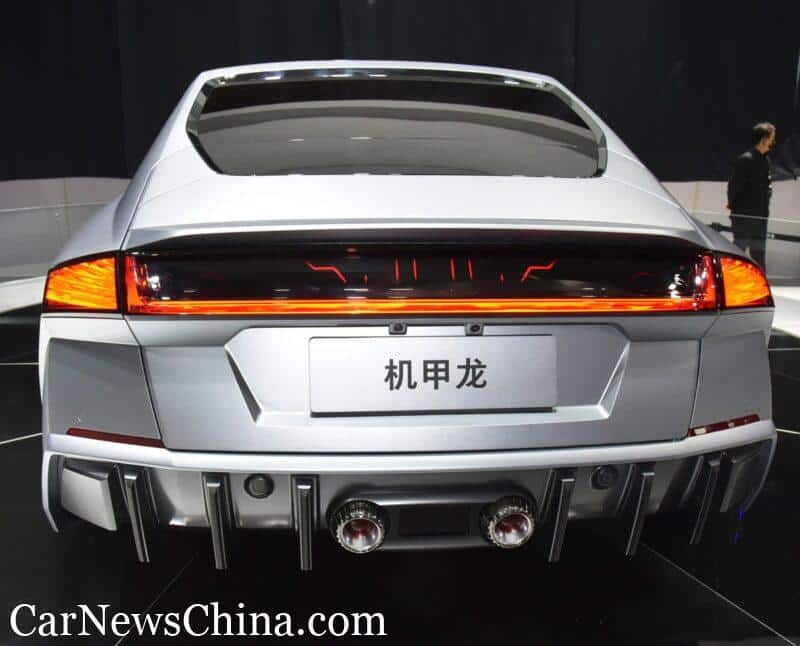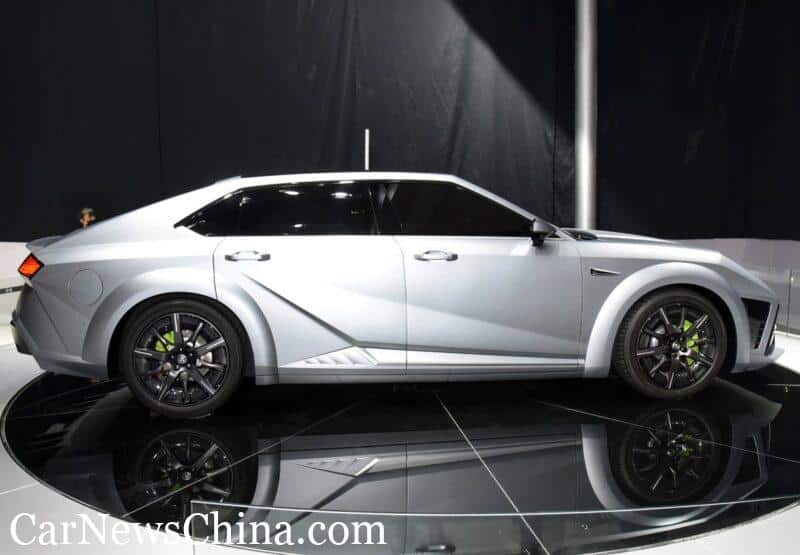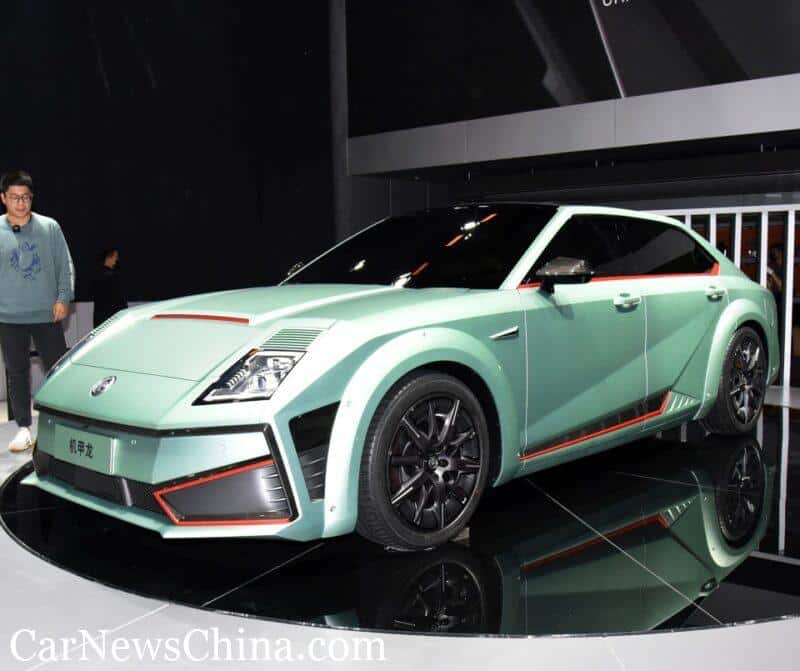 The Saloon Mecha Dragon is so crazy it almost seems unreal. But unlike the dragon from the cartoon, the car is very real indeed. It sure is something different and it is 100% original. Therefore, GWM deserves some applause for bringing this machine, and the new brand, to the world. Let's do a quick brand count for GWM: Great Wall, GUN, Haval, WEY, ORA, and Saloon. Six! More to come, for sure.