Back in November we had the first images of the Hongqi LS7 SUV, but at the time details were very scarce. Now we have more. The LS7 is a gigantic full-size 3-row SUV, set to launch on the Chinese car market in the first quarter of 2022.
Hongqi's naming system is a little complicated. They go with several series. The H/HS-series are mid-range and low-top range sedans and SUVs (H5, H7, and H9/H9+ sedans, HS5 and HS7 SUVs), the E-series are mid and high range electric sedans and SUVs (E-QM5, E-HS3, E-HS9) and the L/LS-series are high-end cars. But that ain't all. Hongqi is currently developing the top end S-series, which will include the upcoming Hongqi S9 super car.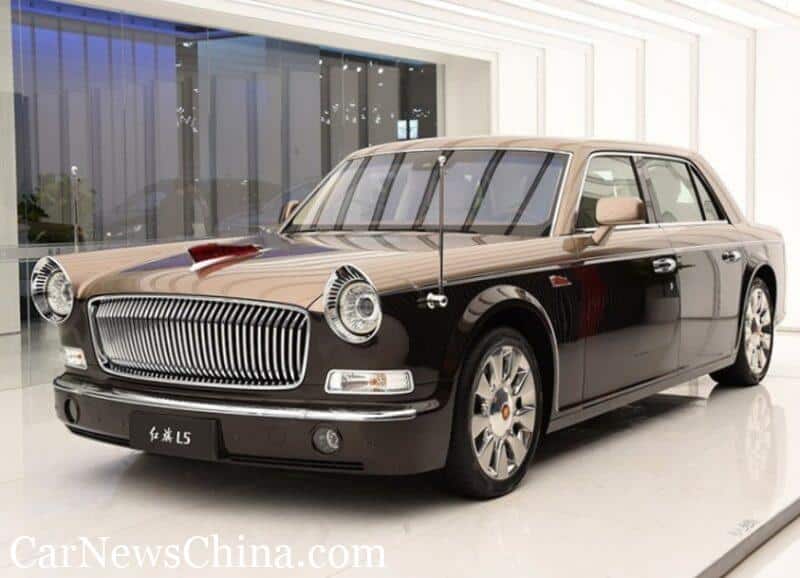 The L/LS-series has only one car at the moment: the Hongqi L5, the civilian version of the Hongqi L9 state limousine. The L5 is only available on special order and only if you have the right connections. This somewhat odd way of selling high end cars is common at Hongqi. The L5 debuted way back in 2014 with a 6.0 V12 engine with 402 hp and 550 Nm. Later on, Hongqi added a 4.0 V8 turbo with 375 hp and 530 Nm. Hongqi is currently working on a successor of the L5.
The new Hongqi LS7 SUV is the second car of the L/LS-series.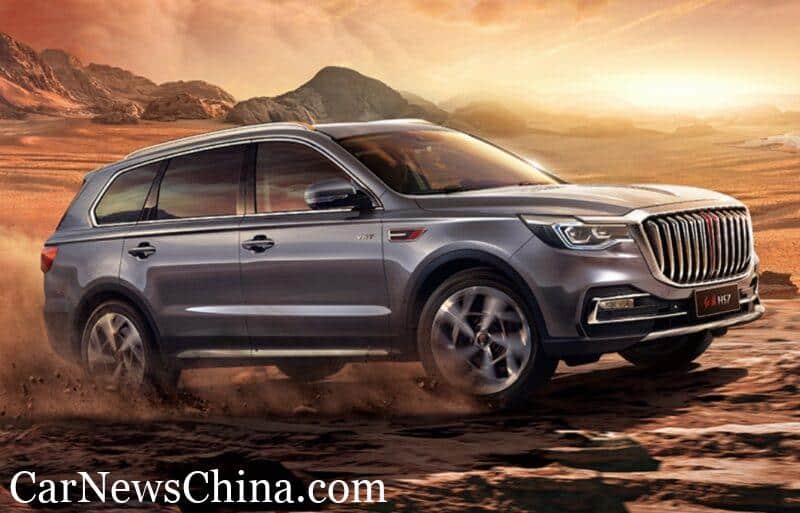 Hongqi's largest SUV now is the HS7, powered by 2.0 turbo and 3.0 V6 turbo engines and measuring 5035 in length and 3008 mm in wheelbase. Not exactly small. The new LS7, however, is much larger still.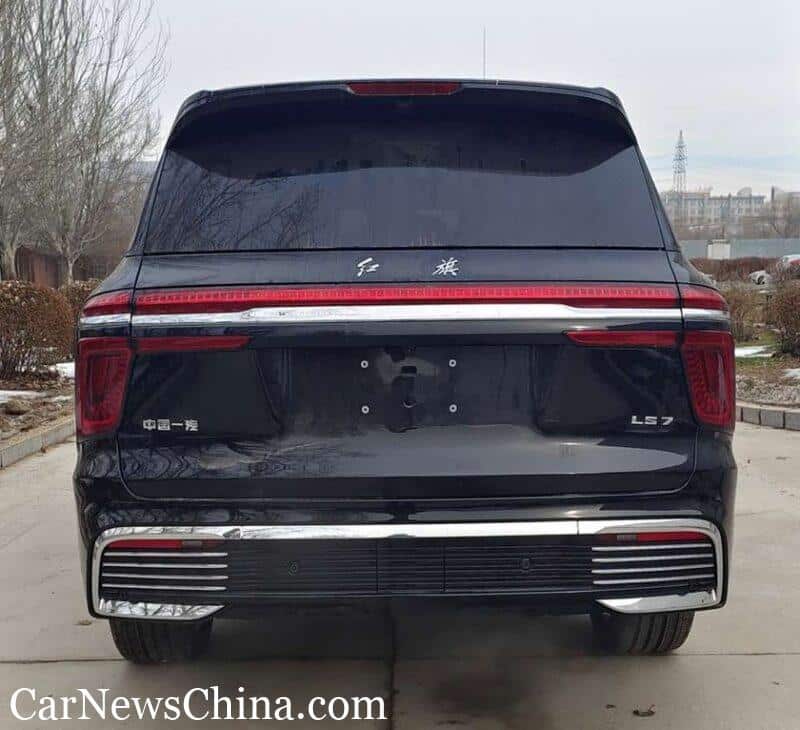 The Hongqi LS7 is 5695 millimeter long (!), 2095 wide, and 1985 tall. Wheelbase is… 3309. The LS7 is probably the largest civilian SUV ever manufactured in China. There will be a six-seat version and a seven-seat version. It is also very heavy with a curb weight of 3100 kilo. Power comes from a 4.0 liter turbocharged V8 engine with an output of 360 hp, 40 horses less than the similar sized V8 in the L5. Hongqi claims a top speed of 200 km/h.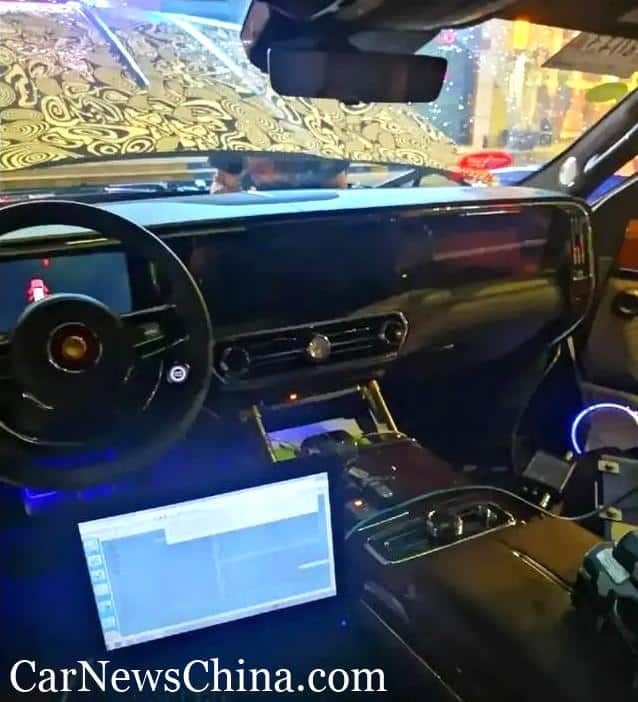 The interior wasn't unveiled yet but we have this spy shot if a test car showing a dashboard with Hongqi's typical retro-style steering wheel and a twin-screen setup.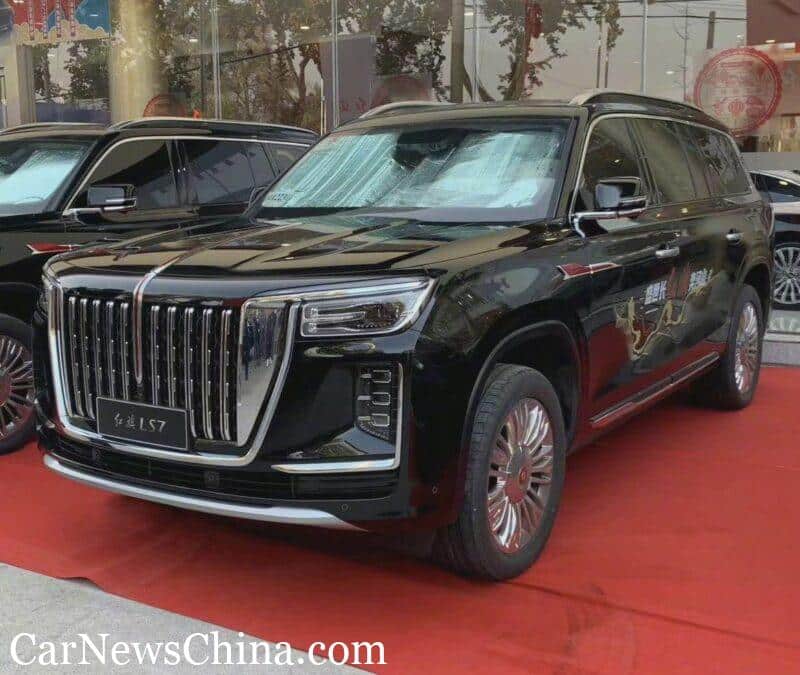 Two units seen in front of a Hongqi dealer. Design is impressive with loads of bling and shine. The car is indeed so big that the 275/50 R22 tires seem small!