The only car from a Chinese brand I ever drove (living in the Netherlands), was a Sokon K-series minitruck. One day the gardener at the company I work for showed up in one. I rushed outside, explained my interest in Chinese cars and asked if I could take the Sokon for a spin around the parking lot. The gardener, obviously amused by my enthusiasm, handed me the keys. I got into the cabin, a sea of cheap plastic, fired all 35 horses of the little Sokon one-litre engine and bumped around in the leaf-sprung, solid axle utility vehicle for two minutes or so. It's not the kind of test drive that makes you King of Youtube. If I could drive just one other Chinese car, I would choose the HiPhi X. Why? Well, it's powerful, hugely expensive, has crazy styling and is on the vanguard of technology. It's the kind of car you usually only see on posters in little boys' bed rooms.
Two weeks ago I wrote about Jia Yueting and his endeavours in the car industry. He has yet to build a production vehicle, but his LeSEE brand spun off two electric car startups. Last week we met Enovate and this week we'll dive into the story of the company behind the HiPhi X, Human Horizons.
Legacy Auto
The term legacy auto is used today as almost derogatory description of well-known car brands that are left behind in the transition to electric vehicles. It is used to exaggerate the backward and old-fashioned ideas of these manufacturers, as opposed to the fresh and innovative approach of new startups. Our main character of today, Ding Lei, was a representative of legacy auto for almost 25 years.
Ding Lei was born into a middle-class family in 1963, did well at school and studied at the prestigious Fudan University in Shanghai. He graduated with a bachelor's degree in nuclear physics and stayed on as post-graduate fellow for his master's degree in solid-state physics. He seemed destined for an academic career, but instead went to work for SAIC-VW in 1988 as an engineer in the Quality Assurance Department. This was the time that Volkswagen prided itself on immaculate build quality and Ding would later state that he "was born in quality". Ding rose through the ranks and later became the head of the department.
In 1995 he became the quality team manager of SAIC's new Pudong Car Project company. This company was of course the predecessor for the SAIC-GM joint venture and Ding played a minor role in the negotiations with the Americans. When the joint venture was formally established in 1997 Ding assumed the role of deputy manager of Quality Assurance and chief of Quality Engineering. It was the beginning of a long association with SAIC-GM. In 1999 he became Executive Director of Purchasing.
In 2004 Ding had a short stint at the SAIC parent company. SAIC Group attempted to set up its self-owned car business. He acted as deputy general manager for the independent brand project (and head of the technical and quality engineering department) and participated in the attempted take-over of Korean SsangYong and British MG Rover Group. The SsangYong bid was successful, but Ding had already returned to SAIC-GM when SAIC lost the bid for MG Rover. In January 2005 Ding became the general manager of SAIC-GM and two years later also took a seat on the board of SAIC Group.
During Ding's time as director of SAIC-GM, General Motors went through its bankruptcy proceedings in the United States and survived due to government help. Ding played a vital role in the survival of GM, especially its Asian operations, by providing financial support. This process forged a much closer relationship between the two sides. SAIC benefitted, it took over some Asian plants from GM and GM decided to move its Asian operations from Korea to China. SAIC and GM established a joint R&D centre, that now provides SAIC's independent brands, SAIC-GM and GM with applied technology for its products. At the same time, Ding started to wonder if the days of legacy auto were numbered.
Tesla and the lumberjack
In the early years of the 21st century when China's car fleet began to expand exponentionally, the country also got acquainted with the darker side: noise, road congestion and pollution. The smoggy cities forced the politicians to look at alternatives. Therefore new policies towards New Energy Vehicles emerged as early as 2001, then only in future-tech policies, and from 2009 on in automotive industry strategies.
SAIC Group underwent a major re-organization in 2011. I can't find out if it was completely his own choice, but after the restructure Ding had become a public official and was no longer employed by SAIC. He became the director of the Shanghai Zhangjiang Hi-Tech Park Committee, overseeing a huge business development project in the Pudong district of the city. Zhangjiang Hi-Tech focused on high-tech and future tech enterprises and now houses thousands of companies, ranging from large Chinese and international firms to startups, and hundreds of research and development institutes.
"There is an old woodcutter in china who has cut 100,000 trees in 35 years of work. After retiring, in order to express his guilt, he began to plant trees. Until his death, he also planted 100,000 trees"

Ding Lei, CES Las Vegas, January 2016
In 2013 Ding assumed responsibilities at district level, when he became deputy mayor of the entire Pudong New Area. In this capacity has contacted American automaker Tesla in 2014, trying to interest Elon Musk for a Chinese factory or R&D department. The men had several talks and Ding even made preparations for Tesla's eventual settlement. In the end Musk said it was too early, but these negotiations were the basis for Tesla's later affiliation with the city.
For Ding the Tesla negotiations were his first re-acquaintance with the car industry in three years. However, he wasn't talking to "legacy auto", but discovered an entirely different side of the industry. This side addressed all of his worries about sustainability, pollution and future-tech, that had made him doubt the prospects of legacy auto in the first place. About a year later, Jia Yueting called him and offered him the position of co-founder and CEO at LeSEE Automobile, Jia's Chinese Tesla. Ding didn't hesitate.
In a rare public appearance for Faraday Future (LeSEE's American sister company) at the CES show in 2016, Ding tried to explain his conversion from legacy auto by comparing himself to a lumberjack, that starts re-planting trees after his retirement. He even publicly apologized for putting 3000 polluting cars on the road every day during his time at SAIC.
The LeSEE reboot
While Jia Yueting is something like a show man in the Steve Jobs sense of the word, Ding Lei has an entirely different stage appearance. The two man shared the stage several times. Jia would take care of a flashy presentation and headline grabbing quotes, while Ding would be understated, almost subdued. Despite the very visible difference, the men agreed on the content. Jia and Ding shared a common view on the future of the car industry and LeSEE was the (almost) tangible result of that.
LeSEE presented a future of non-polluting electrical cars with the same comfort and connectivity options as your living room. The car could drive itself when needed and was on the cutting edge of technology in every aspect. It's a good story to present, but extremely difficult to put into practice. And very costly. And as we know from the LeSEE story, the brand ran into trouble quite quickly.
All in all, Jia and Ding worked together for less than a year and a half. In September 2015 Ding joined the startup, in March 2017 he announced his departure on Weibo, citing health reasons. What really happened between the brothers in arms has not surfaced yet, but Ding's illness, if any, can't have been more than a mild cold. Anyway, he was out of LeSEE and already making new plans.
New horizons
Three months later Ding set up a personal investment fund and used the fund to establish his own NEV startup in August 2017. The name of the company was Huaren Yuntong Holdings. The literal translation is Chinese Express, but the official English name is Human Horizons, which sounds a lot more sophisticated. At the end of the year Human Horizons reached a strategic cooperation agreement with the local authorities of Yancheng City (Jiangsu).
First let's get some paperwork out off the way. Ding or Human Horizons never released any information on how the company is financed. Formally, the ultimate holding company is owned by Ding Lei (20%), his son Ding Mingheng (20%) and two Chinese entrepreneurial families, both running large SAIC-GM dealership groups (30% each). All wealthy people no doubt, but likely not wealthy enough to put up the billions needed to fund a new high-tech car company. There are no reports about financing rounds, but Ding has insisted on several occasions that the company is well funded. He even hinted at a significant American investment, but so far it's unclear if it's true, or who it might be.
The cooperation with Yancheng is of course for production purposes, as Human Horizons doesn't have its own production permit. Yancheng City has an industrial development fund called Yueda Group, that you might know from the Dongfeng-Yueda-Kia joint venture. Yueda Group has several other investments in the automotive industry and in other sectors as well. The Group is a minority shareholder in the Jiangsu subsidiary of Human Horizons. This Jiangsu branch is responsible for assembly of the vehicles, taking place in a factory abandoned by Kia.
Human Horizons is not just a spiritual successor to LeSEE, Ding adopts exactly the same values, but changes the packaging. He calls his strategy: "3 times smarter: smart cities, smart roads, smart cars". Human Horizons wants to play a part in each of these three smart sectors. Although cars are the main product, the company is set up as technology firm from the start.
Some fresh faces
You don't build a car brand on your own, so Ding recruited some talented individuals. While many startups try to lure well-known names from the big international brands, Human Horizons is mostly very Chinese. There are a few exceptions, two of them I will highlight here to further explain the course of the company.
James Shyr is an American designer, who has spend most of his working life in Asia. He was design director of Yulon-Nissan in the 1990s and then switched to GM. Shyr set up and led the design centre at PATAC, the R&D institute shared between SAIC and GM. He played a role in all Buick, Chevrolet and Cadillac models for the Asian market between 2001 and 2007 and was also part of GM's global design committee. In 2008 he became design director for Luxgen, the high-end brand of Yulon until Ding asked him to be Chief of Design at Human Horizons.
Freed from all the real world restrictions, Shyr set the future design trend for Human Horizons with three show cars in 2018 and early 2019. All three shared the same sci-fi looks that later founds it way to the production models.
The Concept H (Hypervelocity, October 2018) is a premium sports car with scissor doors and a very minimalist interior, seating three people in a 2+1 arrangement. It should have four motors and extreme performance.
The Concept A (Agility, October 2018) is a small two-seater urban pod. The car lacks side windows, emphasizing autonomous driving and is a vision for shared cars.
The Concept U (Ultimate, April 2019) is basically the four-seater version of the Concept H, a premium long-distance traveler. This was the direct predecessor to the Hiphi X.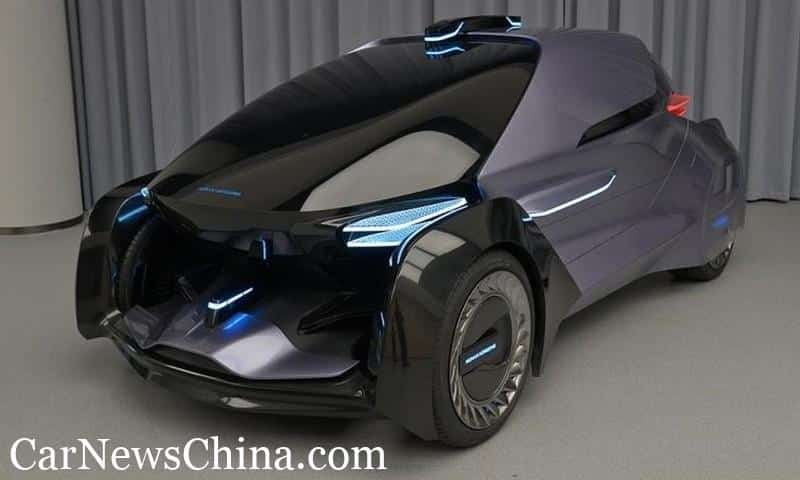 Mark Stanton is a British engineer, who spend most of his career at Ford, first in Europe and later at the global headquarters in Dearborn. When Ford owned Jaguar, Stanton switched to the British firm in the early 2000s and became Technical Director of Jaguar Land Rover. He participated in the development of the I-Pace EV and since 2015 he was the director of JLR's Special Vehicle Operations.
Already in the late 1980s Stanton worked on integrating computers and mechanical systems at Ford and showed an interest in code-writing, so he was well positioned for his task at Human Horizons. Stanton set a very clear goal in the beginning: the cars shouldn't be computers and software only, the mechanical side should be done well also. He engaged a number of industry leading suppliers, like Bosch, Continental and Michelin and experimented with some advanced designs. All the concept vehicles had in-wheel motors for instance. But the digital tech was leading and the core of the company, so Stanton led the development of Human Horizon's own digital architecture as well.
On the road
On July 31, 2019 Human Horizons released the first information and pictures of its upcoming road car. They also announced the brand name HiPhi (Gaohe in Chinese) and the first model aptly named 1. The car was still in final testing and pre-production phase, but very close to the final model. The first HiPhi on the road was however something completely different.
To prove that all the talk about smart vehicles and smart cities wasn't just that, talk, Human Horizons deployed the HiPhi City into a vehicle trial project in December 2019. The City was a unmanned minibus that would travel around Shanghai Zhangjiang Hi-Tech Park on predetermined routes. The buses don't have a driver seat or steering wheel and operate autonomously, using a combination of onboard sensors and information from road side infrastructure and cloud controllers.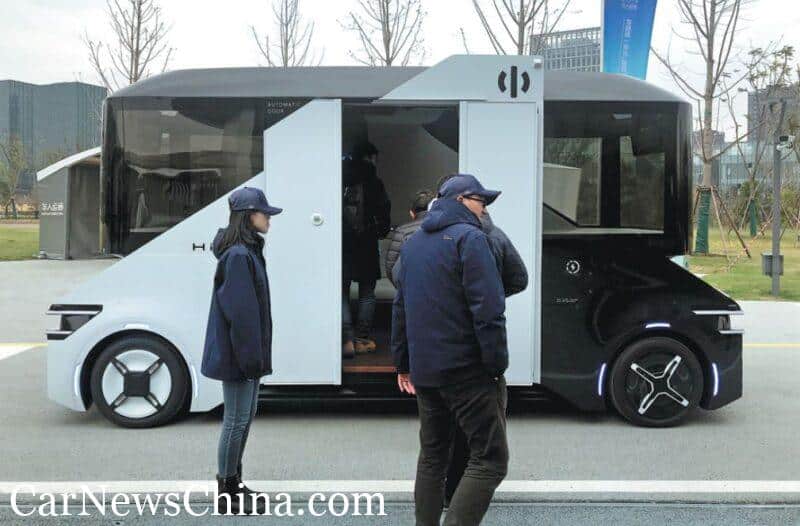 Back to the 1. The final production version was launched late in 2020, with deliveries starting halfway through 2021. By the time, Human Horizons had changed the name of the car to HiPhi X, but it was mostly similar to the former pre-production vehicle. Without doubt the first thing anyone notices is the unusual door arrangement. The lower part of the rear doors are suicide oors, the upper part open like gull wing doors. There are no door handles, just some hidden buttons on the center pillar. It adds to the futuristic appearance, low and sleek, with a front screen rake like a sports car. It's a lot less outrageous than the concept vehicles of James Shyr, but still instantly recognizable as something special.
Mark Stanton kept his promise. With a hybrid aluminium/high-strength steel platform, double wishbone suspension up front and multilink rear, air springs, adaptive dampers and four wheel steering the mechanicals are cutting edge technology. The car has a front and rear motor (inboard, no hub motors yet) for almost 600 hp and 820 Nm of torque and a 97 kWh battery pack. The HiPhi X is Tesla quick with a 0-100 kph sprint in 3.9 seconds. Only the range is just average, 550 km (NEDC).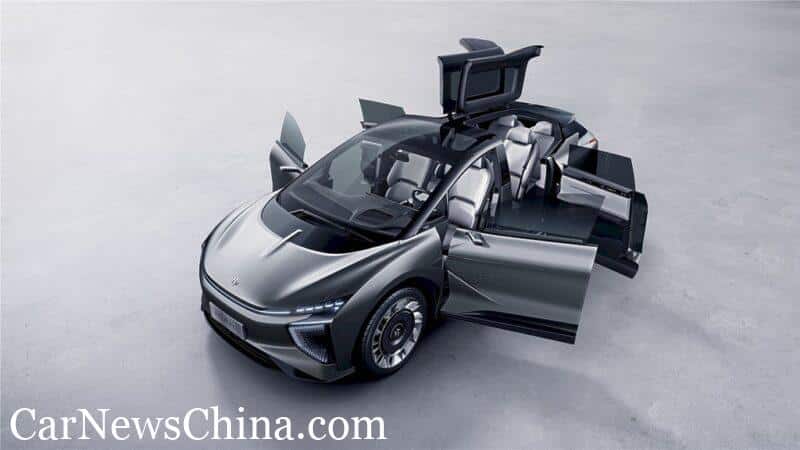 The interior is equally special. Lots of glass, lots of touch screens, hidden buttons that only light up when you touch the panel and a flexible seating arrangement. Six seats are standard, the top of the line limousine is a four seater with a fridge as standard. HiPhi promises Level 3 autonomy, 5G connectivity and more gadgets than you can think of. Of course there's a Meridian sound system and an AI virtual assistant. On the outside the lights can display short messages or project things like a zebra crossing on the street in front of the car. At the back the lights project a button on the street. Step on it and the trunk lid opens.
The HiPhi X is a very expensive car. Initially the price range was from RMB 680,000 to RMB 800,000 ($105,000-123,000). Only China's presidential brand Hongqi operates in that segment. It shows the changing times. Not too long ago wealthy Chinese would only buy premium products from foreign companies, but a new generation appreciates its domestic high-end products as well. The HiPhi X quickly rose to the top in the ultra-luxury bestsellers list, outshining Hongqi and the Porsche Taycan. In the meantime HiPhi added a slightly more affordable entry level version at RMB 570,000 ($88,000).
You ain't seen nothing yet
At this year's Beijing Auto Show HiPhi will launch its latest product, the HiPhi Z. The car is already previewed in a video where it's launched from a space ship to go planet hopping. Designed by Nicolas Huet (ex-BMW/GM PATAC) and Camilla Kropp (ex-Bugatti), this car takes the sci-fi theme a step further. HIPhi calls it a Digital GT, but it's basically the four door coupe version of the X.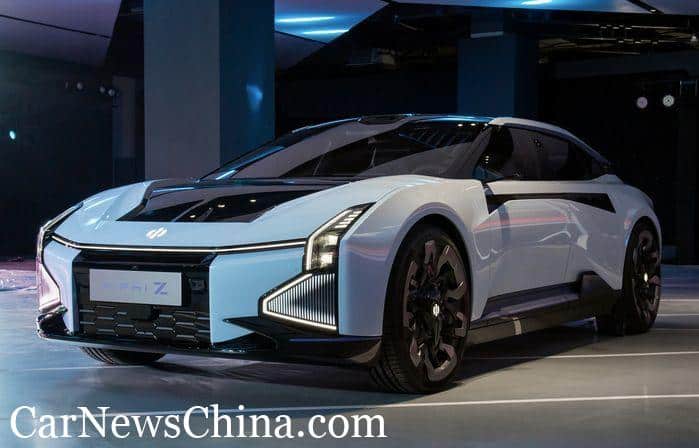 So after making lots of cheap cars and sensible cars, China now also has its first supercar maker. I realize the second part of this article came dangerously close to sounding like an advertorial at times. It certainly wasn't the objective, but I just can't help being impressed by the achievements of this company is such a short time. If I was still a little boy, I know what poster would be on my bedroom wall…
Well, back to planet earth now. This is the Sokon K-series I once took a spin in:
Epilogue
If you want to see how far Human Horizons is really out there, watch the introduction video of the HiPhi Z. It has Ding Lei talking about Einstein, time travel and a digital soul. Yes, really!
Read more Automakers Stories
Every week we publish one exiting article about history of famous Chinese Automakers. Check the ones you haven't read yet.