A new Changan electric SUV was spied in China. It is a compact, affordable, four-door crossover with a bulky look. The interior of this yet unknown car was also spied on.
The exterior of the Changan's EV is covered with camouflage, but we can see its overall shape. The headlights of the new SUV are massive and rounded. Below the bumper we see a sensor for a driver-assistance system. From the side, the shape of the new EV is simple, with a sleek bonnet line. The taillights of the Changan's SUV disturb its rounded style. They got a square shape. It looks like these lights are only for testing purposes. Other details include side-view mirrors with integrated turn signals and steel rims.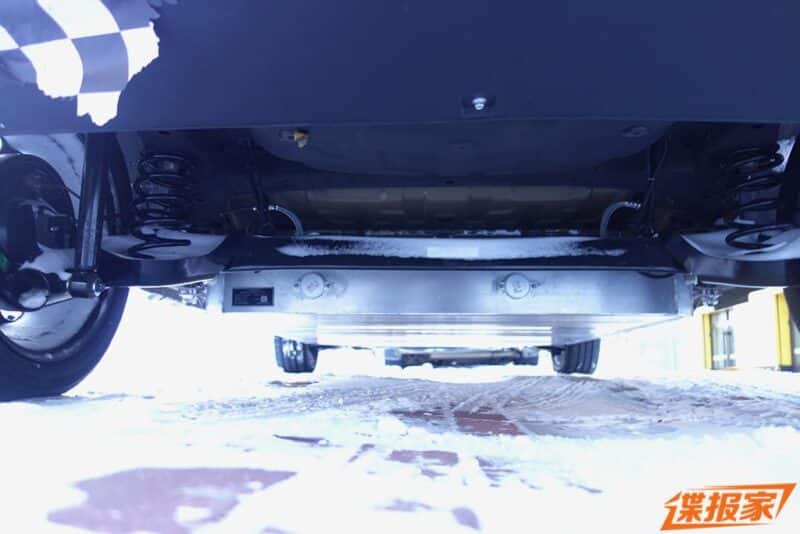 There is one more detail that shows how cheap this vehicle is. The battery pack of the new Changan SUV is located in a frame below the car's underbody. This placement of the battery is usual for cheap EVs based on petrol cars. So we can guess that this SUV is based on one of Changan's petrol cars. Another detail of the new SUV is the dependent suspension. We see there is no electric motor on the rear axle of the new SUV, so we may guess it is FWD.
As for the interior, it's also really cheap with a small instrument panel screen and lots of gray plastic. It's funny that its steering wheel has a flat bottom and somehow looks sporty. There are four air vents In the center panel of Changan's SUV. The second row has a bench. Seats are wrapped in faux leather.
A New Lumin?
Recently, another Changan's cheap electric car leaked thanks to Chinese MIIT. This car is the first vehicle from the company's new brand called Lumin. According to documentation, the Lumin is a brand under Avatr, the joint venture between Changan and CATL. There is a chance that the new mysterious SUV will also become a part of Lumin's model line.