This is the HiPhi Z, seen undisguised rolling off the line in the factory. The HiPhi Z is a new fully electric sedan coupe, looking utterly mad and pretty at the same time. It is the second model of China's new HiPhi EV brand. The Z comes with a long hood, a large greenhouse, a floating roof, and a short rear end.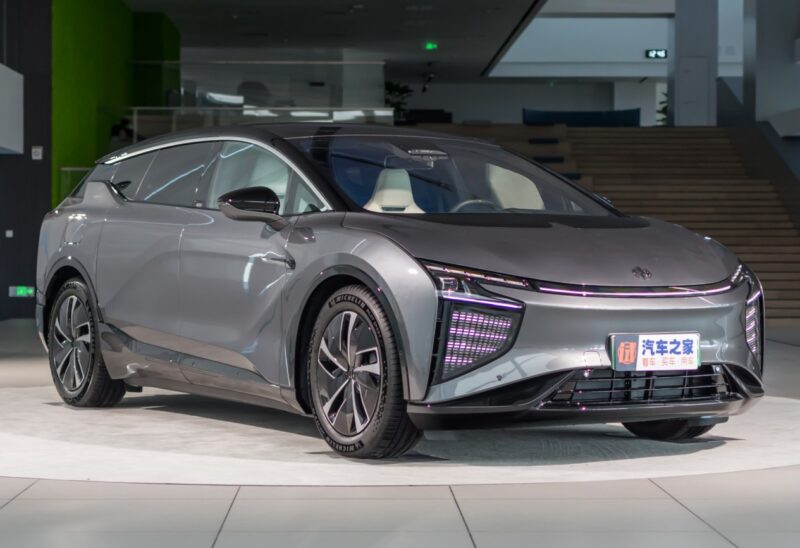 HiPhi is a brand under Human Horizons, a new Chinese electric car brand founded in 2019 and based in Shanghai. The company's first car, the Hiphi X, was launched in 2020. The X is a spaceship too, a low slung 6-seat crossover SUV with a mad rear-door construction and loaded with luxuries and power. There is a single motor rear-wheel drive version with 299 hp and a twin-motor four-wheel driver version with 598 hp. Battery is always 97 kWh, good for a max range of 560 km CLTC or 500 km NEDC. Prices start at 620.000 yuan (92.600 USD). The HiPhi Z uses the same platform as the HiPhi X.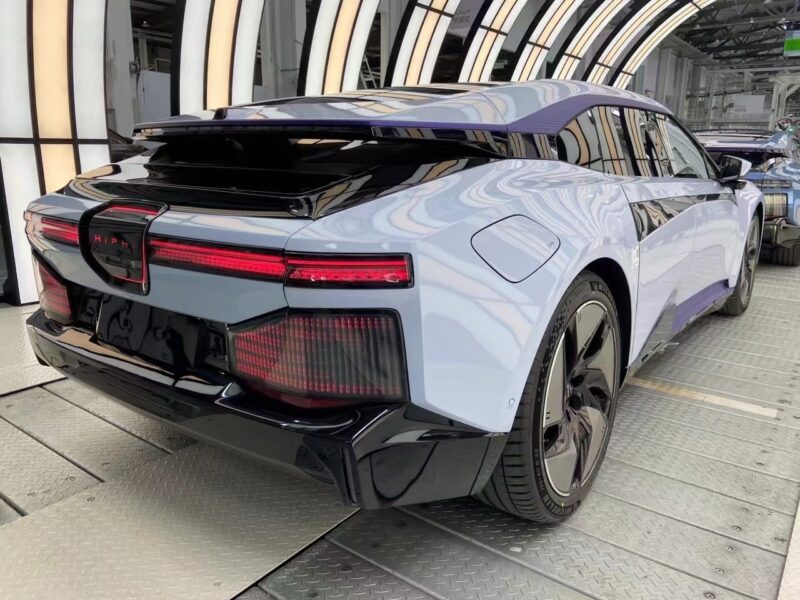 Design details are very complex, especially at the rear, where the upper roof hangs over the rear deck. There is a car wide rear light unit with a pod in the middle. Lower down another set on lights, and a large black bumper. The charging port is located on the right-rear fender. It has triple-tone paint, with a light blue body, black bonnet and pillars, and purple insets.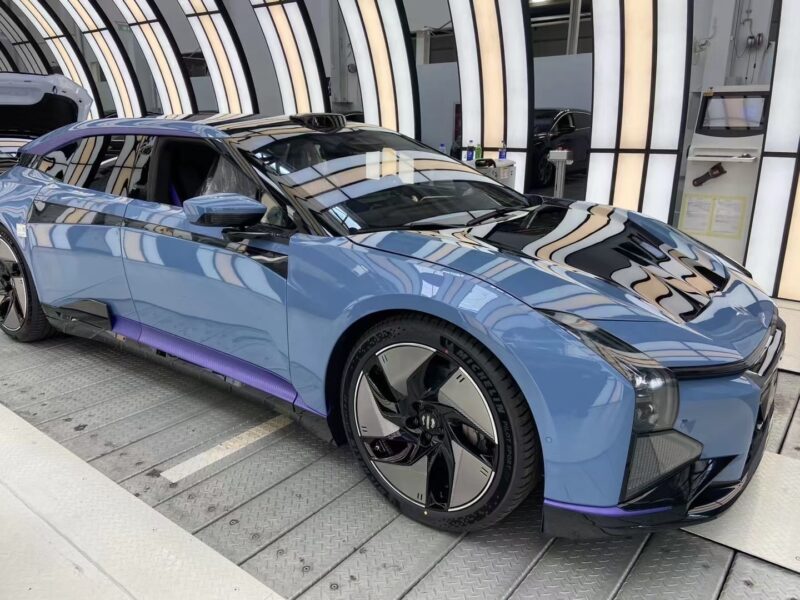 There are aero bits everywhere, with winglets and side skirts and a low front lip It also has an air vent in the bonnet and aero wheels. The rear doors are suicide doors, and even on the rear door sits another odd piece of aero. Above the windshield is a pod for the LiDar system. This car has a darker blue body, but the black and purple bits remain the same as on the light blue car. So perhaps purple is a standard base color.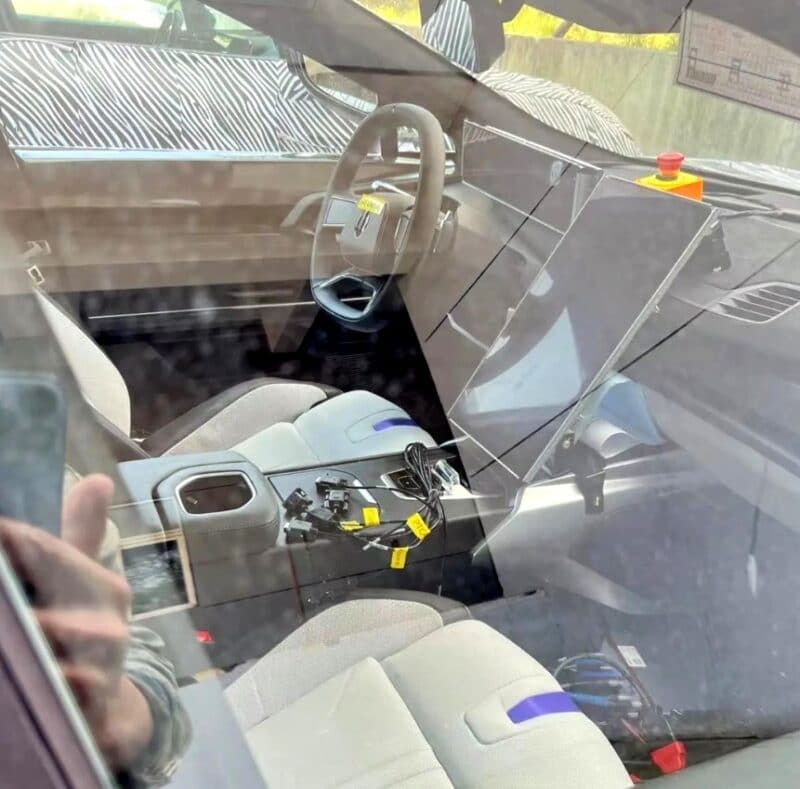 Earlier spy shot of the interior, with a flat bottom steering wheel, a digital instrument cluster, and a huge central touch screen. Unlike many other new high-end Chinese electric cars it doesn't have a separate screen for the passenger.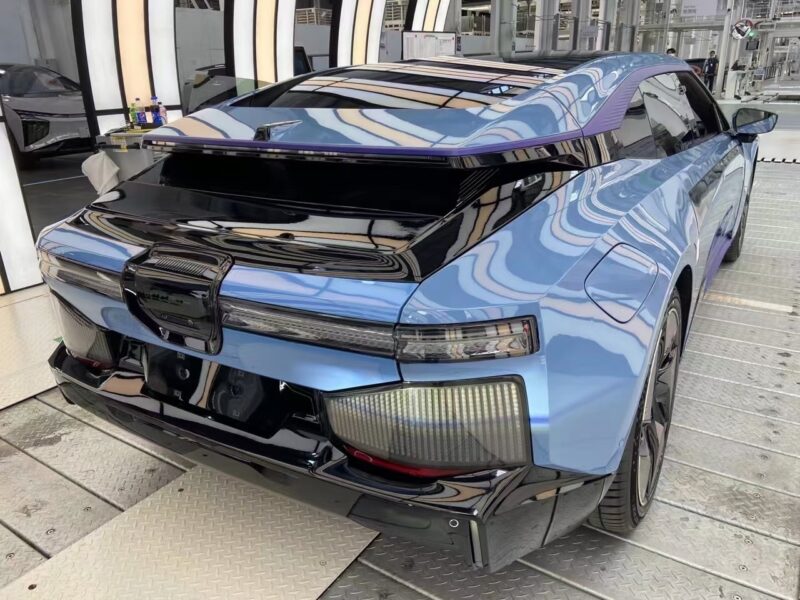 There is a camera in the middle of the rear of the floating roof. The HiPhi Z is a truly daring car, it is great to see all those new Chinese car makers experimenting with new and wild design, but none has gone so far as HiPhi. The Z will be unveiled soon and launch on the Chinese car market in Q4.