Earlier this month the Geely Holding Group launched the new Radar EV brand, with the Radar RD6 pickup truck as the brand's first car. At the time, Radar only released a tiny bit of factual information on the RD6. Today, we got some more specs, info, and new images.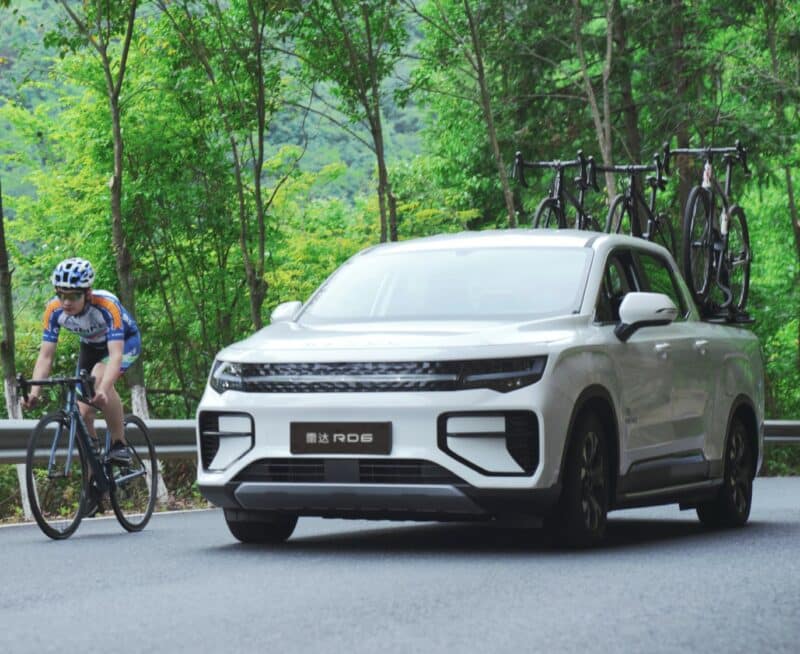 The new images show a pretty white RD6 charging up a mountain as a service truck for a cycle race of sorts. This indeed is exactly the message Radar wants to convey. The brand is aimed at young professionals living in big cities who want to go out mountaineering and camping in the weekends.
This segment is growing fast in China, and many Chinese car brands are developing and launching new 'lifestyle' brands and vehicles. Geely calls Radar "China's first pure electric outdoors lifestyle vehicle brand". In a press release, the company said: "Radar was created for a new generation of global consumers that demand vehicles that are as sustainable as their adventures into nature."
The Radar brand will launch at least four other new cars in the near future: an SUV, a sedan-coupe-pickup truck, a large SUV, and an ATV. Within the Geely Holding Group, Radar is positioned as an independent entity, with its own R&D facility in Hangzhou and a factory in Zibo, Shandong. The Chinese brand name is 雷达, leida, which means 'radar'.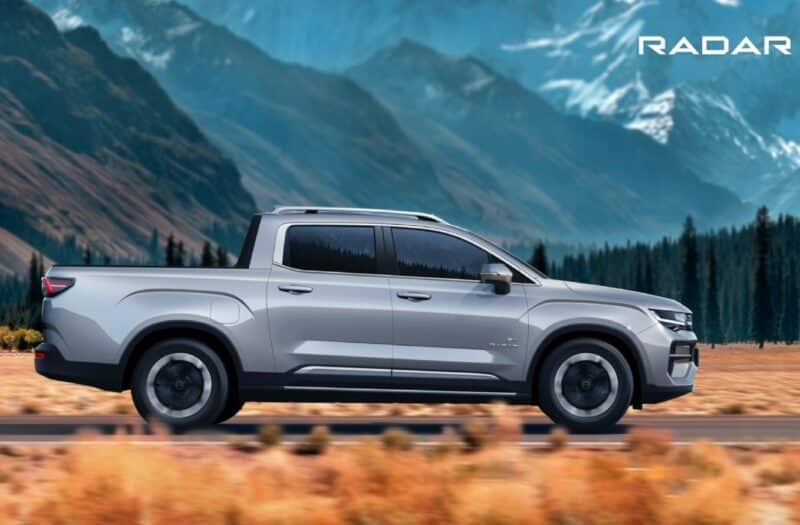 An image of a gray example. I am still a bit surprised Radar went for old-school door handles instead of modern pop-out handles. I guess they thought 'real' handles were more in character with the car's image, but it just looks a bit odd on an otherwise very modern looking pickup truck. The images also reveal the RD6 has two ports, on the rear fender above the wheel, one on each side. The port on the left side is for charging. Not sure yet about the right port, but it may have some discharging function.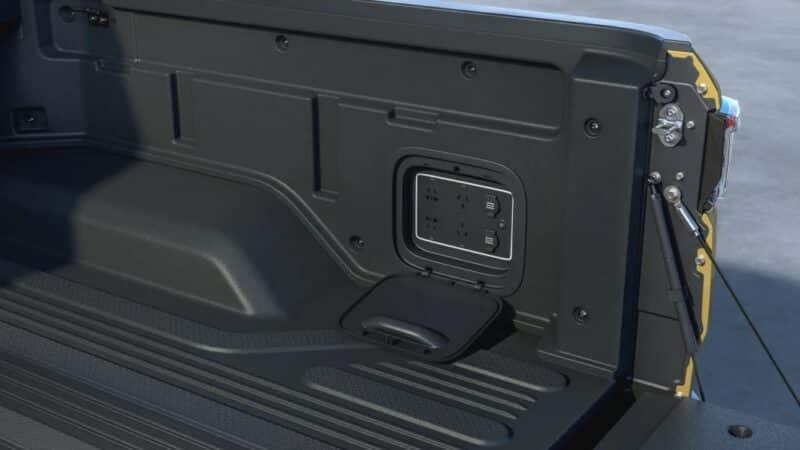 Talking about discharging: The Radar R6 is equipped with 6kW discharge panel that has 6 discharge modes: static discharge, mobile power, vehicle-to-vehicle (V2V) power, 220V/10A, and 220V/16A. That is more than enough to power a fan, a small fridge, a heater, a radio, or a television. In short; for all the things you need during a rough night of back-to-nature camping. The image shows a surprisingly large amount of exposed screws. Some are for coolness, perhaps, but others are not, like on the side panel of the hatch.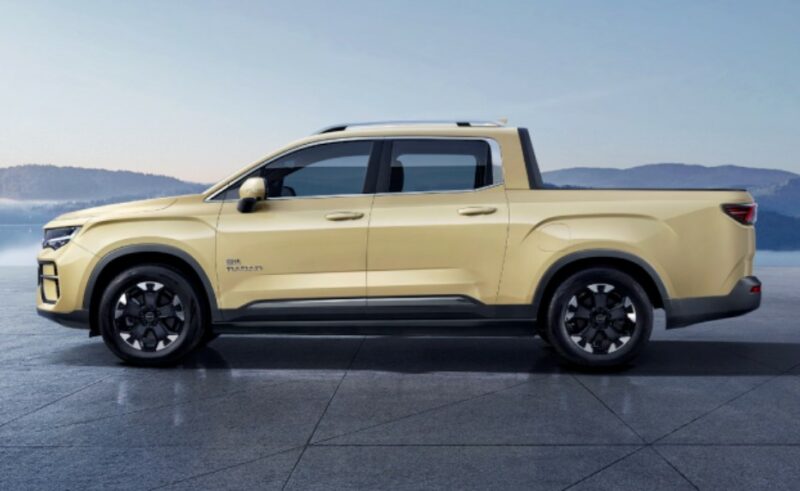 The Radar RD6 is a medium-sized pickup double-cab truck. Its size is 5260/1900/1830, with a 3120 wheelbase. The bed size is 1525/1450/540. The RD6 is based on Geely's Sustainable Experience Architecture (SEA). This platform allows for rear-wheel drive and four-wheel drive variants of the RD6. Radar says the RD6 will have a range of 600 kilometers and do 0-100 in six seconds.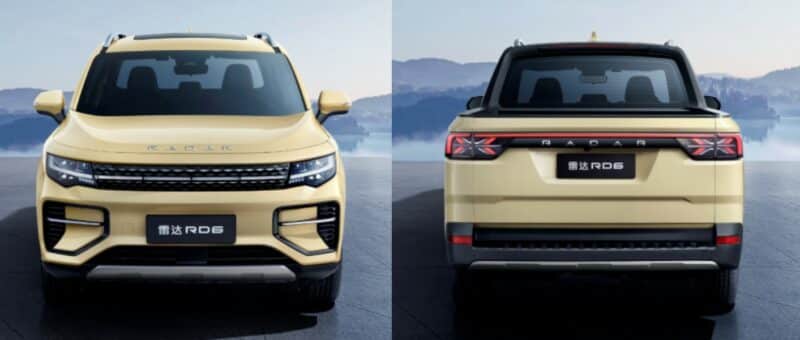 The RD6 is a fine looking car, with cool RADAR lettering on the bonnet and on the back. The X-shaped rear lights are a nice detail.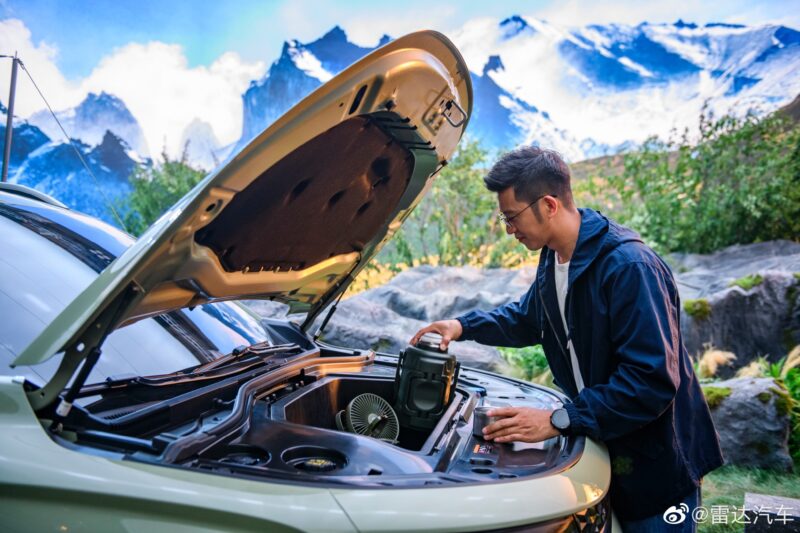 The R6 has a frunk. It doesn't seem very large, but big enough for a fan and a coffee pot.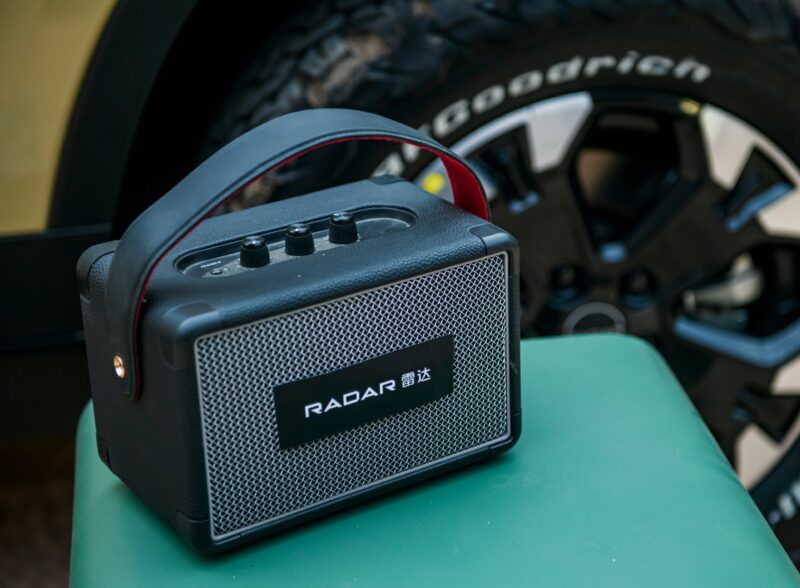 We got some more details about Radar's lifestyle stuff too. Radar will launch a "lifestyle sub-brand" called Radar Weekends. This brand will cooperate with various partners to create things like this rugged radio and an outdoor mini fridge.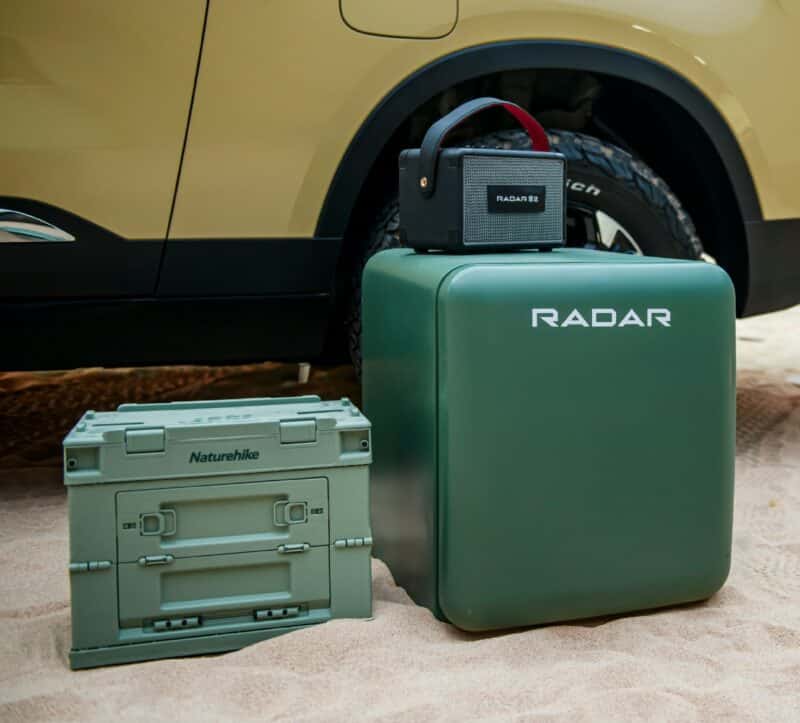 Besides selling produce under the Radar name, Radar Weekends will also sell stuff from partner companies, like camping boxes made by camping equipment brand Naturehike. This sort of co-branded co-developed product lines are now quite common in China, where car makers regularly launch into all sorts of cooperation projects with brands that they perceive to be a match. Examples are car companies working with clothing brands, with travel companies, with ice cream makers, with furniture makers, and with cookie makers.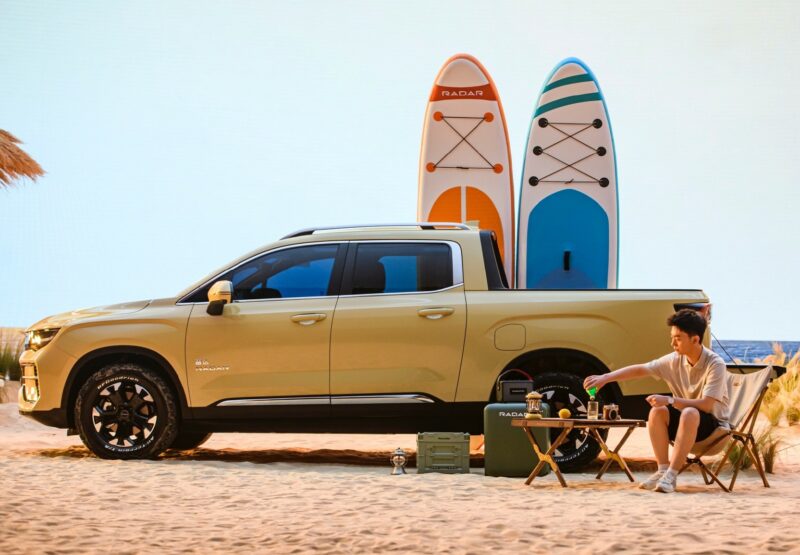 The Radar R6 will officially launch on the Chinese car market on September 9. More info on pricing is expected soon.