In its latest quarterly report, Chinese automaker NIO announced that it delivered 31,607 models in the third quarter of 2022 and hopes to deliver between 43,000 and 48,000 units in the last quarter of the year. A breakdown of the deliveries for Q3 shows that the automakers shipped 22,859 smart electric SUVs and 8,748 smart electric sedans, representing a 29.3% increase from the third quarter of 2021 and a 26.1% increase from the second quarter of 2022.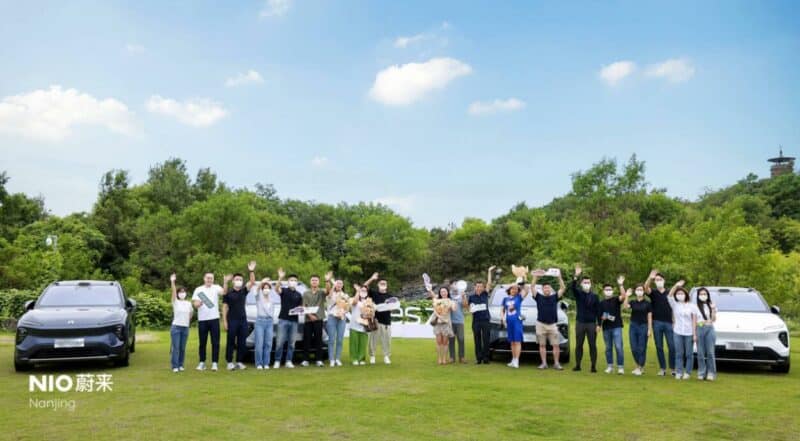 The "delivery figures for Q3 2022 are at an all-time high and better than the 25,059 and 25,768 units delivered in Q2 and Q1 of 2022, respectively. Recall that the automaker was aiming for between 31,000 and 33,000 deliveries in the third quarter of the year. It would be fair to say NIO hit the mark despite material shortages and the Covid-19 pandemic.
On vehicle sales, NIO made 11,932.7 million yuan ($1,677.5 million) during the quarter, representing a 38.2% increase year-over-year. Chairman, founder, and CEO of NIO, William Li, had this to say:
"NIO delivered 31,607 vehicles in the third quarter of 2022, representing a solid growth of 29.3% year-over-year and achieving a record-breaking quarterly delivery. Following the delivery of our new product lineup based on NIO Technology 2.0 catering to different market segments, we have witnessed strong growth momentum in user demand and robust foot traffic, especially after the debut of ET5s in stores from September, and expect the ET5 delivery will support a substantial acceleration of our overall revenue growth in the fourth quarter of 2022."
Fourth Quarter Projections for NIO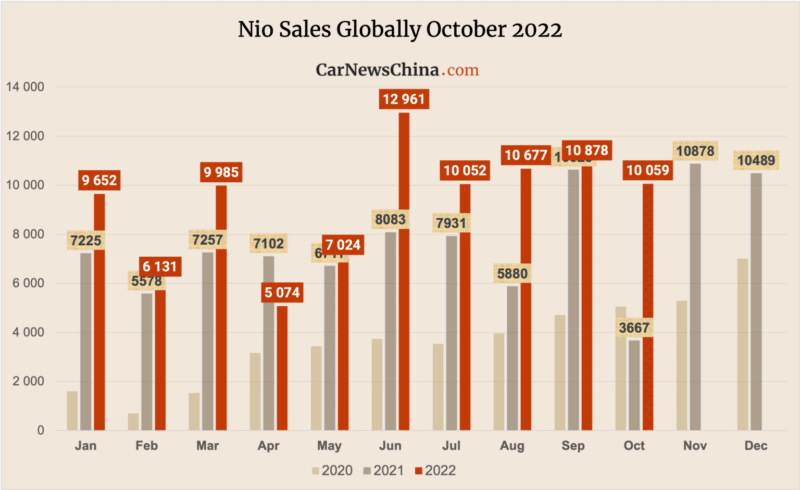 NIO delivered 10,059 vehicles in October 2022, and as of October 31, 2022, cumulative vehicle deliveries reached 259,563 vehicles. The automaker aims to deliver between 43,000 and 48,000 units in the last quarter of 2022, and it would have to deliver at least 32,941 units in November and December to achieve this. Bear in mind that the highest number of units delivered in a month was 12,961 in June.
While this target might seem arduous, it is achievable, considering that three new models are available, and NIO has established its presence in European countries such as Germany, the Netherlands, Denmark, and Sweden.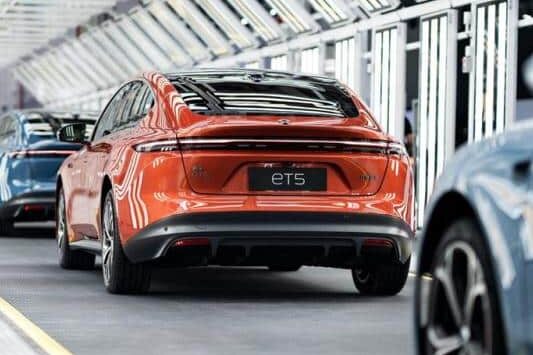 On September 30, the first batch of the mass-produced NIO ET5 was delivered as scheduled in Chinese cities, including Beijing, Shanghai, Suzhou, Hefei, and Guangzhou. More cities were added in the following weeks.
The ET5 is the first model manufactured at NIO's new 'NeoPark' factory in Hefei, Anhui province. Previously, Li Bin, Co-founder and CEO of NIO, disclosed internal forecast data that predicted ET5's monthly delivery number to exceed 10,000 units in December alone.
In October, the automaker unveiled the ET7, EL7 (ES7 in China), and ET5 for the European markets at the NIO Berlin 2022. These products are gradually made available in Norway, while Germany, the Netherlands, Denmark, and Sweden have to rely on NIO's subscription model and leasing programs. The automaker has stated that it would offer a purchase option for users in these four European countries by 2023.
To meet the growing user demand and shorten the waiting time, we have been working closely with supply chain partners to accelerate production and delivery," said William Bin Li, founder, chairman, and chief executive officer of NIO.
"At the NIO Berlin 2022 on October 7, we introduced our compelling products and holistic service system to more European users. Encouraged by the rave reviews from the local users and media, we have full confidence in our future performance in Europe," added Mr. Li.
Sources: NIO