Toyota China has announced a significant price drop for its electric SUV, the bZ4X, to boost sales in China. The company has reduced the price by 30,000 RMB (4,300 USD), with the base price now starting at 169,800 RMB (24,800 USD). The price reduction is 15%. The two joint ventures FAW-Toyota and GAC-Toyota, which sell bZ4X, have adjusted the price of this model synchronously In addition, the car can be equipped with a solar charging module, which Toyota claims can provide up to 1,750 km of additional driving range per year. It can charge power batteries, and the optional price is 20,000 RMB (2,800 USD).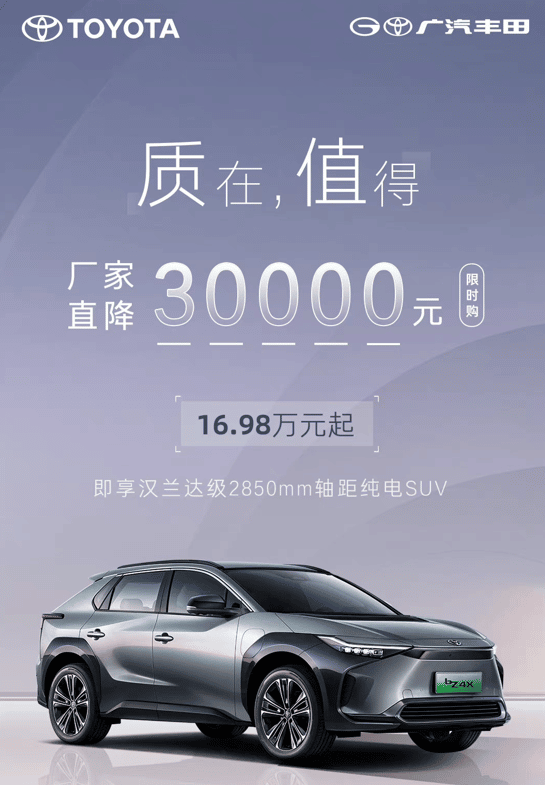 Configuration of Toyota bZ4X EV
The bZ4X is available in two different versions: a front-wheel-drive version with a 150 kW (203 hp) motor and a four-wheel-drive version with double 80 kW (108 hp) motors. The front-wheel-drive version has 266 Nm and the four-wheel-drive version has 337 Nm. Both versions come with two battery packs, 50.3 kWh and 66.7 kWh. The 66.7 kWh version can provide a range of up to 615 km under the CLTC condition. The four-wheel-drive version can accelerate from 0 to 100 km/h in 6.9 seconds.
Front-wheel short range
Front-wheel long range
Four-wheel Pro
Four-wheel Ultra
Price
169,800 RMB
(24,800 USD)
199,800 RMB
(29,100 USD)
238,800 RMB
(34,100 USD)
257,800 RMB
(37,600 USD)
Battery capacity
50.3 kWh
50.3 kWh
66.7 kWh
66.7 kWh
Range
(CLTC)
400 km
615 km
560 km
500 km
Power
150 kW
(203 hp)
150 kW
(203 hp)
(80+80) kW
(217 hp)
(80+80) kW
(217 hp)
Torque
266 Nm
266 Nm
(168.5+168.5)Nm
(168.5+168.5)Nm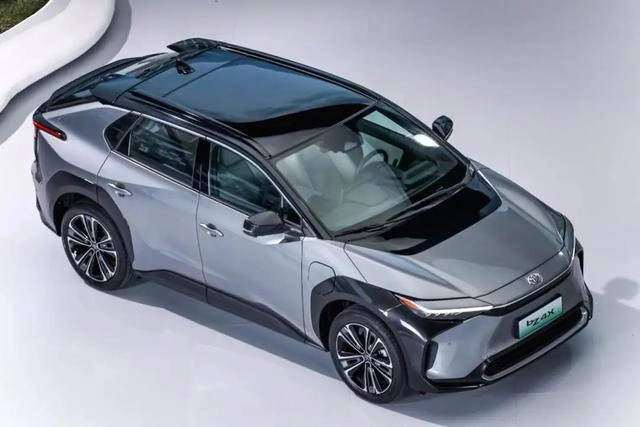 Sales of Toyota and other Japanese companies in China
The bZ4X was first launched in China in October 2022, with a starting price of 199,800 yuan. Toyota BZ4X sold 3,844 vehicles in China by the end of January 2023, which accounts for 0.26% of the pure electric vehicle market. Despite this, it is worth noting that the bZ4X was the best-selling Japanese electric vehicle in China last quarter.
Japanese car manufacturers have been relatively slow to enter the electric car market, with only 14,995 pure electric vehicles sold in China in 2022, accounting for about 0.35% of the market share. By contrast, Japanese companies have a 19% share of the overall market, which includes ICE vehicles. Toyota sold 4,037 pure electric vehicles in China last year, while Honda sold 8,788 and Nissan sold 1,205. The number of other companies was relatively small. In 2022, the penetration of pure electric vehicles in the Chinese market was 20%, while the average level of Japanese companies was 0.4%.
Related articles: Toyota bZ4X Electric SUV Launched In China, Price Starts At 27,800 USD;
Source: Toyota; BitAuto