The formerly British sports car brand Lotus is expanding rapidly in its new home market in China. The Lotus Eletre SUV was launched in October last year and Lotus is currently developing a new sedan. Both the SUV and the sedan are manufactured in Wuhan, China. But making cars is one thing, selling them is another. So Lotus is adding new shops, which they call 'Experience Stores'. On 18-02 a brand new facility opened in Guangzhou, the capital of the southern province of Guangdong.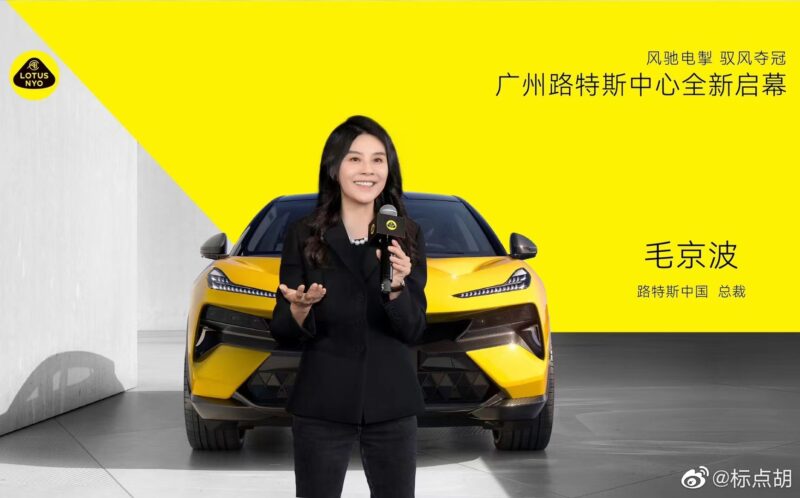 The lady in charge is Mao Jingbo (毛京波), the President of Lotus China. She was hired in 2022. She used to be the CEO of Lincoln China and worked for Mercedes-Benz China before that. So she has quite a lot of experience selling luxury cars in the country.
The Guangzhou store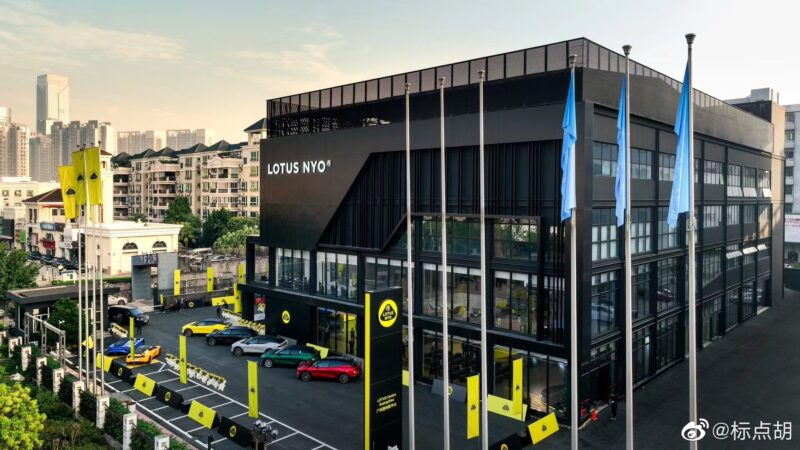 The Guangzhou store is located in the center of town and covers an area of ​​nearly 7,600 square meters and is currently the largest Lotus Center in the country. The Experience Center is jointly owned by Lotus China and a local car dealer company. It functions as an experience center for selling cars, as a delivery center, and as a clubhouse for the soon-to-launch local Lotus club.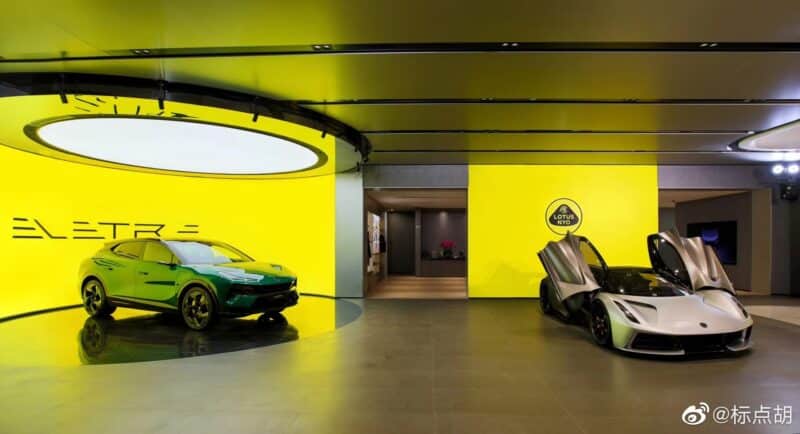 The store comes with an exhibition area, a separate VIP area, a lounge area, and a shop selling Lotus lifestyle thingies. Lotus currently sells three cars in China: the Eletre, the Emira, and the Evija. However, only the Eletre and the Evija were on display in the new shops. There was no sign of the Emira inside the store.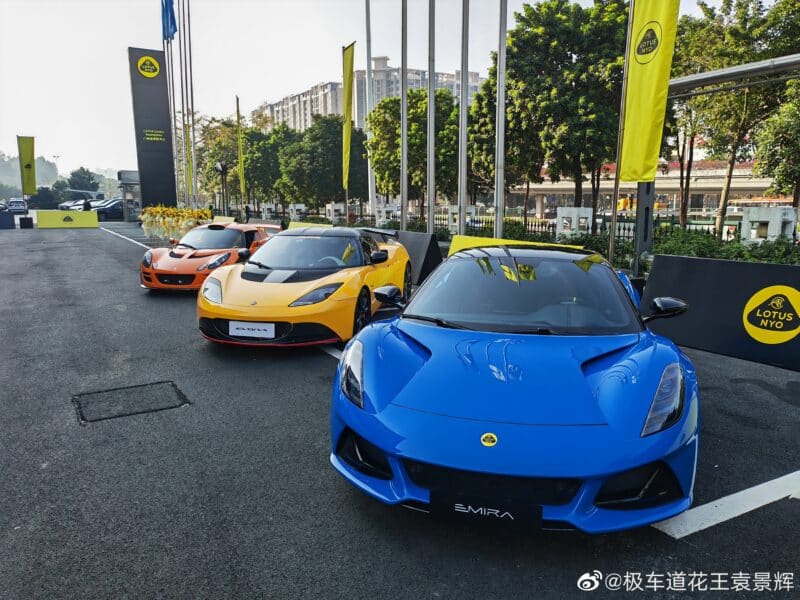 But there was a blue one outside! And the soon-to-launch local Lotus club showed up with a Lotus Evora and a Lotus Exige. Heritage; it is important. In China, Lotus is marketed under the 'Lotus NYO' name. The reason why is complex and very historical. Read all about it here.
The Beijing store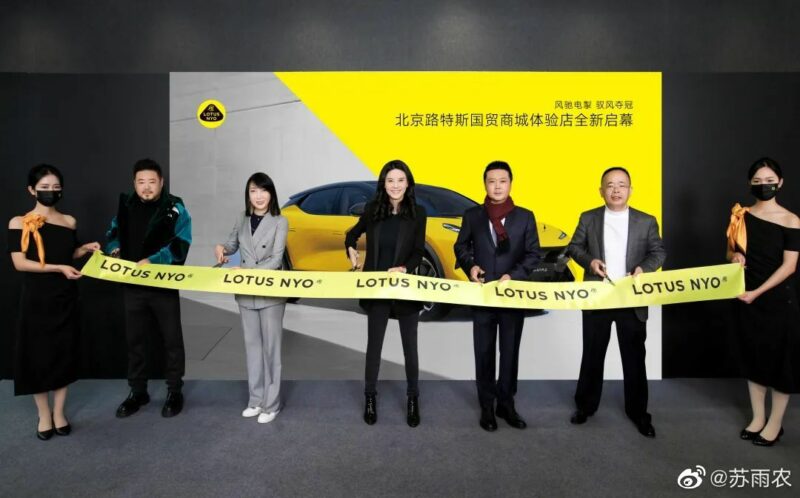 This may seem like the same image as above, but it isn't. This indeed is three days earlier on 15-02, at the opening of the Lotus Experience Center in Beijing. The center is located inside the China World Trade Shopping Center (Guomao), one of the most prestigious malls in the city, but also one of the oldest.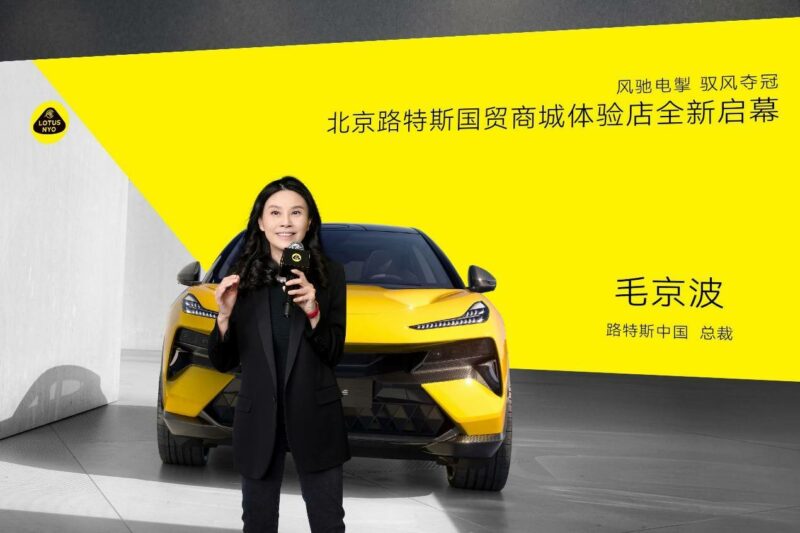 Ms. Mao was at it again. They have cool Lotus-branded microphones.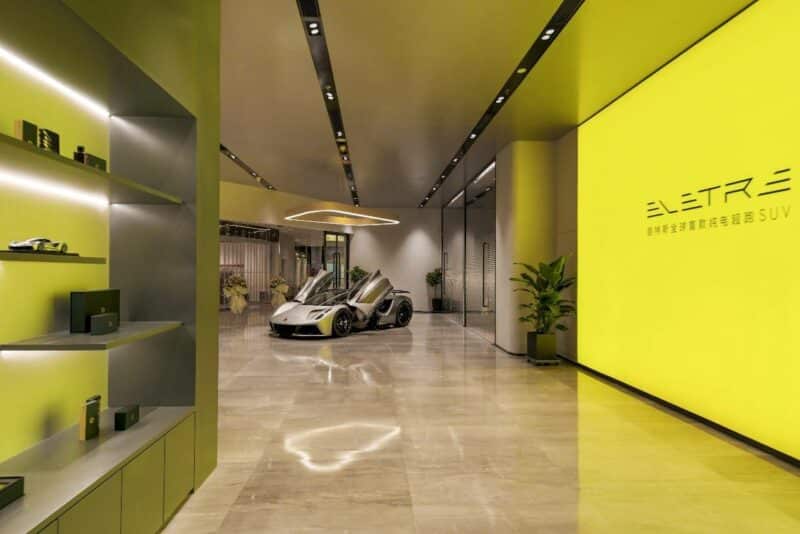 The store is much smaller than the one in Guangzhou. It covers an area of ​​nearly 500 square meters and includes an exhibition area, a VIP area, and a lifestyle shop. Again, the only two cars inside the store were the Eletre and the Evija.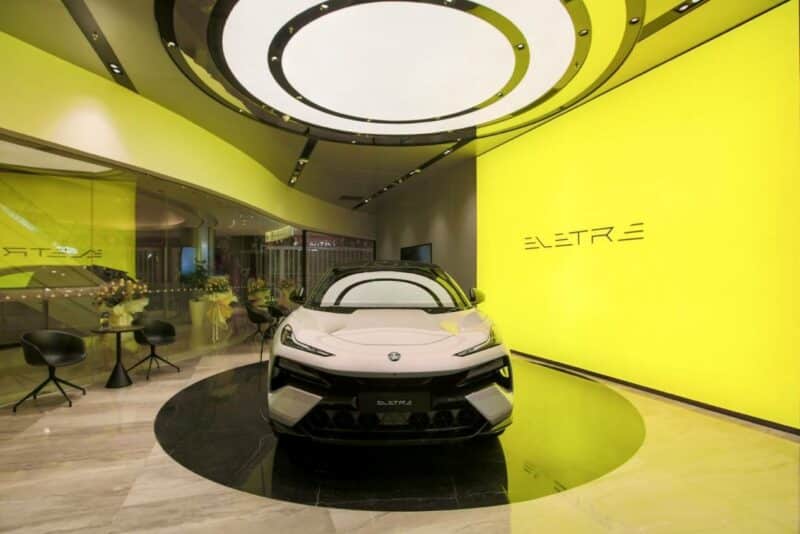 The store looks a bit empty like this. It needs more cars.
With the two new ones, Lotus now has a dozen Experience Stores in China, with about another 10 under construction. These stores will all open within this year.