BYD is building a massive factory in Hefei, Anhui province, and the first car of Phase 2 will roll off the production line on March 30. The total investment of P1 and P2 was over 30 billion yuan ($4.3 billion). When the factory is fully finished (including the P3), the annual production capacity will reach 1.32 million vehicles. For comparison, Tesla's Giga Shanghai cost was $2 billion.
Phase 1 of the BYD Hefei factory was finished in the summer of last year when the first car rolled off the production line on June 30. The investment into Phase 1 was 15 billion yuan ($2.15 billion), and BYD claims the factory's annual output is 50 billion yuan ($7.2 billion) in vehicle value. In the first phase, the factory has a production capacity of 400,000 cars annually. This February, it produced 1200 cars daily, according to an industry insider 源之头. In comparison, Giga Shanghai has the ability to make 3000 vehicles daily; in February, it was about 1000 cars daily.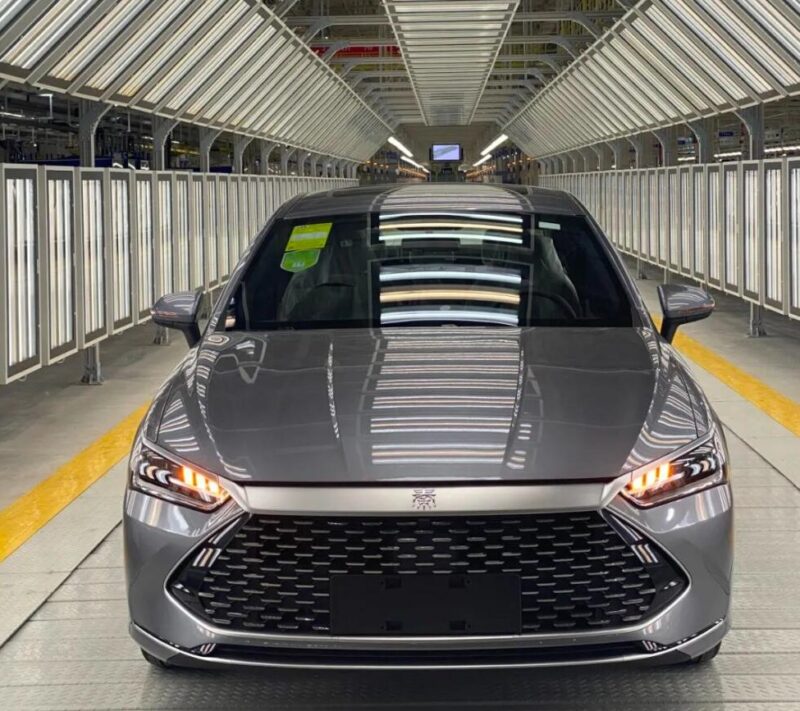 Phase 2 contract was signed in May last year with a total investment of another 15 billion yuan, and it will be finished later this month.
Phase 3 will start construction on April 30. Not many details have been revealed, but according to BYD, when the factory is fully finished, it will have the capacity to produce 1.32 million cars yearly with a total annual output of 200 billion yuan ($23 billion).
The Hefei plant is intended to produce Qin PLUS DM-i PHEV and Yuan Plus (Atto 3).
Hefei Speed
Hefei government likes to present itself as an EV manufacturing capital, and they have a good reason for that. Located just 5 hour's drive from Shanghai, Hefei is home to many famous brand plants, including Volkswagen, JAC, Nio, and BYD.
It took BYD only 42 days of negotiations with Hefei to start construction and ten months from the start of the building to the first car roll of the line (Phase 1)
You probably heard of the term Chinese speed, referring to the crazy speed at which Chinese EV companies push factory building and innovations. The term 'Hefei speed' is different even compared to the rest of China.
BYD Product planning
BYD's lineup is broad. Alongside Dynasty, Warship, and Ocena series, Shenzhen-based automaker recently launched its premium brand YangWang together with the hardcore SUV YangWang U9 and supercar U8. But it is not enough for BYD. Later this year, it plans to launch another off-road brand codenamed F-brand, and its lineup will consist of – surprise – another hardcore off-road SUV.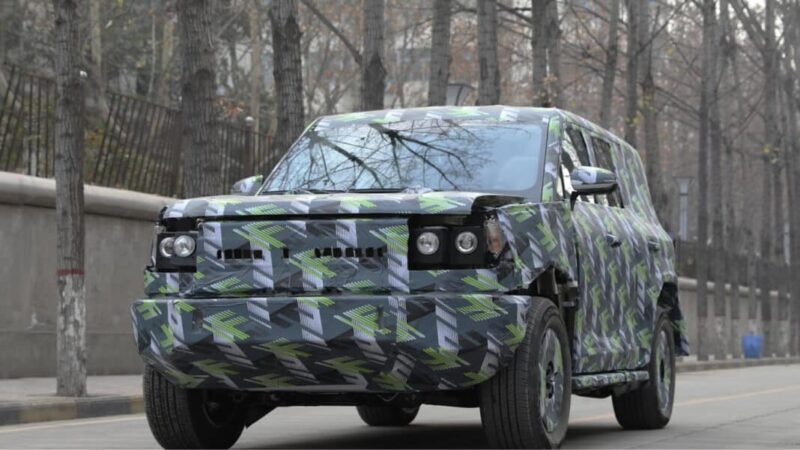 BYD Sales – 90% growth
BYD has released its production and sales report for February 2023 this week, presenting impressive growth in new energy vehicle (NEVs) sales. The company's total pure EVs and PHEVs sales for February reached 193,655 units, representing a significant increase of 90% compared to February 2022. Passenger cars accounted for 191,664 of these sales, with the remaining vehicles being buses and trucks.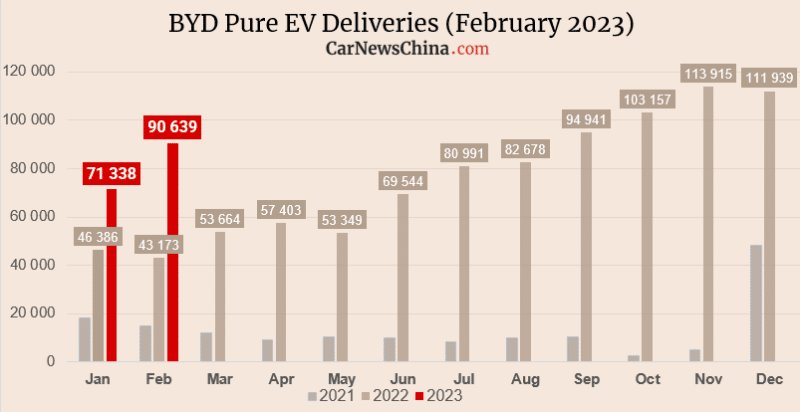 Pure EV sales for BYD in February reached 90,639 units, up 80% year-on-year, representing 47.3% of the total NEV sales. Meanwhile, PHEV sales for the same period reached 101,025 units, up 98% compared to last year, accounting for 52.7% of the total NEV sales. Additionally, BYD sold 15,002 EVs overseas in February, up 11 times YoY.
Editor's comment
Warren Buffet's backed BYD pushed hard both for sales and production. While more than half of its sales are still plugin hybrids, suggesting competition with Toyota, many analysts tend to compare it to pure EVs market leader Tesla. In some segments, BYD and Tesla are competing, for example, BYD Seal – a direct shot at Model 3. However, there are more differences than similarities. BYD focuses more on vertical integration, buying ship carriers, lithium mines, own battery cells, etc. Also, their sales channels are much more traditional, relying on dealers' networks with all the advantages and disadvantages it brings. On the other hand, I don't see much focus on SW and ADAS systems as in Tesla's case. BYD is going its own way – a BYD way – and so far, it has worked.