On March 22, a prototype of Huawei's 600 kW supercharger was exposed. According to the charging station nameplate, it supports the Chinese 2015 DC fast-charging standard, has an output voltage of 200-1000V, a maximum output current of 600 A, and a maximum power of 600 kW.
Huawei is not new to the EV chargers business, as they offer various DC fast chargers. However, with a charging power of 600 kW, this super-fast charger would currently be the highest-powered charging pile available, surpassing the 500kW fast charger released by Nio last December and topping Tesla's V4.
Compared to other manufacturers, the fourth-generation Tesla V4 Supercharger has the same maximum power output of 600 kW, while Xpeng Motors' S4 supercharger has a maximum power output of 480 kW.
Huawei 600 kW supercharger can theoretically provide 100 kWh in 10 minutes. The car caught next to the charging station is Huawei Aito M5 EV.
The other information we can find on the nameplate, published by D1EV, is that the manufacturer is Huawei Digital Energy Technology Co., Ltd., the size is 295/340/1700mm, and the model number is DT600L1-CNA1. The charging cable is 3.5 m long.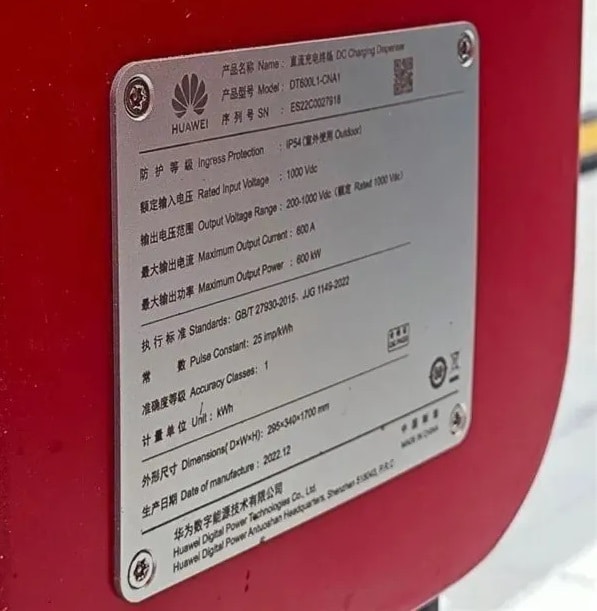 Based on these specs, we can tell that this is the charger that Huawei calls Fusion Charger on its official website, which is liquid-cooled.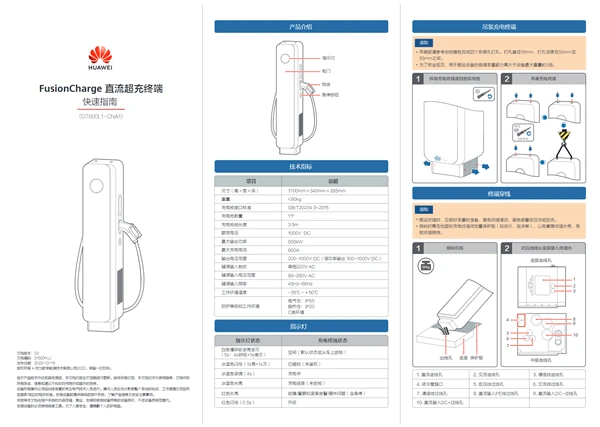 Can current EVs take such power?
Compared with the 800V ultra-high-voltage charging technology, increasing the voltage to 1000V may seem slightly improved, but it may not be easy to achieve regarding vehicle technical adaptation.
Huawei's EVs, such as Avatr 11 and Arcfox Alpha S, support the 800V platform and have maximum charging powers of 240kW and 187kW, respectively. The upcoming Huawei Aito M9 platform wasn't revealed yet. Overall, Huawei's development of high-power charging technology reflects its strategic focus on energy supplementation in the electric vehicle industry.
It is worth mentioning that Huawei already produces DC fast charger DT600L2-CNA1. This type of supercharger has two cables, a rated voltage of 1000V, and a rated total output power of 360 kW – the output of a single line is 180 kW, and the maximum output current of a single line is 250 A.
Editor's comment
Huawei pushes hard into the automotive market and doesn't even pretend anymore that they want only to be a Bosh-alike automotive supplier. Recently they renamed their electric Aito M5 to Huawei Aito M5 and the whole brand, presenting how serious they are about the mobility business.
The main issue is that current EVs are not technically ready to take the full power of such superchargers, not even the newest 800V platform. So even with such a powerful supercharger, we would need to wait for the "200 km in 5 minutes" moment unless you do a battery swap.