The Rising Auto F7 electric sedan from SAIC launched in China with swappable batteries, up to 666 km of range and a starting price of 209,900 RMB (30,500 USD). Let's get to know it better.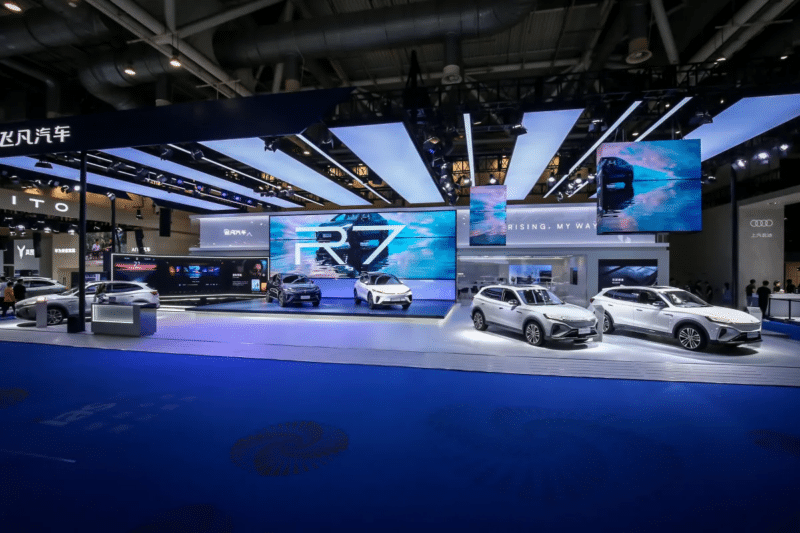 Before we will get to some details about the F7, let's detail the Rising Auto brand. Initially, it was just a series of R line under Roewe. But later, it turned into an independent company, aimed at the high-end EV segment. Currently, it sells EVs with a price range of 200,000 – 400,000 RMB (~30,000 – 60,000 USD). As for its model line, it comprises two SUVs (Rising R7 and Rising Marvel R) and two sedans (ER6 and F7). In global markets, SAIC sells Rising Auto's cars under the MG brand.
Rising F7 styling and dimensions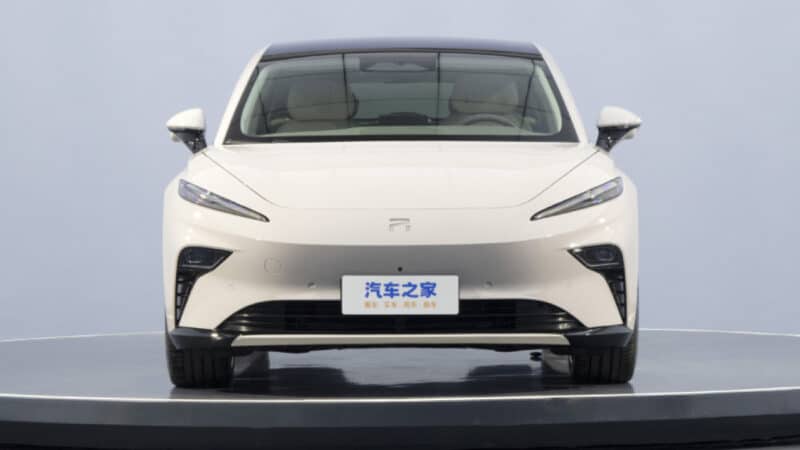 First, let's talk styling. The Rising F7 is an appealing sedan with a slick, aerodynamic look. It has pop-out door handles, coupe-like body shape and a slopped bonnet. As a result, its drag coefficient is only 0.206 Cd. For clarity, the Audi e-tron GT's drag coefficient is 0.24 Cd. So the F7 is a pretty aerodynamic vehicle. Moreover, it is also a big one. Its dimensions are 5000/1953/1494 mm with a wheelbase of 3000 mm. So it is 10 mm longer, 7 mm narrower and 84 mm higher than the mentioned e-tron GT.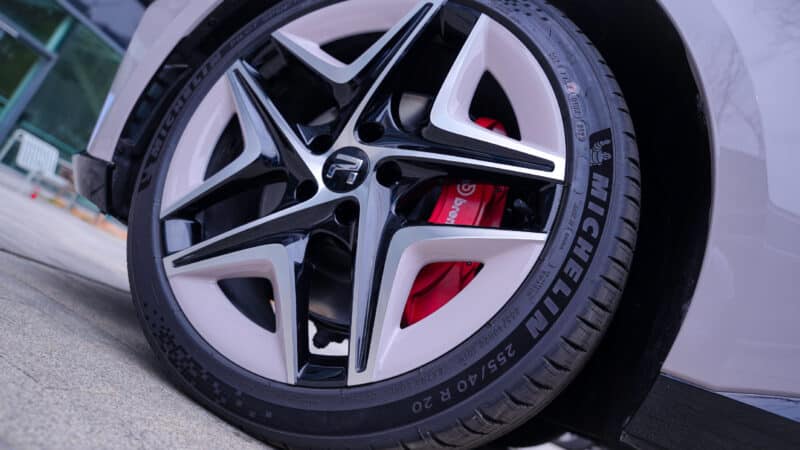 The only drawback of the F7's exterior is small rims. They can be only R19 or R20. So it looks a bit less sporty. That's a shame because it has a really aggressive look with sharp running lights, real airflow vents and Brembo-branded brake calipers. Worth mentioning that the Rising F7 got a lot of sensors, including a LiDAR sensor, ultrasonic radars, cameras, etc. This sedan has 32 sensors in total.
Rising F7 interior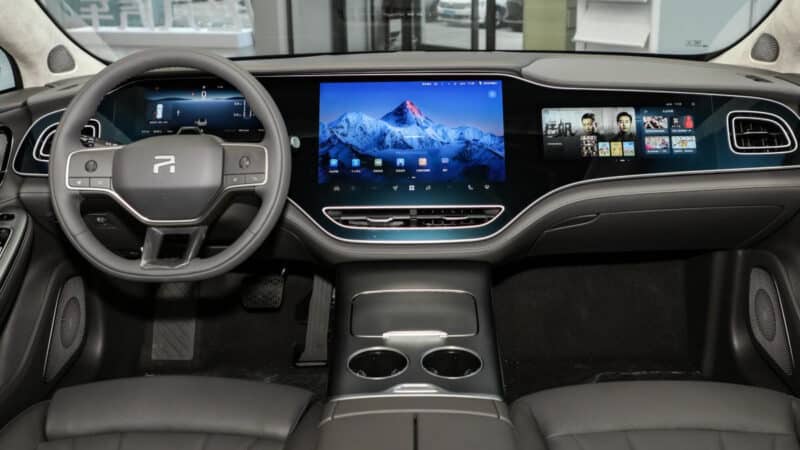 The exterior of the F7 isn't his main feature. And you realize when you open its door. The Rising F7's center console is covered with a giant screen that reminds the MBUX Hyperscreen from Mercedes-Benz. It isn't a single screen, but a block of three monitors. Its instrument panel's diameter is 10.25 inches. The main screen is 15.05-inch, and the front passenger monitor's diameter reaches 12.3 inches. Moreover, there is one more 8-inch screen for the rear passengers. This system is powered by the Qualcomm Snapdragon 8155 chip and Rising operating system.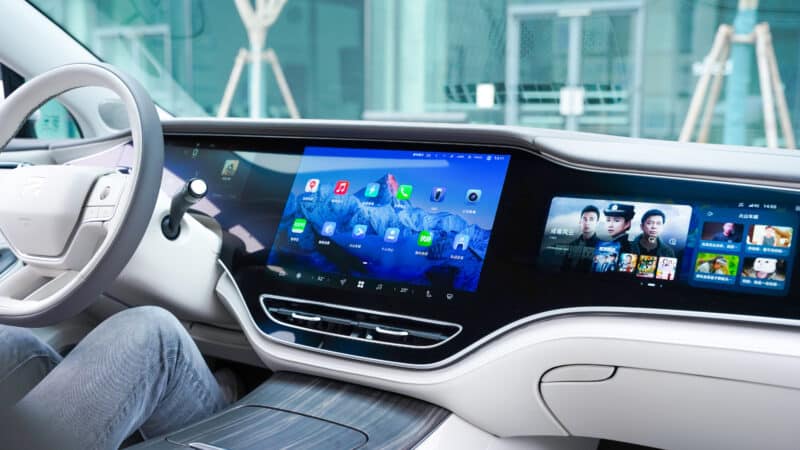 The center tunnel of the F7 looks quite minimalistic, with two cup holders and a hidden compartment with a wireless phone charging pad. The armrest is located on the same level as the center tunnel, which is a nice feature. But there is no visible gear shifter. As you might guess, it is located under the steering wheel. Speaking of the wheel, it is quite boring.
We should underline that the F7 got the 16-speaker acoustic system. But Rising Auto hadn't specified their brand. It is a strange move, because they talk about "3D sound system" and say nothing about the supplier. So it can be a relatively cheap brand.
Rising F7 powertrain and prices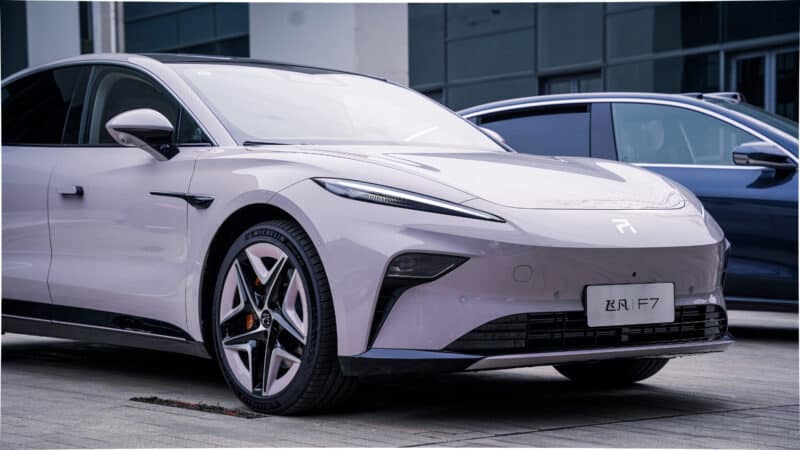 The entry level Rising F7 has a 64-kWh LFP battery and an electric motor on the rear axle for 340 hp and 450 Nm. The next version has a 77-kWh ternary (NMC) battery for 576 km (CLTC) and the same electric motor. It is also available with even a bigger battery of 90-kWh and 666 km. As for the top-trim level, it has the same battery and two electric motors for 544 hp and 700 Nm. It can speed up from 0 to 100 km/h in 3.7 seconds. As for the range, it reaches 600 km. All these batteries, except for the entry-level one, supports battery swap technology.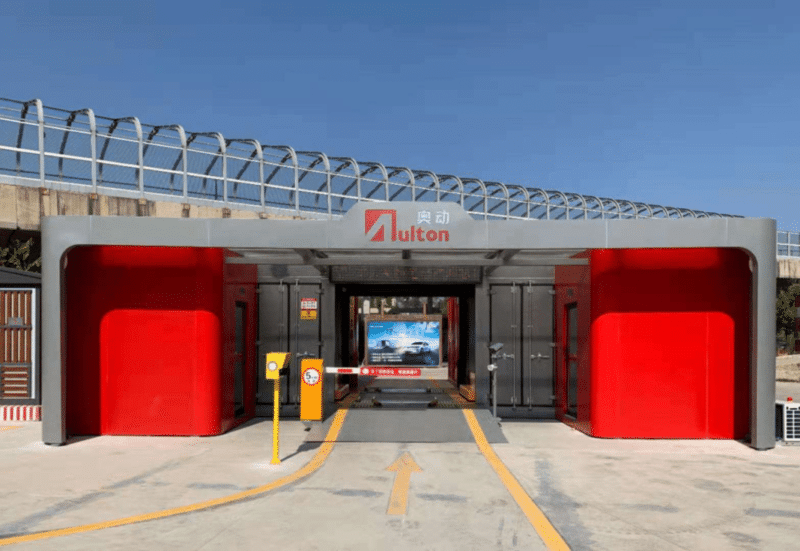 The F7 batteries are manufactured by the United Auto Battery System (UABS) – the JV between SAIC and CATL. As for the battery swap station infrastructure, SAIC develops it jointly with the Aulton New Energy. They plan to launch 10,000 battery swap stations in China by the end of 2025. By this moment, they want to launch a station that can execute a battery swap in just 20 seconds. As for the 2022, Aulton New Energy had 1,000 battery swap stations.

As for the price range, it is 209,900 – 301,900 (30,500 – 43,850 USD). First customers will also get 1,500 kW/year of free charging, Rising pilot driving system package that costs 30,000 RMB (4,355 USD) and other gifts. So the Rising Auto launched the F7 and immediately joined the Chinese price war.
Editor's comment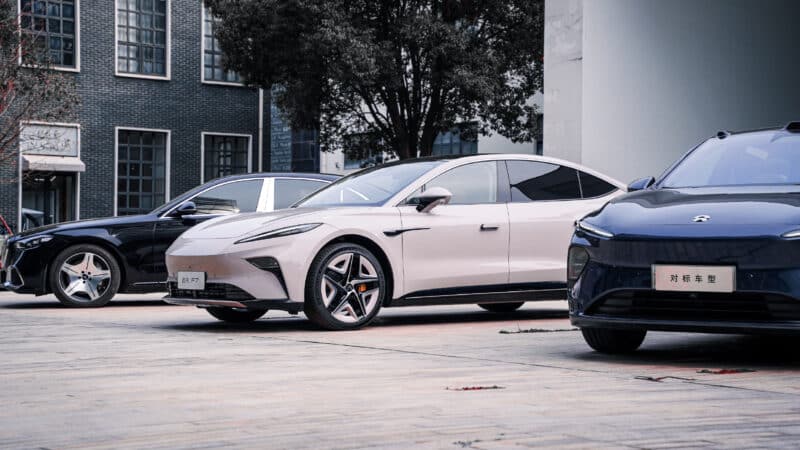 The Rising F7 is an interesting electric sedan that will compete with vehicles like the BYD Han EV, BYD Seal, Tesla Model 3, Xpeng P7, etc. As we can see, in this price range, the F7 has a strong competition in China. Currently, the Rising Auto's sales are comparatively low. In February 2023, it sold only 200 vehicles. It seems that the SAIC's brand is struggling in China. To take a strong position in the Chinese market, the Rising Auto not only needs to launch interesting vehicles; but also has to develop its dealership network and raise the production volume.
Source: Rising Auto, Rising Weibo, Autohome, Dfcfw