The MG7 is the brand's largest sedan, aimed at young consumers. It was launched in China with a relatively powerful powertrain and a reasonable price range. First 15,000 customers will enjoy a lifetime warranty and other benefits. Let's get t know the MG7 better.
Basic information about the MG7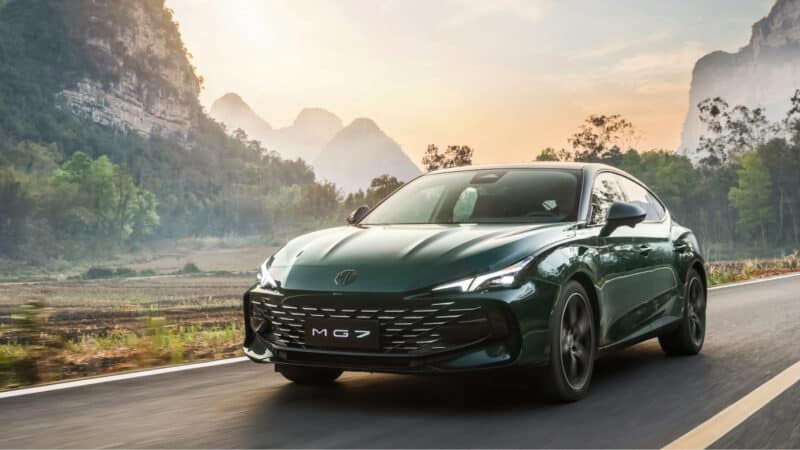 The MG7 is a fastback sedan with a sporty look. Its front end has a large grille and a pair of air intakes on each side of the front bumper. Another feature of the MG7 appearance is triangle-shaped headlights. It also has a sloped sporty bonnet line. From the back, the MG7 has a continuous taillight unit that goes all the way through the trunk door and ends on the rear fenders. Four exhaust pipes add the MG7's appearance some extra sportiness. And a fine feature is an active spoiler.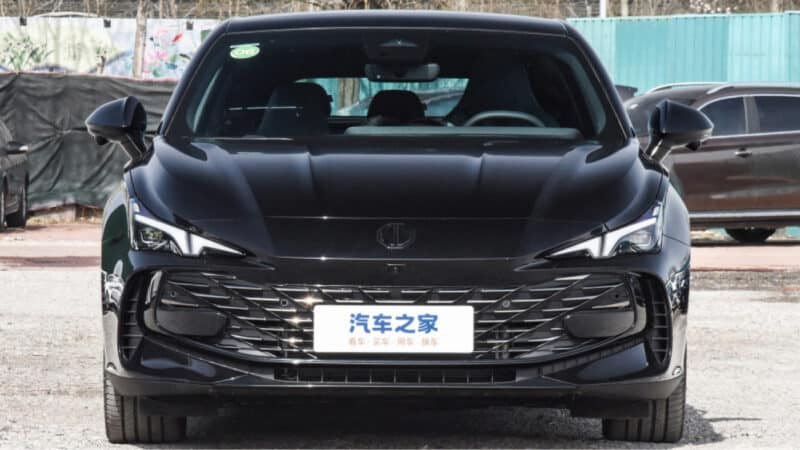 Speaking about dimensions of the MG7, they are 4884/1889/1447 mm with a wheelbase of 2778 mm. So, it stays really close to the Toyota Camry in terms of sizing. The MG7 can be equipped with 225/50 R18 or 245/40 R19 wheels.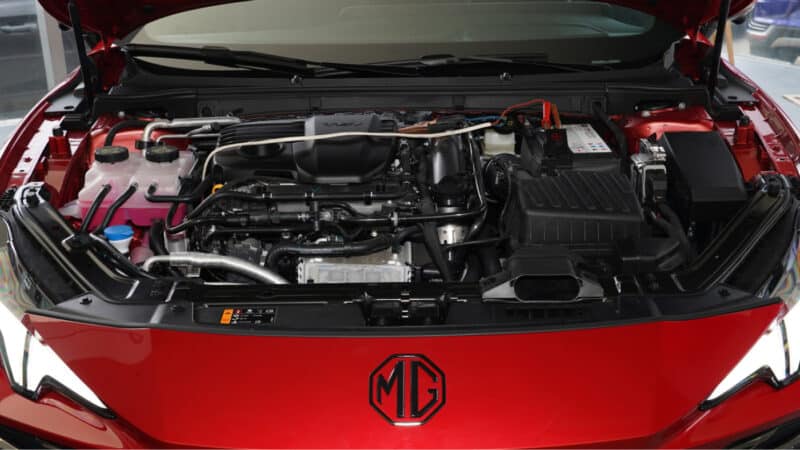 Two optional turbocharged motors can be found under the hood of the MG7. The first one is the 1.5-liter 15FDE for 188 hp and 300 Nm. It works in pair with 7DCT. The second ICE is the 2.0-liter 2A4E for 261 hp and 405 Nm. This engine is paired with a 9AT. Its zero-to-hundred acceleration time reaches 6.5 seconds. So the MG7 looks sporty, but it obviously is not a sports car.
MG7 interior and features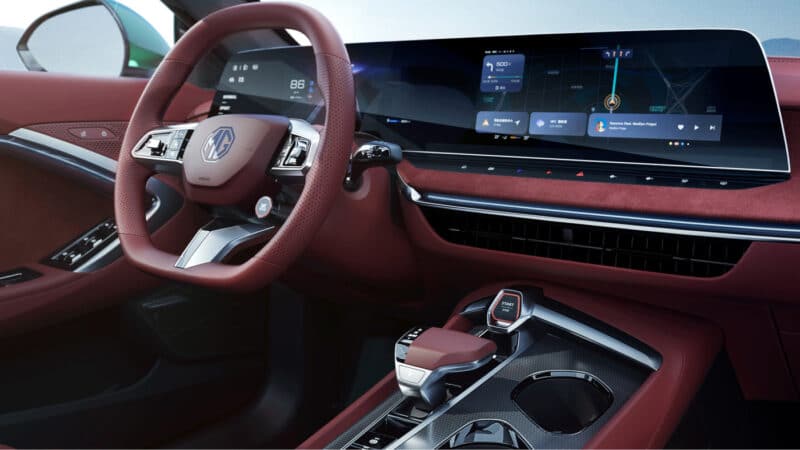 The MG7's interior looks appealing with a block of two screens. The instrument panel's diameter is 10.25 inches, while the main screen is 12.3-inch. A block of climate-control capacitive touch buttons sits under the touch screen. The steering wheel has a D-shape and three spokes. As for the center tunnel, it is equipped with a monostable gear selector, a Start/Stop button, two cup holders and a wireless phone charging pad. Under the armrest, you can find a quite large compartment space with two USB-C ports.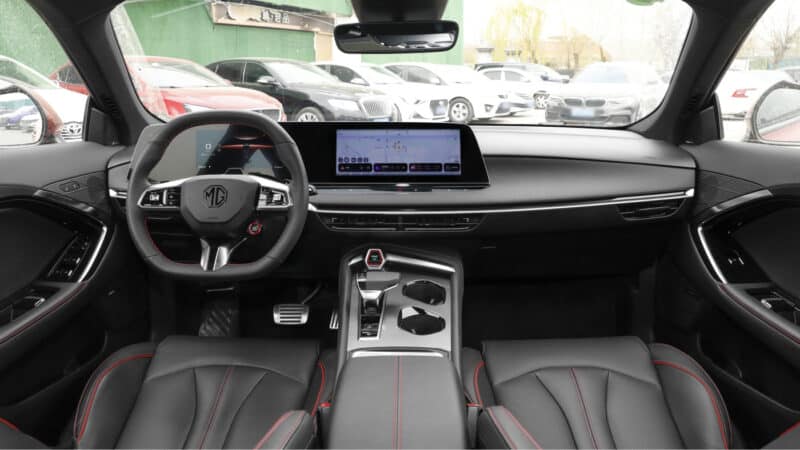 Front seats of the MG look sporty, with pronounced side support and an integrated headrest. Worth noting that the interior of the MG7 can be finished in three shades: black, green, and red. The red color is available only for two top configurations, but it looks really cool.
The MG7 can be equipped with a BOSE acoustic system for up to 14 speakers. A customer can also add to it an optional HUD and self-parking system. The MG7 also got ADAS systems and an optional MG NGP pilot system. It has good tech indeed, but it is mostly optional and doesn't go in standard even in the top-trim level.
MG7 price tag
Here, let's speak about the MG7's price tag. Its entry level version costs only 119,800 RMB (17,400 USD). But it is pretty basic without ADAS systems, 360-degree round view camera, adaptive cruise control, front seats heating, etc. So, you will get a really poor vehicle for this cost.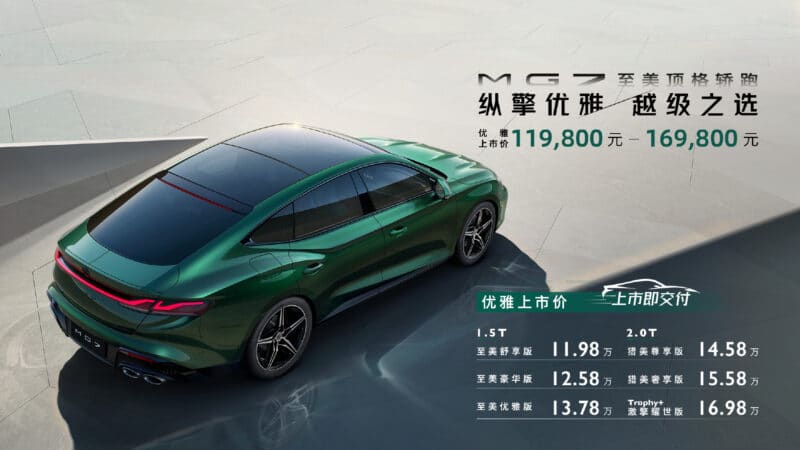 Speaking about the price range, it is 119,800 – 169,800 RMB (17,400 – 24,650 USD). But if you want to purchase a fully loaded vehicle, you have to pay an extra 12,000 RMB (1,740 USD). So the final price of the top MG7 is 181,800 RMB (26,490 USD). For this price, the MG7 has a lot of competitors in China (ICE, PHEV and EV), including the upcoming Hongqi H6, Deepal SL03, Neta S, etc.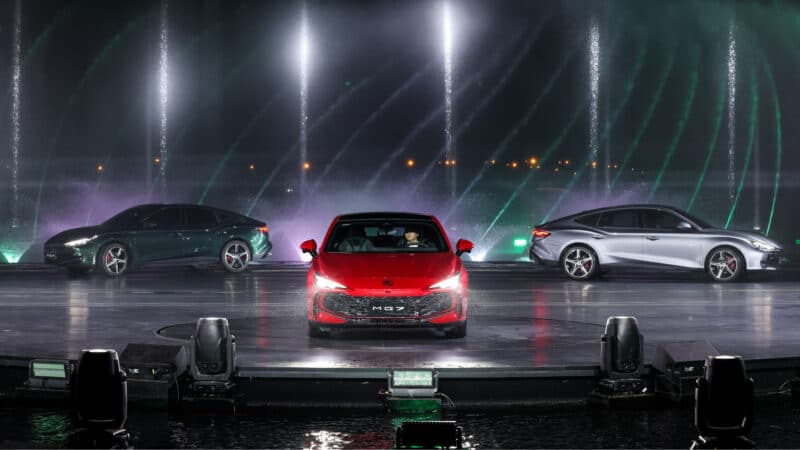 But MG wants to beat competitors with some gifts. First MG7's 15,000 customers will get a lifetime warranty for core components and 10,000 RMB (1,450 USD) subsidy.