We started the exploration of Fujian province's car industry last week with bus manufacturer King Long. The province-owned car industry holding Fujian Automobile Industry Group (FAIG) acquired King Long when it was already established as a very successful company. Now we redirect our attention to FAIG's passenger car efforts, which encountered much more volatile results in their history.
The Taiwan connection
One of the starting points of the story is FAIG's founding in 1992. The Fujian province officials believed it was their last chance to get into car production, if they wanted to become a serious player in the industry. Economic reforms had already been changing the country for more than a decade and several pre-existing manufacturers had consolidated their supply chain. So the politicians created FAIG and put Ling Yuzhang in charge of the operation.
Shanghai-born Ling, in 1945, enjoyed an education at the Beijing Institute of Technology, but served as a party bureaucrat in Fujian for most of his working life. Before he joined FAIG, he was the manager of the provincial Machinery Committee. Ling approached his new task reluctantly, seeing many ways to fail. He or FAIG never had the intention to set up car production from scratch, so Ling traveled to Japan to find a suitable partner. He came back with some possibilities, but none were very alluring.
His second business trip took him to an island closer to home, Taiwan. Yulon is the big player there, but it also has a sister company called China Motor Corporation (CMC). Huang Peyi had already negotiated with CMC in 1989 for his King Long business, but he didn't have enough money to enter the passenger car business. FAIG did have the funds and in 1995 Ling and CMC reached an agreement for a 50/50 joint venture.
CMC was founded in 1969 by the same Yan Qingling that established Yulon 16 years earlier. While Yulon made passenger cars with Nissan, CMC followed a similar strategy for light commercial vehicles with Mitsubishi. CMC assembled several Mitsubishi products for the Taiwanese market. Yulon and CMC are related, but there's no holding company. Instead, Yan's family, Yulon, CMC, and several other businesses all have cross-shareholdings in each other to assure the family's control.
The joint venture, called Soueast (Fujian) Automobile Industry, was formally established in May, 1995. The Chinese name is Dongan, which translates as East-South, but the English name (also used on Chinese cars) has always been written as Soueast, with the "th" missing for some reason. The first product was the Mitsubishi Delica, a small van, that would be assembled in the Fuzhou Automobile Factory, included in the joint venture deal.
Fuzhou Automobile Factory
For loyal readers, the following section might sound familiar. We've already encountered the Fuzhou Automobile Factory before, but let's recap its history again here. The company was established as the Fuzhou Auto Repair Factory during the 'Great Leap Forward' in 1956. It's mainly a components manufacturer, but in its early years, Fuzhou also assembles small numbers of light trucks based on a Dodge design. Eight of these trucks see the light in 1959, but because of the limited capabilities of the factory, it returns to parts production thereafter.
Ten years later, however, Fuzhou returns to car production as it gets its hand on the blueprints for the Beijing Auto Works BJ212 off-roader. There was some trial production in 1969, the car (FZ211) goes on sale in 1971 and Fuzhou adds a self-developed 12-seat 'light bus' version (FZ620). Production is in the tens per year, but things get a little more serious when Fuzhou introduces its own version of the BAW BJ130 light truck (FZ130) in the late seventies. Production numbers then rise to several hundred per year. Fuzhou also quits the components business and changes its name to Fuzhou Automobile Factory in 1983. Meanwhile, the FZ130 evolved into the FZ131 with an Isuzu cabin.
The factory had always been a city-led cooperative, but in 1984 the local car industry was professionalized with the founding of the city-owned Fuzhou Automobile Industry Company, in which the factory was incorporated. The business started to pick up from there. Besides its own light truck, Fuzhou Auto also assembles batches of foreign cars, like the Mitsubishi L300 or Isuzu WFR, both light vans. Fuzhou Auto even tries to forge a joint venture with Isuzu, but ultimately fails due to ongoing financial difficulties.
In 1990 however Fuzhou Automobile closes a technical cooperation agreement with another Japanese manufacturer, Mazda. Under the new brand name Forta a number of Mazda products are made by Fuzhou Automobile Factory, namely the B-series pickup, Bongo minivan and later the MPV people carrier. In 1992 the city transfers control of the factory to newly established FAIG and three years later the factory becomes part of the Soueast joint venture. Besides the Mazda cars, Fuzhou Auto also assembles the Delica vans, while Soueast starts construction of a new factory.
That factory is completed in 1999 and for a few more years Soueast runs assembly lines at both plants. In 2001 Fuzhou Automobile needs to be reorganized and the company is re-launched as New Fuda Automobile Industry Co., Ltd. and taken out of Soueast. It continues making Mazda products, until the Japanese brand changes its China strategy. In 2006 Mazda enters into joint ventures with both Changan and FAW, leaving New Fuda in the cold.
Another round of financial restructuring is needed and the FAIG has enough of it. It sells New Fuda to the Sanlong Industry Group in 2010, a Shandong-based company specializing in heavy machinery. After the withdrawal of Mazda, Forta makes some generic SUVs and pickups, but enjoys more success in the commercial vehicle market. Although Forta keeps moving along, it never becomes a large manufacturer. In October 2020 Sanlong Group sells all its shares of Forta to NEV-startup Leapmotor.
Mitsubishi gets on board
With the completion of the new factory, Soueast also presented its second car. The Fulica (CMC-Mitsubishi Freeca) was a curious combination of SUV and MPV, which Soueast called a 'recreational vehicle'. The company also immediately started on the factory expansion to 150.000 units per year. This expansion was finished in 2002 and provided room for three more models. The Lingshuai (CMC-Mitsubishi Lancer mk.7) appeared in 2003 and the Lingshen (CMC-Mitsubishi Grandis) a year later. Finally, Soueast also entered the minicab market with the Veryca (CMC-Mitubishi Minicab) in 1995.
Sales took off nicely, with the Delica van being something of a local hit. The good news eventually reached Japan and in 2006 Mitsubishi decided to join the program. They acquired a 25% share in Soueast from CMC. To underline its formal involvement, the Lingshuai and Lingshen were discontinued and re-launched with a Mitsubishi-badge instead, as Lancer and New Space Wagon respectively. The three vans (or MPVs) remained Soueast-branded.
With Mitsubishi on board, Soueast expected even more model series and once again started expanding the factory. In two phases, completed in 2009 and 2011, the total capacity was upgraded to 300.000 vehicles. It proved a little premature, though. For instance, the company's mass-market Lancer never sold over 50.000 per year, while the Nissan Sylphy or Volkswagen Bora/Lavida were approaching four, five, or six times that number.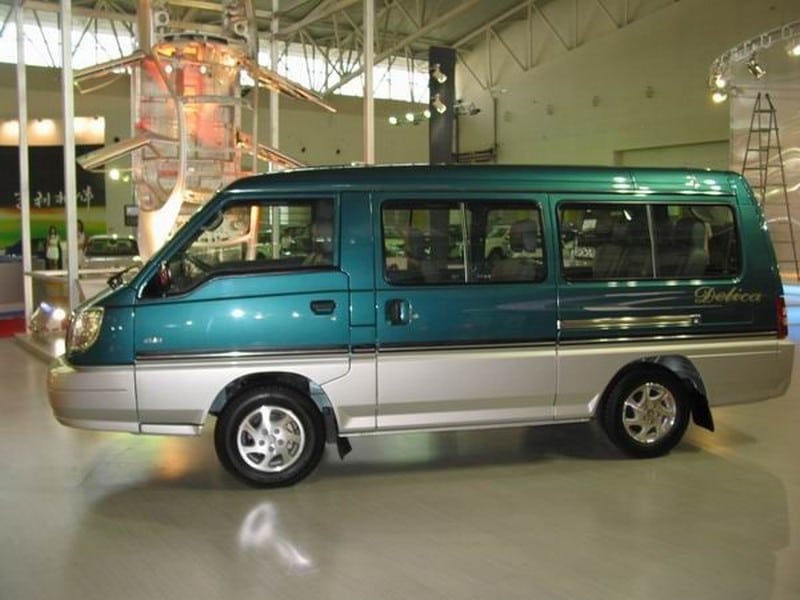 Mitsubishi did add some nameplates. First up was the Galant, the ninth generation, positioned above the Lancer. The model was also sold with Soueast branding, but didn't do well with either badge. More successful was a compact MPV called Mitsubishi Zinger, launched in 2008. The final contribution of the Japanese was the Mk. 9 Lancer, which followed in 2009. This car was called Lancer EX, to distinguish it from the previous generation that remained in production.
In the meantime, Soueast re-launched its self-branded Lancer derivative, still based on 7th-generation technology sourced from CMC. This car was called V3 Lingyue and featured Soueast's own styling input for the first time. The car was sold alongside both Lancer models.
Growing pains
In January 2009, Lian Xiaoqiang took over as head of FAIG from Ling Yuzhang, just as FAIG had offered Soueast to Xiamen Automobile free of charge, due to accumulated debt. The King Long bus maker declined the offer. Still, the debt of Soueast was a serious operating problem and required some creative accounting on FAIG's part. It moved the bankrupt Xiamen Import & Trade logistics company over to Soueast and the liquidation of that company brought in RMB 900 million in cash. Lian spent it on paying off debt, the aforementioned factory expansion, and investments in Fujian Daimler and Xinlongma (both will feature next week), but none of it on building up R&D capability.
At the time, Mitsubishi and DaimlerChrysler enjoyed a close relationship, which gave FAIG access to an unusual vehicle option. Between 2009 and 2011, FAIG locally assembled both the Chrysler Grand Voyager and Dodge Caravan, with V6 engines imported from the United States. It gave the Soueast car dealers a nice halo car in their showrooms.
Soueast doubled its sales from 50.000 to 100.000 from 2009 to 2013. Most of the growth was thanks to the Lancer EX. In 2012, Soueast added two more models, the V5 Lingzhi and V6 Lingshi. Both were developed upon Lancer mk. 8 technology, sourced from CMC in Taiwan. The V5 was a traditional sedan, the V6 its hatchback sister. Both models couldn't prevent another problematic period in the company's existence: after 2013 sales plummeted to only 60.000 units.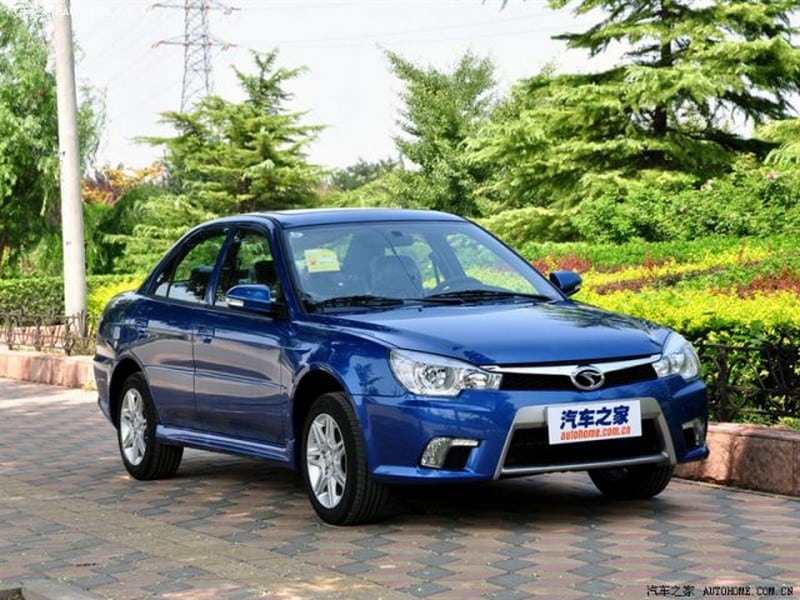 Part of the reason was that Mitsubishi had lost interest in the joint venture and didn't introduce any new models anymore. The Japanese also had a second joint venture with Changfeng Liebao (Leopaard) for its off-road and SUV models. Leopaard, including this joint venture, had been acquired by Guangqi Automobile (GAC) in 2011 and that was a manufacturer of serious size. GAC courted Mitsubishi and the Japanese succumbed to the advances. While Leopaard tried to regain independence, GAC and Mitsubishi formed a new joint venture. And Mitsubishi focused its attention on this much more promising business venture.
Still, Soueast had this shiny factory and it caught the attention of Dongfeng. In 2014 this corporate giant began making preparations to merge FAIG and Soueast into its empire. FAIG and Fujian politicians didn't like this idea and came up with a defense strategy. They transferred control and ownership of the King Long Group to FAIG, making it bigger, stronger, and more expensive. The equity transfer was at no cost to FAIG, despite the obvious value of King Long, so it was clearly a strategic deal. Not much later, Dongfeng backed off and the merger was off the table.
Lack of technology
Although the forced merger thread had been avoided, it still left FAIG with the challenge to revive the Soueast brand. The brand was around for twenty years, but it had never spent any money or effort on building its own R&D capability and that became a real problem now. Many competitors had set up R&D of their own and were beginning to put out competitive products according to their own design. Soueast simply couldn't do that.
So Soueast did the only thing they could: outsource the development of new cars. Again they went to Taiwan, where CMC provided the platform technology. This was still based on Mitsubishi designs, but the Japanese no longer provided real support. For the design of new models, Soueast turned to the Italian design studio Pininfarina. The Italians were no longer just a design studio, they also provided complete engineering services to get a car to production.
One thing Soueast got right, was the choice of desired models. Up till then, they only had produced hatchbacks or MPVs/vans. But times and consumer interests were changing and Soueast ordered a line of crossover SUVs from Pininfarina. In late 2015, the brand presented the DX7 as a mid-size SUV and a year later the DX3 as a compact SUV. Both had modern and attractive body styles, you can leave that to the Italians, and solid CMC-Mitsubishi technology underpinning it. Naturally, engines were sourced from Mitsubishi's well-known joint venture with China Aerospace in Shenyang.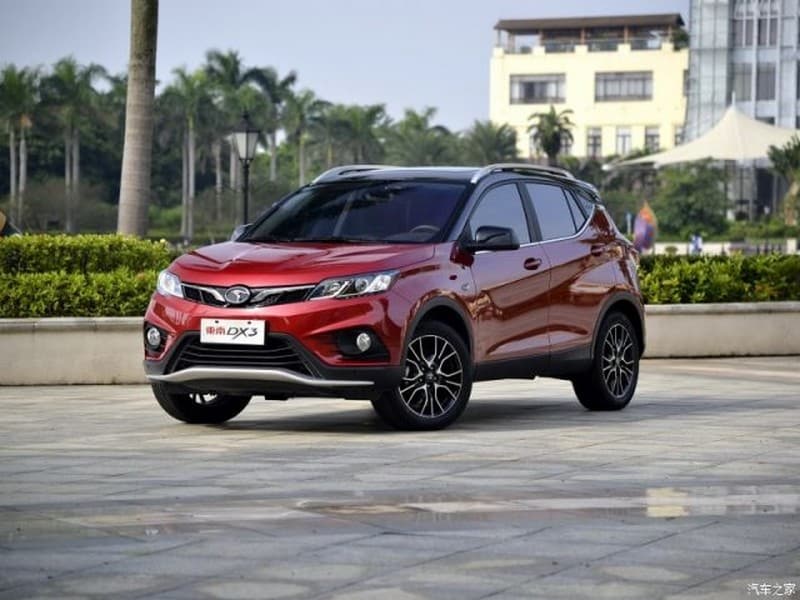 Soueast didn't forget about sedans entirely. The V5 model evolved into the A5 Yiwu in 2018. With the Mitsubishi models now discontinued, the A5 was the only remaining Lancer-like car in the program. A further addition to the line-up was the DX5 crossover. It was little more than a slightly restyled DX3 with a few centimeters extra space, aimed to close the gap between the DX3 and DX7 in the commercial sense.
Soueast's strategy seemed to work. In 2016 it matched its previous sales record from 2013 with 100.000 cars sold. The next year, with the DX3 being added, sales rose another 50% to 150.000. This would be a relatively solid baseline for Soueast to bring some technology in-house and start transitioning in the obvious direction the Chinese market was about to take. But it didn't hold. In 2017, sales almost halved to 85.000 units and that was just the beginning of a very steep decline.
Implosion
In 2019, the Chinese car market contracted for the first time in decades and it affected a lot of car companies. The major victims were smaller or medium-sized state-owned manufacturers, that relied on foreign or older technology and operated at the lower end of the mainstream segment. Among the better-known brands, BAIC and JAC were some of the more prominent examples. Both reacted by re-launching their cars with new styling under new brand names, but both are still struggling.
Soueast fits in this category as well. In 2019 it sold just 30.000 cars and it didn't stop there. A year later just 14.000 Soueast vehicles found an owner and still, there was room for further decline, to just 8.000 cars in 2021. And Soueast seems paralyzed by these developments. It hasn't reacted to the rapid changes in the market at all. A new, larger SUV called DX9 has been featured in the monthly MIIT announcements several times since 2020, but the car isn't in production yet. So for now, the brand continues with its three existing DX models and the single A5 sedan, which are obviously no longer what the market demands.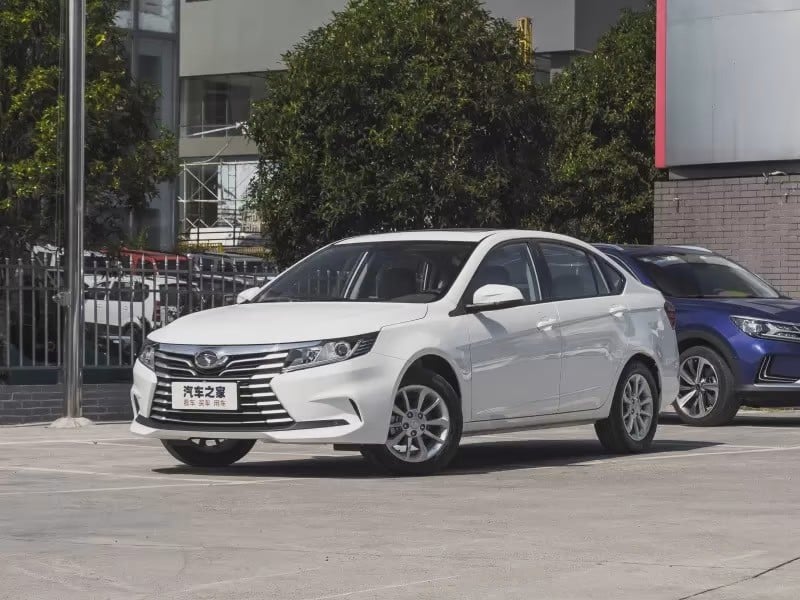 Developments on the corporate side haven't helped either. Mitsubishi had pulled its de facto support for Soueast many years ago, but remained a shareholder. Up to May 2021, it did. Then the Japanese finally sold their shares to a construction development fund of Fuzhou city. With hardly any sales and infrastructure to hold up, the ability to pay bills and wages quickly disappeared. So some cash was needed, but its remaining Taiwanese partner had little faith in the future.
So it was basically up the government if they wanted the car manufacturer to survive. Well, they seemed unsure, because only a limited survival package was put together in December 2021. Local governments put in some money, to keep the operation alive, while CMC was on the way out. After the reorganization, FAIG owns 47,3% of Soueast, Fuzhou city 26,1%, Minhou county 21,1% and CMC a mere 5,5%. Minhou county was the main sponsor, as this is the district where the Soueast factory is located.
Looking at the latest numbers, Soueast sales last year didn't improve over 2021. So it's clear that the company is in survival mode, trying to keep its head above water until someone comes up with some kind of rescue plan. But is there still a solution to be found?
Next week
I'll leave you at this cliffhanger for now. Next week we'll look at FAIG's other automotive enterprises and if they've fared any better. And I'll conclude this three-part series with a look at the latest developments, that might even answer the last question.