The 2023 Barcelona Auto Show opened its doors to auto enthusiasts and industry experts on May 11, and two new BYD models for the European market were spotted at the automaker's stands. The new models are the BYD Dolphin and Seal. BYD had earlier promised to bring the Dolphin and Seal to Europe in June and September, respectively, as it expands its lineup.
The manufacturer currently offers three models – Atto 3, Han, and Tang – to its European fanbase. The appearance of both models at the Barcelona Motor Show is aimed at giving European customers a peek at what they can expect. 
BYD Dolphin and Seal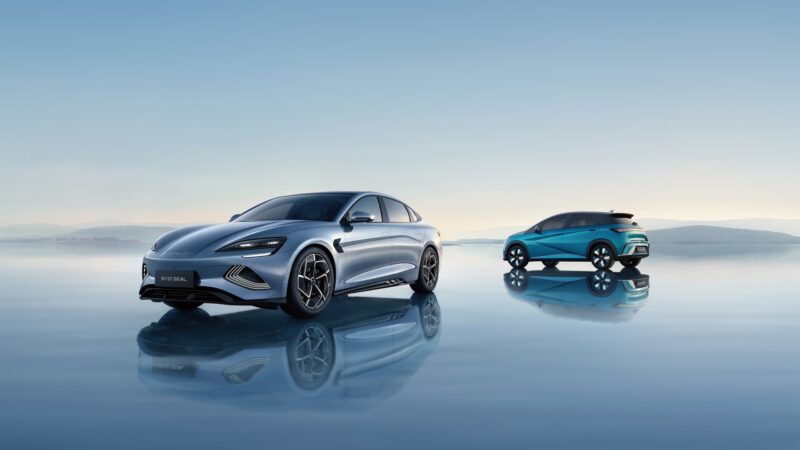 Both EVs are built on the BYD e-Platform 3.0. In China, the Dolphin is available in two versions and three trim levels. The Free and Fashion trim levels come with a 70 kW motor, the Knight Edition has a much more powerful 130 kW motor and a sporty body kit. All versions have the same 45 kWh Blade battery.
But Europe will be getting a 150 kW motor and a 60 kWh Blade battery model. This is the same electric drive train as in the Euro-spec Atto 3. Additionally, BYD inflates the Euro-Dolphin to 4.29 meters, almost a 20 cm increase.
On the other hand, the Europe-bound BYD Seal has an 82 kWh Blade Battery with rear-wheel drive and an all-wheel drive version. The Seal, which was first launched in May 2022 on the Chinese market, uses a Cell-to-Body (CTB) technology and has an 8-in-1 electric powertrain with dual motors providing a combined power of 230/390 kW.
BYD in Europe
Spain is one of Europe's top five automobile markets and an important target market in BYD's internationalization strategy for passenger cars. Since 2016, the automaker has been operating pure electric bus services in the Spanish market, with its footprint covering major cities such as Madrid, Barcelona, and Valencia.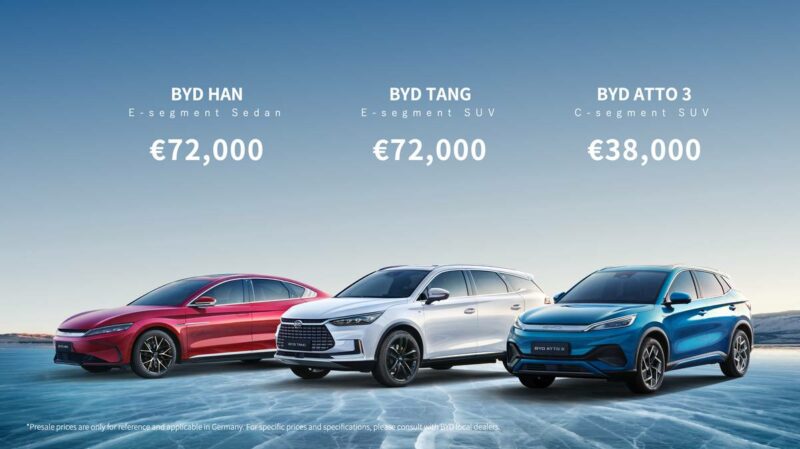 On April 1, BYD announced its official entry of passenger cars into the Spanish market and simultaneously launched three pure electric vehicle models: Han EV, Tang EV, and BYD ATTO 3. In addition, two physical experience stores of BYD located in downtown Madrid and Barcelona will open in the near future.
BYD is making significant strides in expanding its presence both in Europe and beyond. The company already offers its electric cars in several European countries, including the Netherlands, Norway, Denmark, Sweden, Germany, France, Belgium, and the UK. Furthermore, BYD has expressed its intention to extend its reach to additional European markets in the near future, although specific countries have not been disclosed. However, it is reasonable to anticipate that Finland and Iceland will be among the next destinations.
BYD is also considering building a new battery super factory in Spain, according to a report by the Spanish newspaper Expansión. If this happens, the Chinese automaker will be the latest company to join the competition for battery factory construction in Spain after Volkswagen/Seat, Envision, Inobat, and Tata Motors.
BYD's expansion efforts are not limited to Europe alone. The company has now officially entered the Mexican market, launching its Tang SUV and Hang sedan in the country.
These expansions align with BYD's ambitious goal of selling 3.6 million electric vehicles in 2023, double the number sold by the company last year. BYD has been actively preparing to increase its production capacity to support this growth.