On May 25, ex-Volkswagen Group CEO Herbert Diess met with the founder and CEO of the world's largest battery maker CATL, Robin Zeng Yuqun. The meeting occurred in CATL's birthplace and current headquarters in Ningde, China.
Diess informed about the meeting on his LinkedIn profile. He pointed out that he is back in Nigde after 12 years and expressed his surprise at how this place developed. He also took some credit for CATLs success in the EV sector, saying, "In 2012, I urged Robin to consider battery production for electric cars. Robin was heading ATL back then – a promising Startup producing pouch cells for smartphones and tablets with little more than 1000 people working there."
Diess refers to the story when as a Purchase manager at BMW in 2010, approached TDK, a Japanese battery manufacturer focused on laptop batteries. There he met ambitious physical chemist – Robin Zeng – a TDK employee who originally dismissed the idea because he couldn't imagine building such large batteries, according to a report by Wire.
Year later, Zeng quit the TDK and started CATL. "Diess brought our company into the car battery business," Zeng told the German magazine Handelsblatt in 2020. "I am grateful to him for that."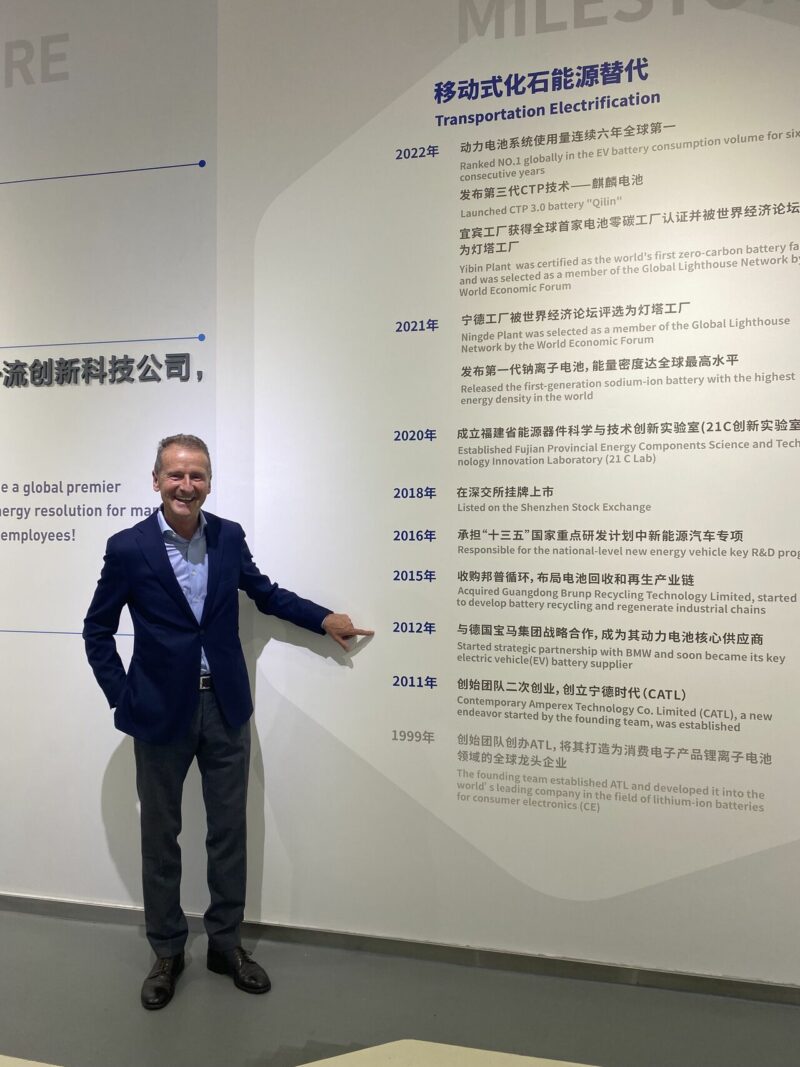 Moreover, Diess praises the CATL, mentioning that they are a market leader with over 100,000 employees and the most relevant R&D spending in the industry. 'The company is worth more than 170 billion USD and doesn't stop with EVs, and they have lots of new ideas where to supply its batteries – ships, airplanes, sports cars', Diess adds.
The two also discussed perovskite solar cells (PSC) – a type of solar cell that include a perovskite-structured compound – and CATL's push into the solar business.
When Herbert Diess was still CEO of Volkswagen Group in April last year, he indicated that Group's main competitors include CATL and BYD.
'In my view, he is one of China's most influential founders, a perfect role model.', Diess concludes.
Editor's comment
In China, the meeting sparked lots of discussion among insiders. Some commenters believed CATL could get a new European CEO to lead the company's expansion on the EU market. In contrast, others were more sarcastic, pointing out that Diess might be asking for a job in CATL's German factory, and if it's not possible, Hungary's factory would also be acceptable.
Well, only the two folks know what they talked about, and it might be just a meeting of two old friends. On the other hand, Diess claims he is on a mission to 'shape new mobility and stop climate change,' so meeting the largest EV battery supplier makes perfect sense. We will keep ene ye on that.
Edit May 25, 11:23 pm GMT+8: We wrongly wrote that Herbert Diess is without a job currently; however, Herbert Diess has worked as a Chairman at automotive semiconductors manufacturer Infineon Technologies AG since February this year, so we removed that part.